Lycaon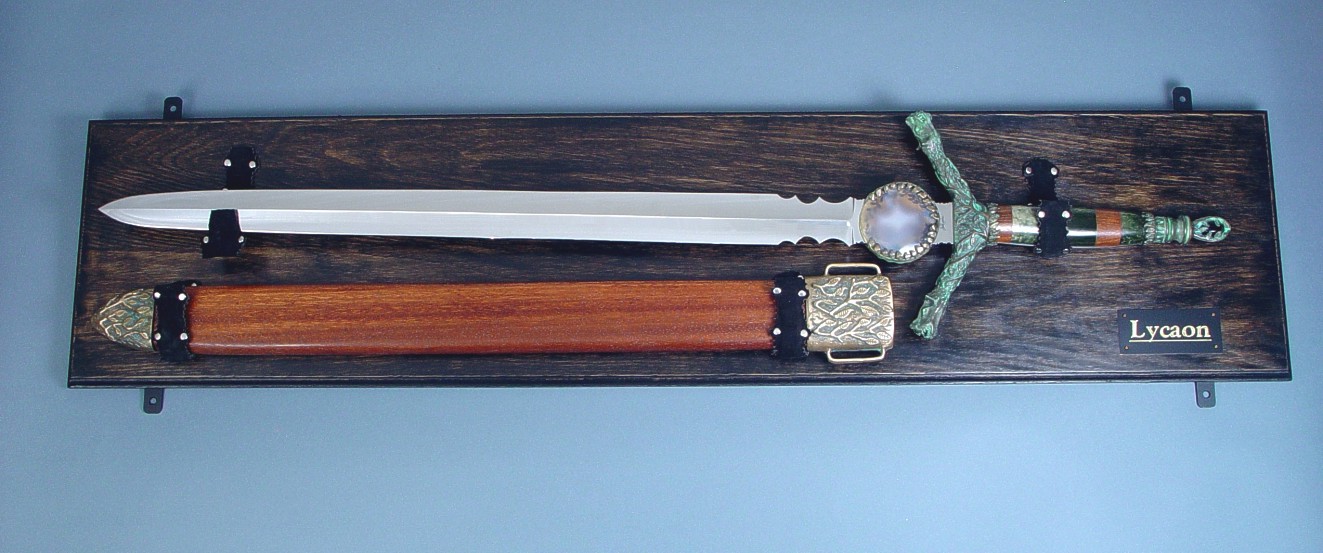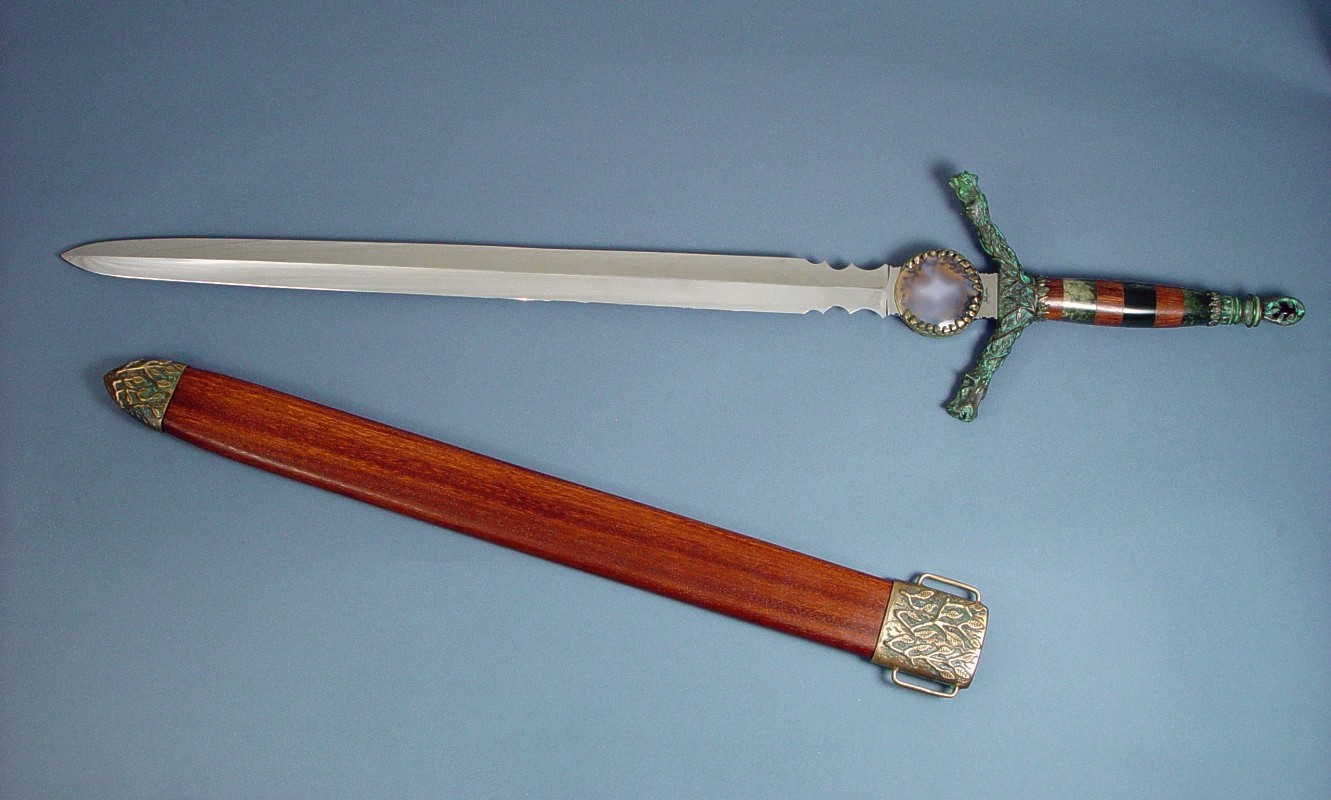 "Lycaon" Custom Broadsword
Size:
Sword: Length Overall: 44.0" (111.8 cm), Blade Length at edge: 29.0" (73.7 cm), Blade length to guard: 33.0" (83.8 cm) Thickness: Blade: .275" (7.0 mm)
Scabbard: Length 31.0" (78.7 cm), Width: 4.0" (10.2 cm), Thickness: 1.25" (3.2 cm), at maximum measurements
Display/Mount Board with hardware and fittings: Length Overall: 47.75" (121.3 cm) , Height: 13.0" (33.0 cm),Thickness: 3" (7.6 cm)
Weight:
Sword: 5 lbs. 5 oz. (2.41 kilograms)
Scabbard: 2 lbs. 8 oz. (1.1 kilograms)
Display/Mount Board: 10 pounds 9 oz. (4.8 kilograms)
Blade: 440C high chromium martensitic stainless steel, hardened and tempered to 56HRC, mirror polished
Guard, Pommel, Chape, Ferrules, Bezels, Fittings: Hand-cast Silicon Bronze, Copper, Brass, Geodic White Agate
Handle: Polished Nephrite Jade gemstone, Guayabillo Exotic Hardwood
Pommel Stone: Apache Tear (River-polished Obsidian gemstone)
Scabbard: Lauan (Philippine Mahogany) exotic hardwood, chape mouthpiece and chape tail in hand-cast silicon bronze
Display/Mount Board: Ebonized American Red Oak, Steel, American Black Walnut, Suede Leather, Engraved Black Lacquered Brass
Sword: Lycaon was the king of Arcadia in ancient Greek mythology, who made the mistake of testing Zeus only to be turned into a wolf. His name is the root of the word "lycanthropy" and is believed to be the origin of all of the legends of all werewolves throughout many cultures. This sword is a very special commission by a great client, who asked for a sword that reflected the werewolf motif, with vines and darkness and even a full moon. I started with a very challenging blade, a completely hollow ground broadsword in 440C high chromium martensitic stainless steel. Simply making a sword blade of this steel is beyond the capability of most sword smiths, but I believe it was worth the immense effort. The blade is mirror polished, all offhand, with a center axis and spine that well-supports the blade along its length. The sword blade grind terminates with a very special ricasso, fileworked and mounted with handmade custom cut and polished geodic white agate gemstone moons, mounted in hand-cast silicon bronze and hand-engraved brass bezels to the ricasso. The vine motif continues with a hand-carved lost wax cast silicon bronze guard, patinaed and sealed in a green verdigris accented form which matches the beautiful deep green Nephrite Jade. You'll notice many of the fittings on this piece are cast bronze, and I did it all with the lost wax process, where the wax is carved, a singular model is made, the mold is made from the wax model, and then poured in molten bronze and finished. There are no additional molds, copies, or duplicates. This is a tedious, challenging process but it was exactly what this piece needed. The werewolf sculptures on the guard were first created in clay, copied by hand in wax, and then cast in bronze. This is also the process for the pommel, the bezels, the ferrules, and the chape on the scabbard. I detailed the entire process on a special restricted page on the site, which concluded at 611 steps! For the handle, I chose ferrules of cast bronze in the shape of leaves and vines, with a hilt of Guayabillo exotic hardwood and Nephrite Jade gemstone with fine copper spacers, chosen for great durability, strength, longevity, and beauty. On the cast pommel are the same leafy vine forms, and in the pommel is a very special gemstone. This is an "Apache Tear," a black obsidian river-polished gemstone that my client supplied that has very special meaning to him. The sword looks ancient and classic, and feels substantial and powerful in the hand. This is a real sword, and when you hold it, you have instant respect for those in our history who have wielded such broadswords in battle. It is a humbling feeling the brings worlds of past humanity into somber perspective.
Scabbard: The scabbard is custom made for the sword, so has the same style of hand-cast vines and leaves in the chape. The chape pieces are the chape mouthpiece and the chape tail, made to hang, carry, protect, and personalize the sword. They are mounted to a scabbard body of Lauan (Philippine Mahogany) exotic hardwood, chosen for its reasonable weight, toughness, and character. The Lauan has microscopic worm holes that give it an ancient character, unique and fitting.
Display/Mount Board: To keep with the dark and mysterious theme, I made the display and mount board with American Red Oak, ebonized and sealed for an antique look. The board has mounts of steel that are lined with black suede and American Black Walnut for trustworthiness and protection of the pieces. The display has an engraved black lacquered brass nameplate and has substantial steel straps for mounting to the wall.
This was a fascinating, deeply involved piece to make, and I'm most thankful for the immense patience of my client in this endeavor. One of my proudest pieces, the Lycaon broadsword will be one of the most notable works I've ever done, long after I am gone.
Thanks, D. R.!
...as I and others have described there is a life in the sword as a whole. It is felt in the handle and through the blade itself. If there was a magic sword in the world today, this would definitely be one. ...the sword as a stand alone is magnificent. I literally walk around with it because it is a dream come true. I feel it as part of the hunter in the wolf. Such beauty in your work. This is the Alpha Male in my honest opinion. I love it.
--D.R.
---
---