Lynx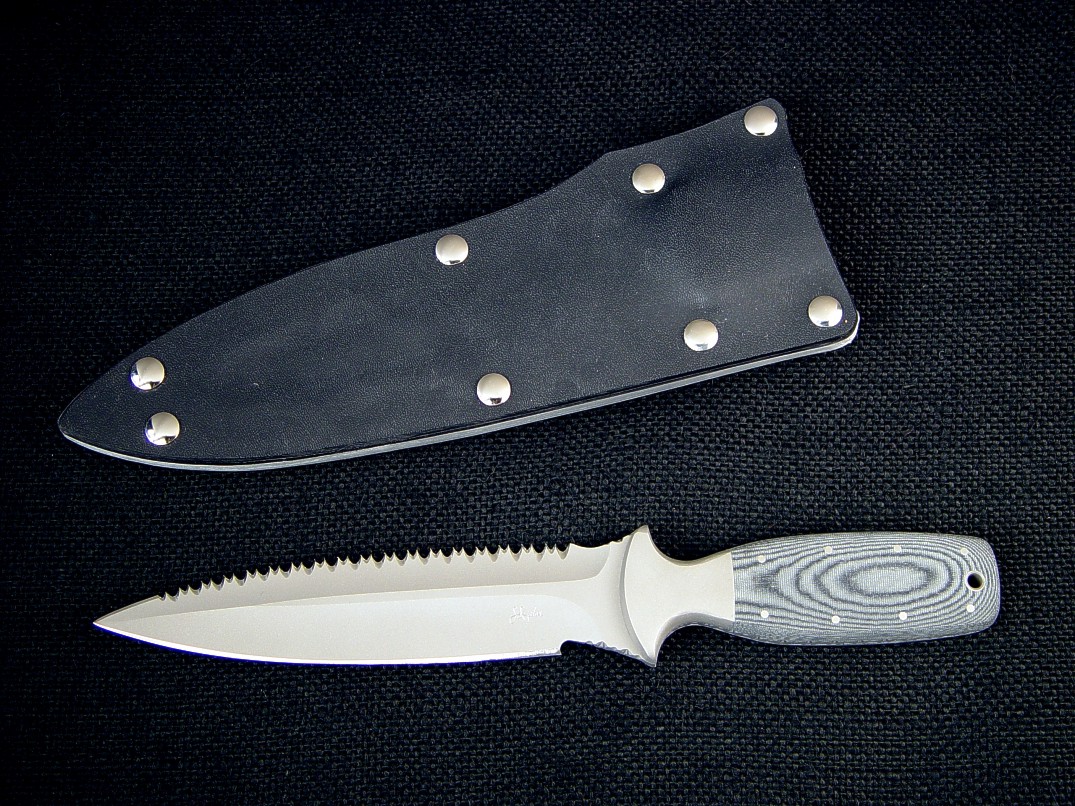 "Lynx" Tactical, Combat, CSAR Knife
Size: Length overall: 11.125" (28.3 cm), Blade Length: 6.5" (16.5 cm), Thickness: .200" (5.1 mm)
Weight: Knife: 11.5 oz. Sheath: 11.2 oz.
Blade: 440C High Chromium Martensitic Stainless Tool Steel, Hardened and Tempered to Rockwell C59, Bead Blasted
Fittings/Bolsters: 304 Austenitic Stainless Steel, Bead Blasted
Handle: Canvas Micarta Phenolic
Sheath: Kydex, Aluminum, Nickel Plated Steel
Knife: A knife made for a very special Pararescueman, the Lynx is an evolution of several of my combat SAR tactical knives. This is a medium sized, double edged knife, and the blade has double hollow grinds, differentially ground, with an 8" hollow grind in the main grind, and a 3" hollow grind supporting over 5 inches of my Vampire rip teeth serrations. The blade is low care 440C stainless, hardened and tempered to a tough, hard, very useable set, and bead blasted for a non-reflective finish for combat use. The fully tapered tang gives perfect balance at the forefinger, and the tang is fully fileworked in my "Madcat" pattern for unique personalization and improved grip. The handle shape is isometric, so it is the same no matter how it is held, and what cutting edge is used. The handle neck and quillons are well-shaped for comfort and control. The bolsters, pins, and lanyard liner tube are 304 stainless steel, a high nickel, high chromium austenitic stainless steel that is hard, tough, wear resistant and corrosion free. The handle is super tough linen reinforced Micarta phenolic, one of the most durable handle materials made. The handle is also bead blasted for great tactile purchase, even when wet.
Sheath: The sheath is one of my combat grade, waterproof, tension fit models, made from double thickness kydex, 1/4" thick welts of 5052H32 corrosion resistant aluminum, and secured with nickel plated steel Chicago screws. The reversible belt loops will accommodate a standard 1.75" military web utility belt, and should hang on most MOLLE gear or PALS webbing.
A tough, light, useable combat search and rescue tactical knife for real battlefield or rescue missions.
Thanks, K. W.!
Mr. Fisher,
The knife is better than I could have imagined! Thank you so much...the knife really looks awesome.
--K.
---
---