Macha PSD Knife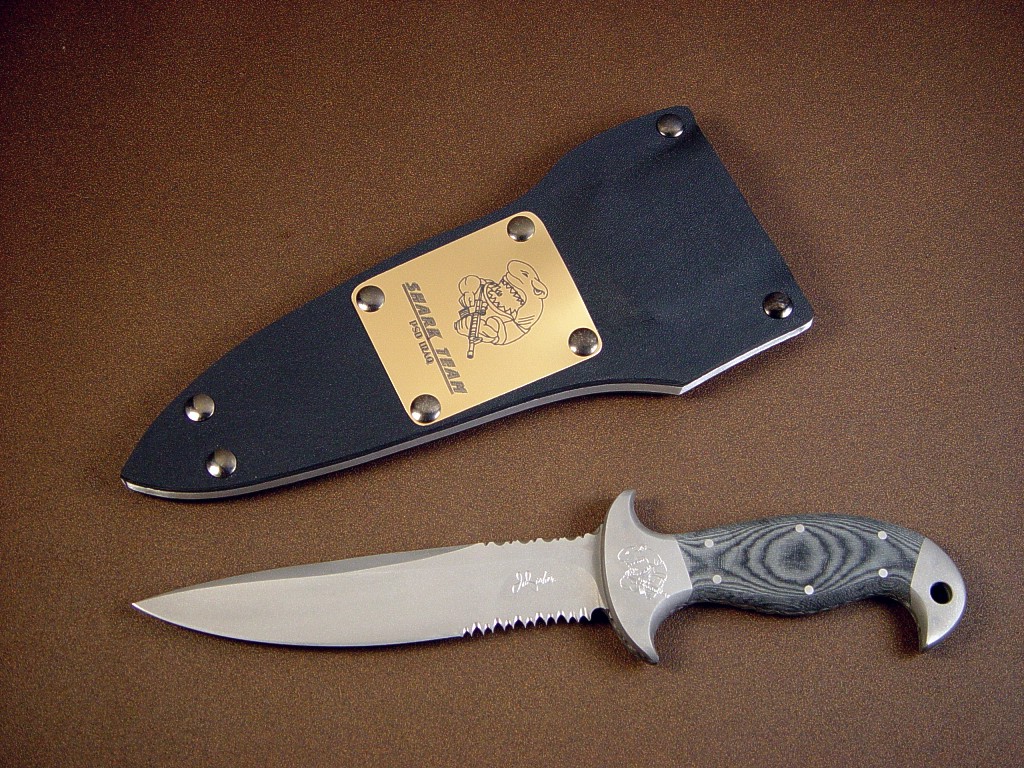 "Macha" Tactical PSD, Combat, Defense, Tactical Knife
Size: Length overall: 11.75" (29.8 cm), Blade Length: 6.6" (16.8cm), Thickness: .254" (6.45 mm)
Weight: Knife: 15.6 oz., Kydex Sheath: 12.0 oz., Crocodile Sheath: 9.5 oz.
Blade: 440C High Chromium Martensitic Stainless Steel, Hardened and Tempered to Rockwell C59, bead blasted, machine-engraved
Bolsters, Fittings: Machine-engraved 304 Austenitic High Nickel, High Chromium Stainless Steel
Handle: Canvas Micarta Phenolic, Bead-blasted
Sheath: Kydex, Aluminum, Blued Steel
Sheath: Crocodile Skin Inlaid in Hand-Carved Leather
Knife: "Macha," pronounced mak-kha, is named for the Celtic goddess of war. This design was custom made for a Private Security Detail (or Principal Security Detail) operator in Baghdad, Iraq. These are the guys that personally protect and care for the most important people and diplomats in the heart of conflict. There are very few people who put themselves on the line this way, and it deserves special tools. The knife was designed for emergency hand to hand combat, so I made it of hefty, 1/4" thick high chromium 440c martensitic tool steel, hardened and tempered for maximum hardness and toughness. The blade is deeply hollow ground for a very thin, sharp cutting edge, and features a two-thirds length top swage to decrease the cross-sectional profile of the point, allowing maximum penetration geometry without sacrificing spine strength. The knife has two inches of my vampire rip teeth, the most aggressive serrations I've ever seen on any knife. The owner wanted a fully protective guard for this prototype, so the full tang supports a large and thick pair of 304 austenitic high chromium, high nickel stainless steel bolsters. They are fully carved for a firm, positive, comfortable grip in either a traditional or tactical grip style. The bolsters are dovetailed to lock into a tough bead blasted linen-reinforced micarta phenolic handle, further secured with six 304 stainless steel through-pins. The tang of this knife is fully tapered for weight balance, and features full filework that helps increase grip security as well as adding beauty and a unique touch. The knife is machine-engraved with the Shark team emblem and text, and the brass engraved flashplate on the sheath is removable for subdued wear.
Sheath (Kydex): The knife is ready to be deployed from a double thickness kydex sheath, built over a 5052H32 corrosion resistant aluminum welt frame, secured with blued steel Chicago screws. The sheath has several mounting options, from belt loops to flat aluminum tension straps for Mollie webbing.
Sheath (Leather, Crocodile): After a couple tours in Iraq, the owner wanted me to make an additional artistic sheath for nice display and carry. He is and American with Australian roots, so he sent me some crocodile skin to work with. The sheath is 9-10 oz. leather shoulder, hand-carved and inlaid with crocodile skin panels, front and back. The croc makes a beautiful sheath!
After Deployment: Since he had returned the knife to pattern the sheath, I took the opportunity to photograph the knife so others can see just what a couple years of battle will do to a finely made knife. The pictures are below. Other than some obvious scuffing of the sheath and a few sliding marks on the big bolsters, the knife looks like the day it left the shop. This is a great testimonial to a fine weapon and tool!
This is as serious as a combat knife can get!
Thanks, T. M.!
Hi Jay, the Macha Knife is Awesome!!
Mate the knife you sent me is totally wild! It has a great feel in my hand and well balanced too. This knife is already fitted to my Tac Vest and it will serve me well over here in Baghdad. I have shown only a few and some of them are very excited and one who wants an exact replica of my knife. Thanks again Jay for this truly remarkable weapon! I will be in touch,

Your Aussie Mate in Iraq! --T.M.
If you cant Stand Behind our Troops...Then Stand in front of them
---
---