Manaya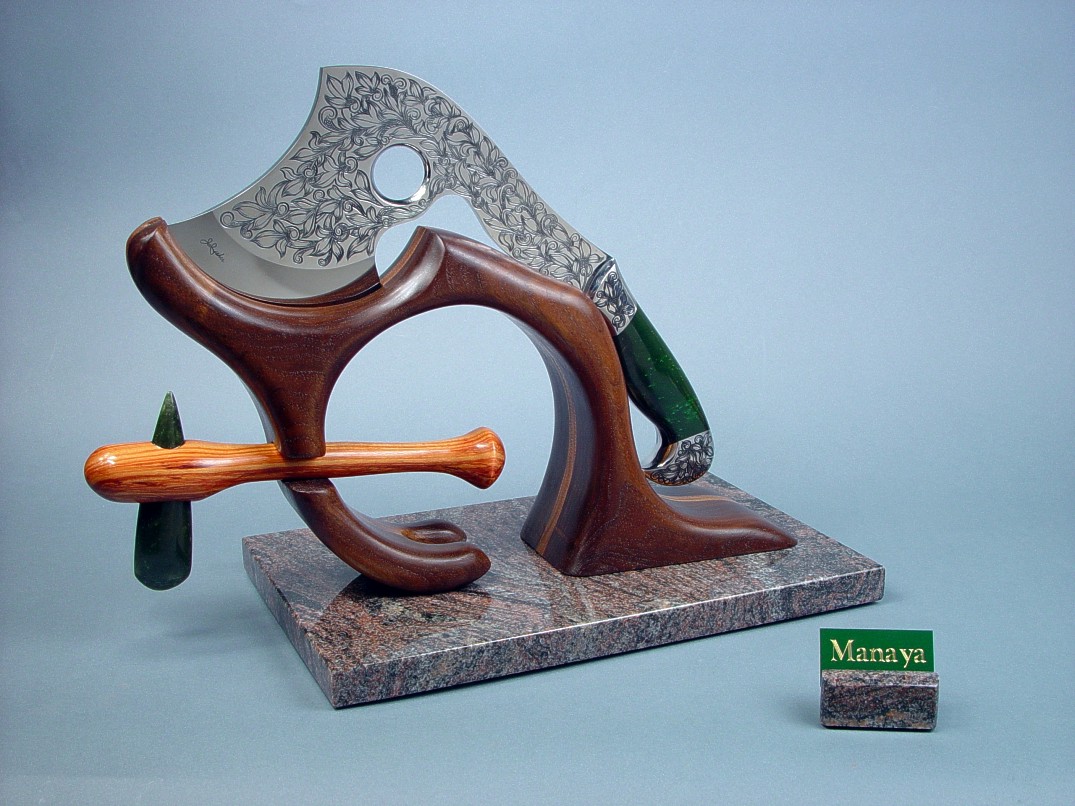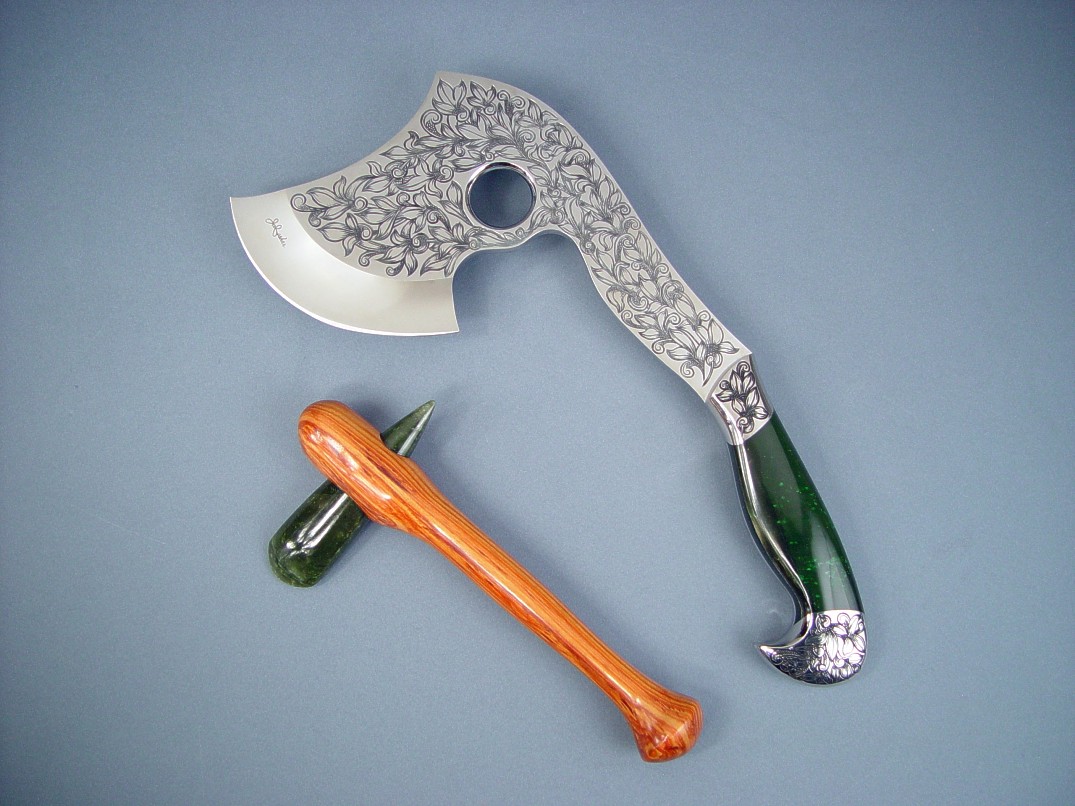 In the ancient Mayan world, jade was highly prized, not just for its striking and deep green color, but also for its incredible toughness. Perhaps the Mayans saw the deep green rain forests echoed in the stone, wondered how this stone came to be, admired its resistance to change, wear or fracture. The earliest peoples found that the stone, when properly ground and shaped, created durable tools, tools hard enough to fell the mightiest of jungle woods. To accomplish this, they created a petaloid celt. This is a petal-shaped teardrop of rock, honed to an edge, mounted into a sturdy wood handle. These were tools and weapons, and as the culture progressed, ceremonial hatchets. In the Taino language of the Caribbean and South American natives, the hatchet is called Manaya.
The celt-stones were made from large jade cobbles found in fields that they worked. Since the stone is striking and mysterious, they believed they were fashioned by lightning bolts, gifts from the gods themselves. These lightning-rocks are nephrite, an extremely tough and fracture-resistant jade gemstone.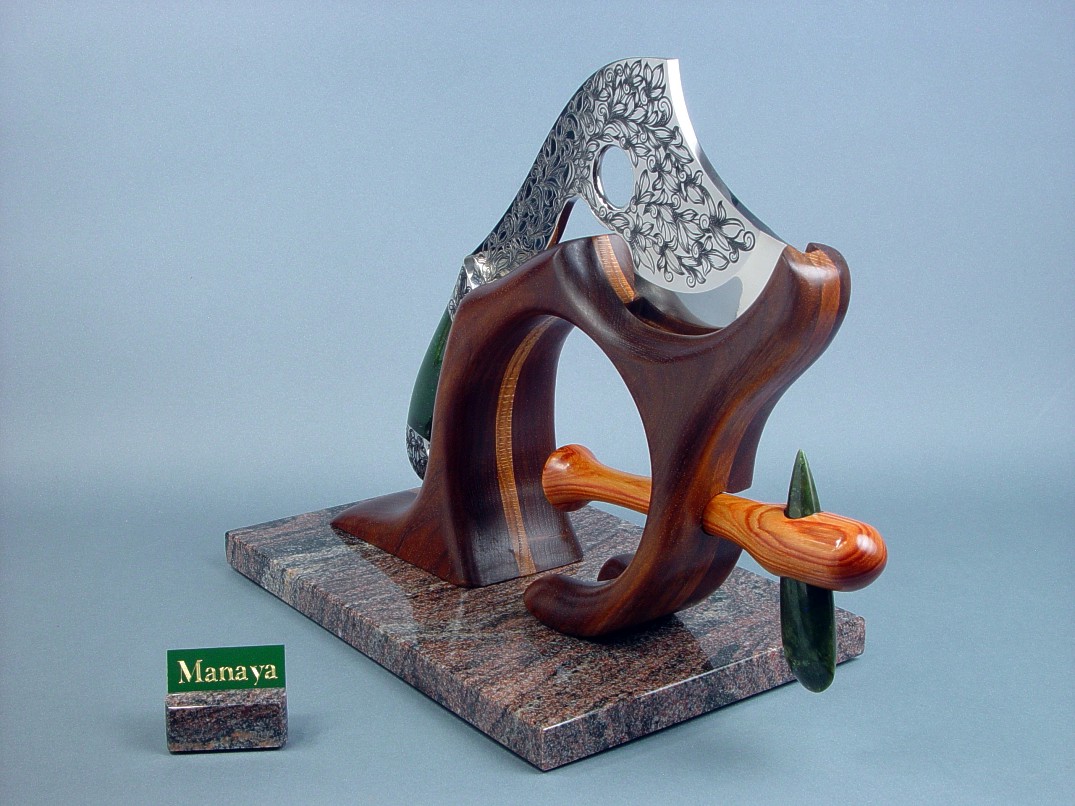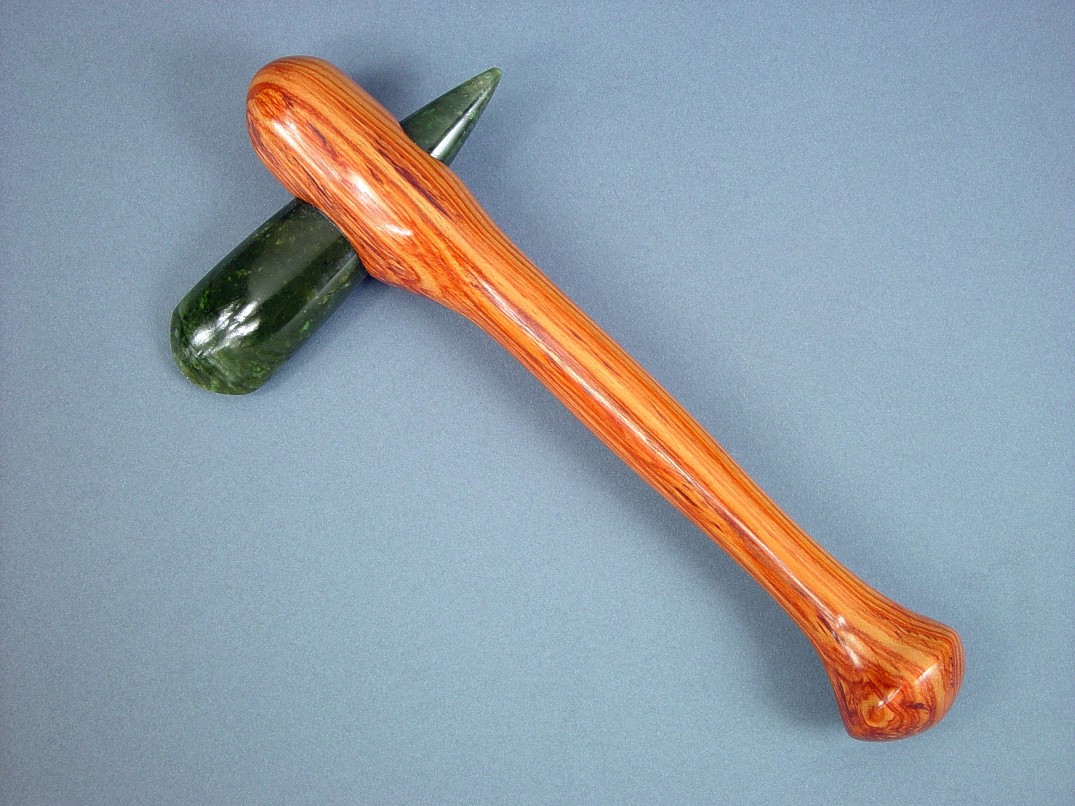 In ancient South America, the manayas were small cobbles of rough jade, chipped, ground, and shaped into petaloid celts, then hafted into handles with a distinctive center-bore technique. They burned and bored a large tapered hole through the center of a very hard and durable wood shaft and fit the stone into it. If the wood was strong enough, as many jungle woods are, the impact of the hatchet would keep the mounting secure and solid. In time, the achievements and associations of these hatchets with chores, campaigns, successes, and events grew and evolved, as did their respect for the jade, wood, and ultimately, the form of the instrument. They changed the wood for stone and built wood-bladed manayas, they substituted stone for the entire object, adding carvings, embellishment, and character. Eventually, a deity of Kawil, the Mayan hatchet god, was assigned this distinctive form. They envisioned a foot at the handle swell of the handle, and a head pierced with the celt itself, a birth of lightning creating the jade and bestowing greatness upon its owner.
This is the image that inspired me to create Manaya. When asked by my patron to create a fine hatchet, I looked to history for inspiration. As the prehistoric peoples exchanged stone for wood, I exchanged wood for steel, and added stone for the handle of a modern work of edged art inspired by the ancient past.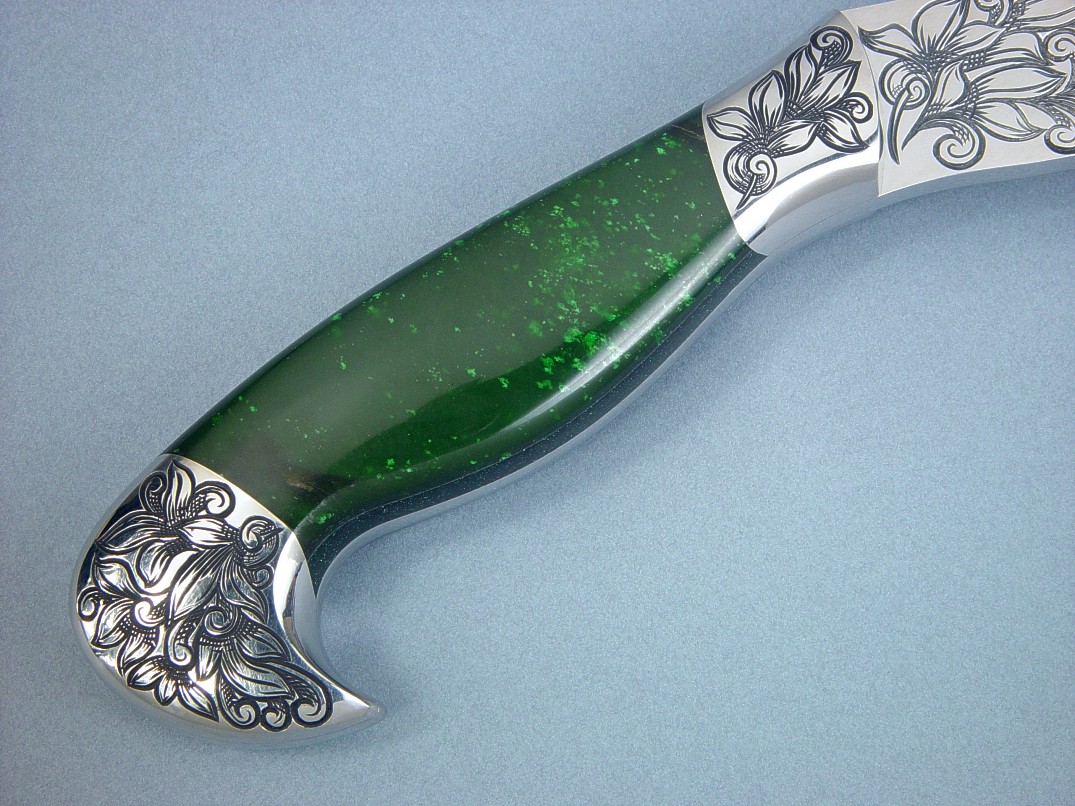 I chose to blend the finest modern tool steels and techniques with the ancient form, and created a specialized blade design, and made it in ATS-34 high molybdenum stainless tool steel. This is a hot work, chrome-moly martensitic stainless tool steel that is extremely tough. Like the nephrite jade, toughness is part of this steel's character and it's dominant characteristic. This is not all this steel excels in, by any means. ATS-34 is very wear resistant and corrosion resistant as well. It excels in finish and polish, and is stable and resistant to extreme heat. Being a very tough and hard steel, it was difficult to hand-engrave, but I knew that is what my steel canvas needed. This is an evolution of the embellishment arts found in ancient pieces.
I designed a pattern of leaves to honor the jungle origins of the Manaya. Leaves emanate from scroll-vines of others, just as the jungle feeds and grows upon itself. I carried the pattern to a larger and more substantial form as the vine work approaches the cutting edge. Because the ATS-34 is extremely hard and tough, only solid carbide engraving tools were used and the engraving took many weeks to complete. The engraving is carried and matched on the thick 304 stainless steel bolsters, which are extremely tough, high nickel, high chromium austenitic stainless steel for high longevity and finish value.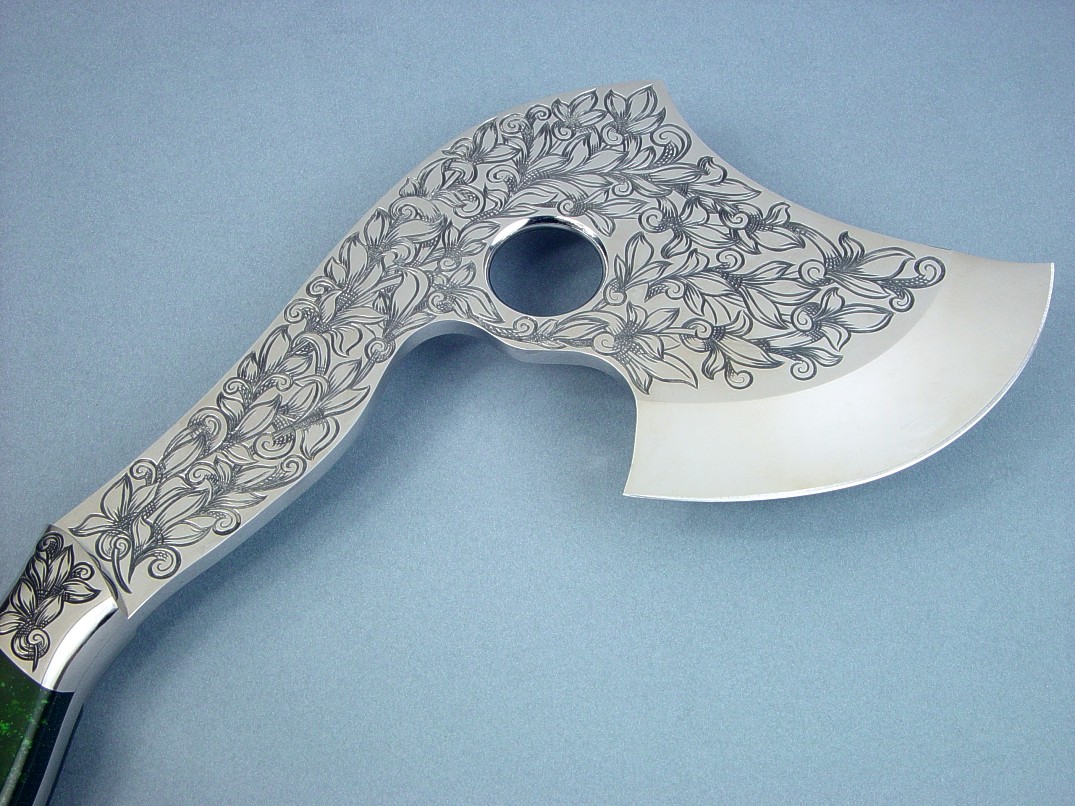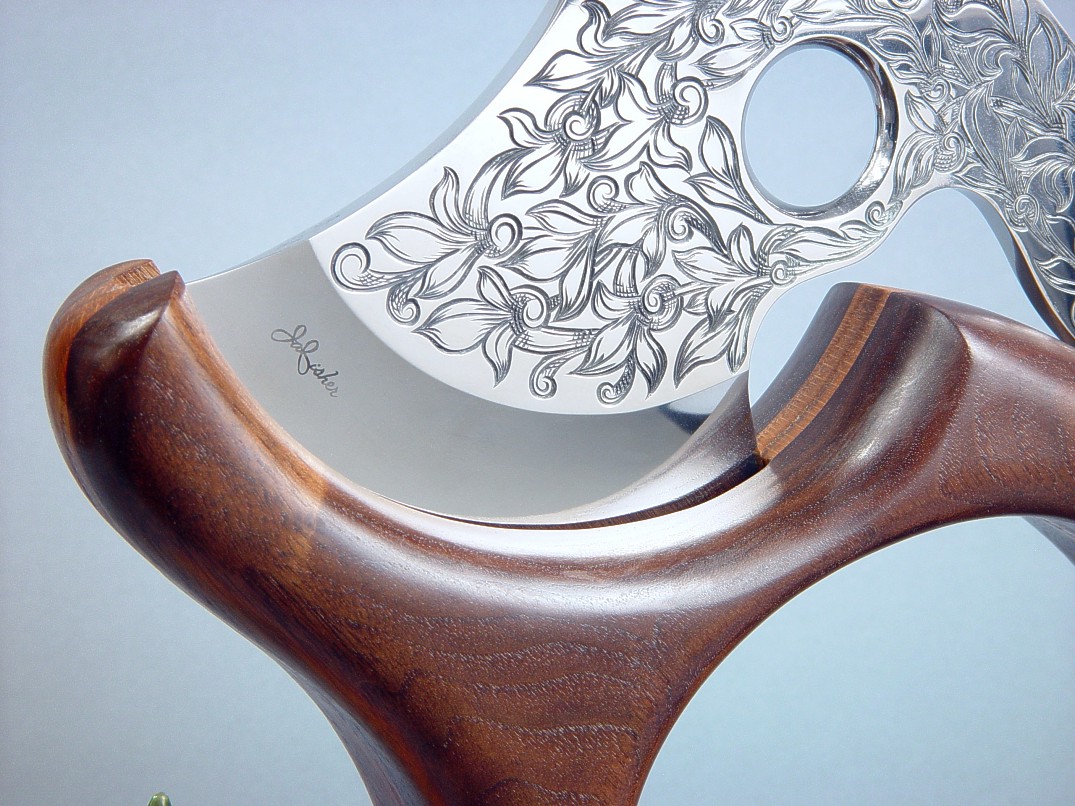 I hollow ground the blade of the hatchet, for an extremely sharp, long lasting edge. I created a smooth and thick tang and profile and added a forefinger ring, chamfered, radiused, dressed, and polished for comfort. The blade has the geometry for close and accurate work, as well as light chopping, since it is designed as a game and dressing hatchet at my patron's request.
The tang is not tapered, as I wanted great strength and substantial mass in the handle. The handle profile shape is comfortable and meaty, with a substantial hawk's bill rear quillon for security in the hand. This is an evolution of the handle swell found in ancient manyas, created to secure the instrument in the hand and resist the forward force of a swing.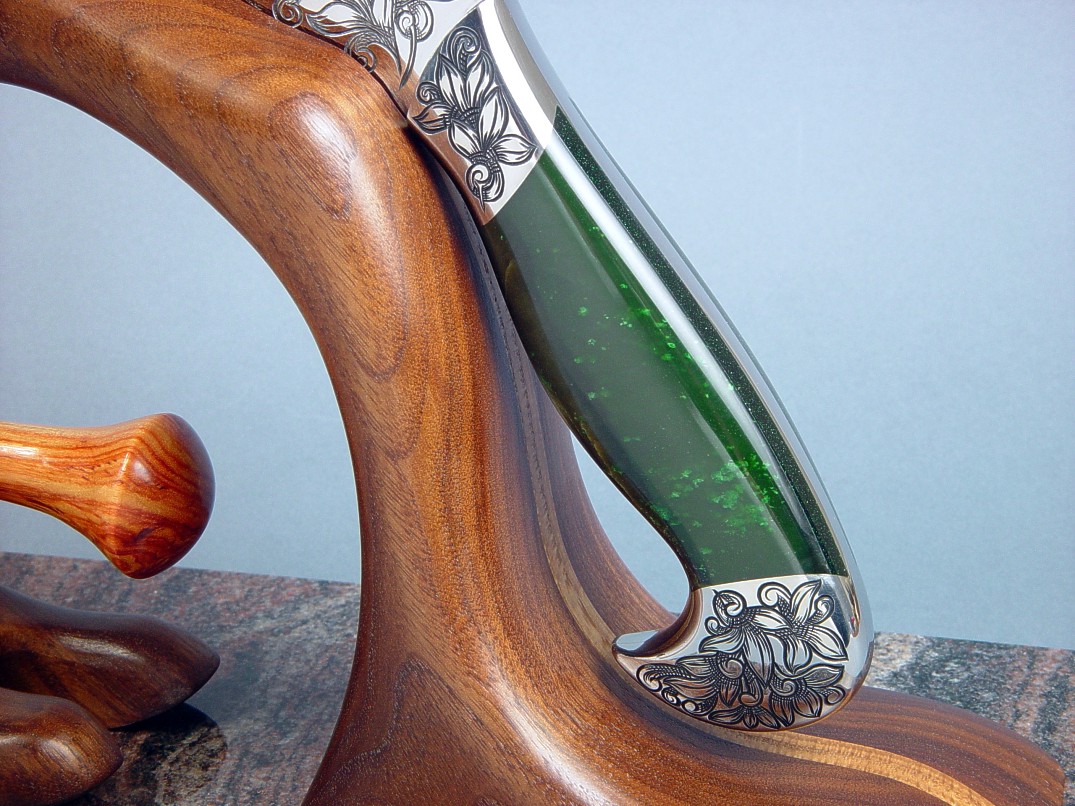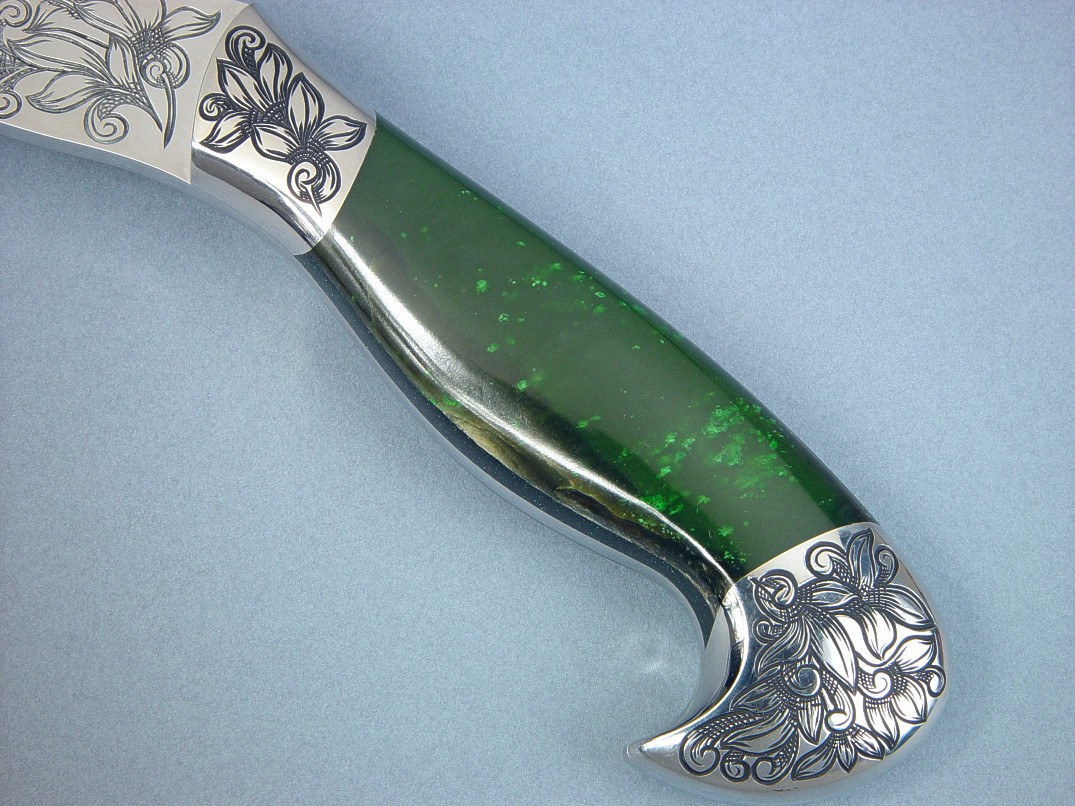 The jade I chose for the handle is North American Nephrite Jade, which is a calcium magnesium iron silicate, and is the stone of the ancients, having been known and used for over 6000 years for ornament, weapons, tools, jewelry, rites, symbolism, customs, fetishes, and even writing. The green is the most valued of the nephrites, and the pieces I chose for this project have snowflakes or flowers of inclusions. Polished with 50,000 grit diamond, the handle is smooth, silky, and comfortable. I also chose a doublet-mount sparkling green spacer of Green Goldstone, a copper and glassine gem with spangles of light play, against the tang of the handle for a dramatic play of visual interest.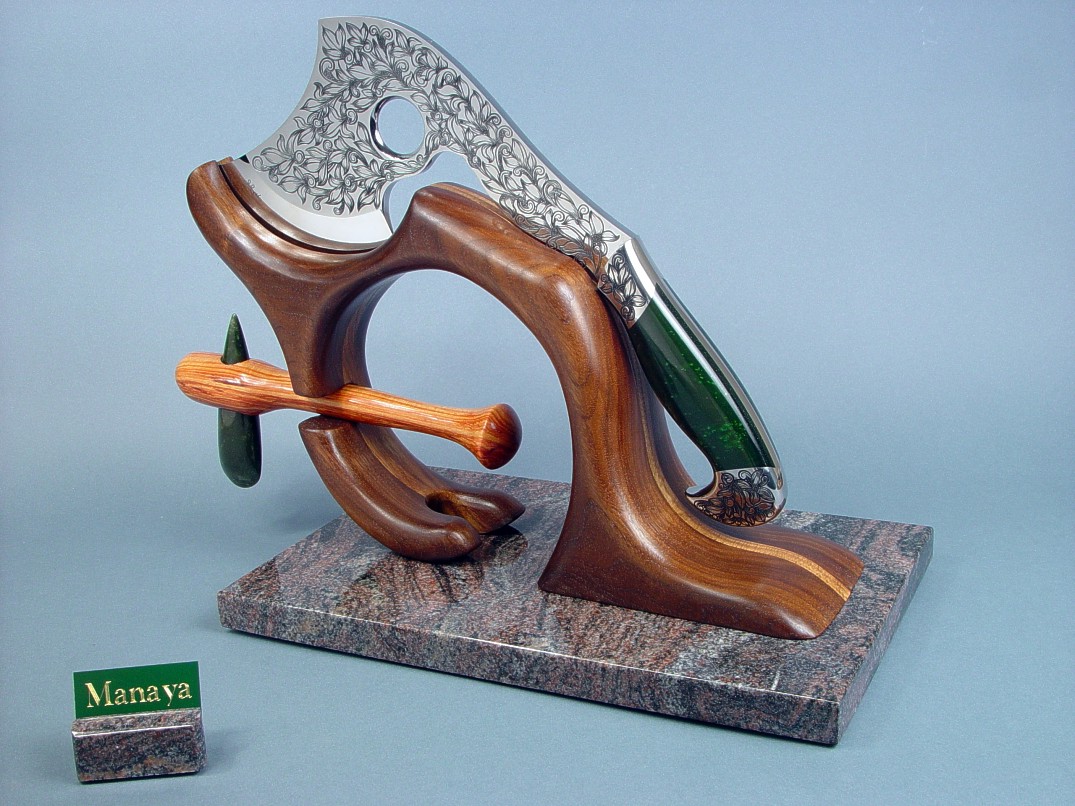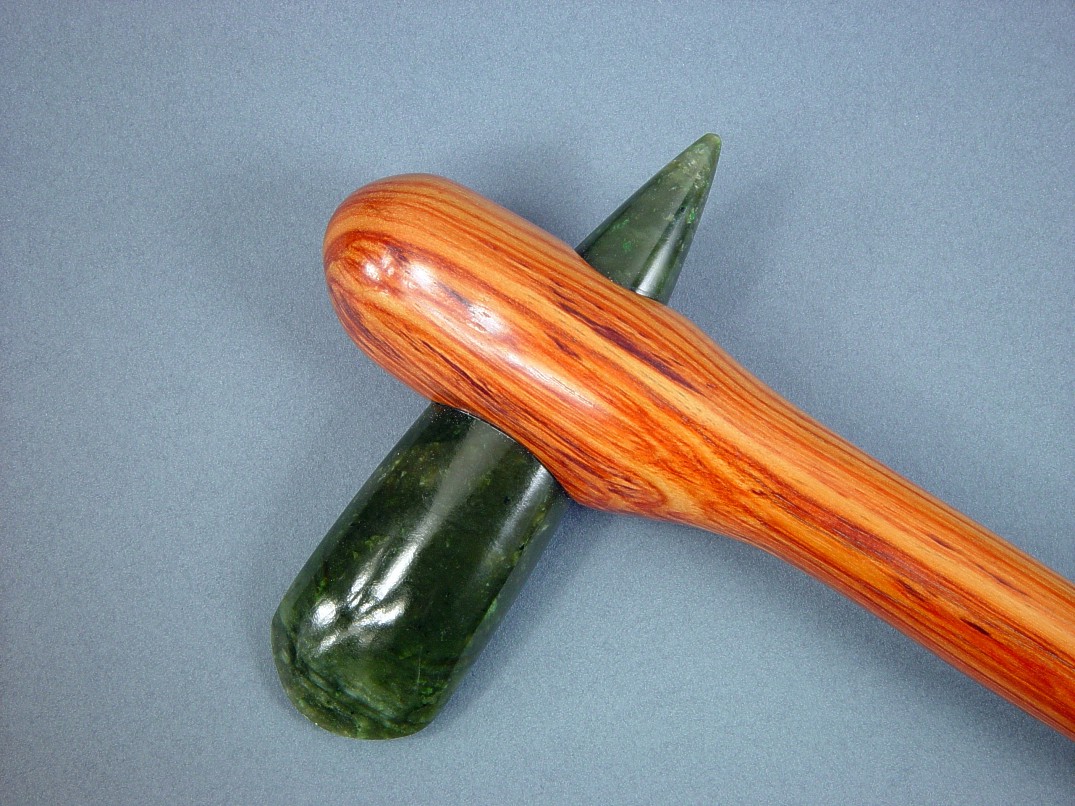 A unique feature of this sculptural art piece is the miniature petaloid celt. In speaking to the past, I wanted to honor the old with the new, so I hand-carved the celt from solid nephrite jade, and brought the jade celt to a high polish. I made the handle from Tulipwood, a strikingly beautiful hardwood from Central and South America, perhaps even a wood that would have been used on ancient Mayan or Taino manayas. This is the wood's natural color, hand carved, sanded, polished and waxed.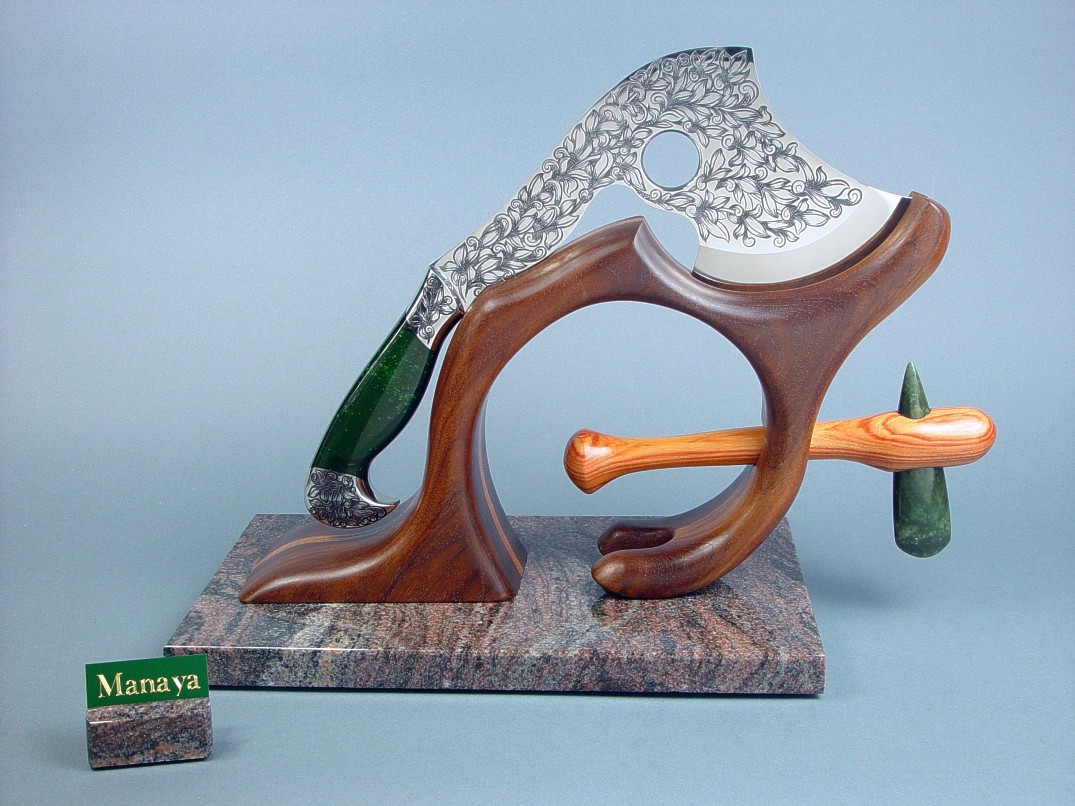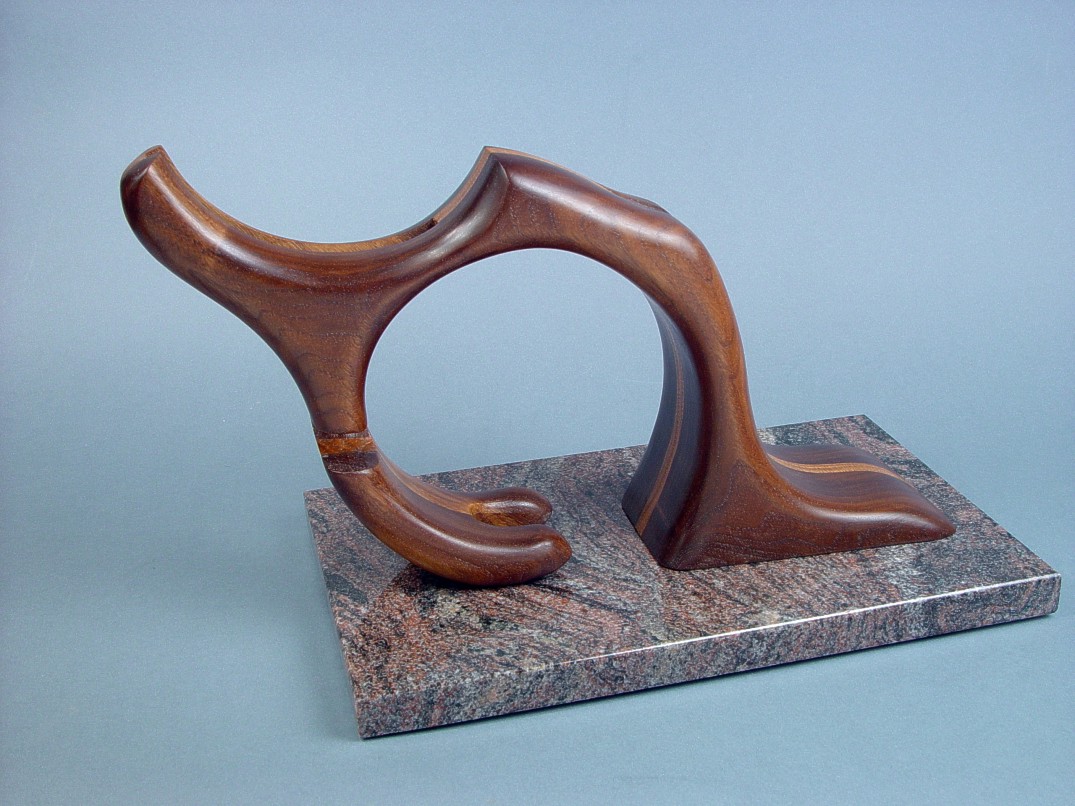 I wanted to portray the unique and fascinating relationship of the hatchet with the form, particularly the form of Kawil, and the relationship with the people of early times. The blade of Manaya rests in a groove cut into a hand-carved, hand finished wood sculpture of American Black Walnut, with a spine of American Red Oak. This form, animalistic and both human in subtle appearance, carries Manaya on its back, while kneeled, and holding the petaloid celt in the passive position.
The stand is constructed of three pieces of solid wood, and is hand-finished, oiled, and sealed with wax. The hardwood stand is mounted soundly, screwed through a base of solid Paradiso Classico Granite Migmatite. The granite is dressed, chamfered, polished and sealed, and based with four inset neoprene feet.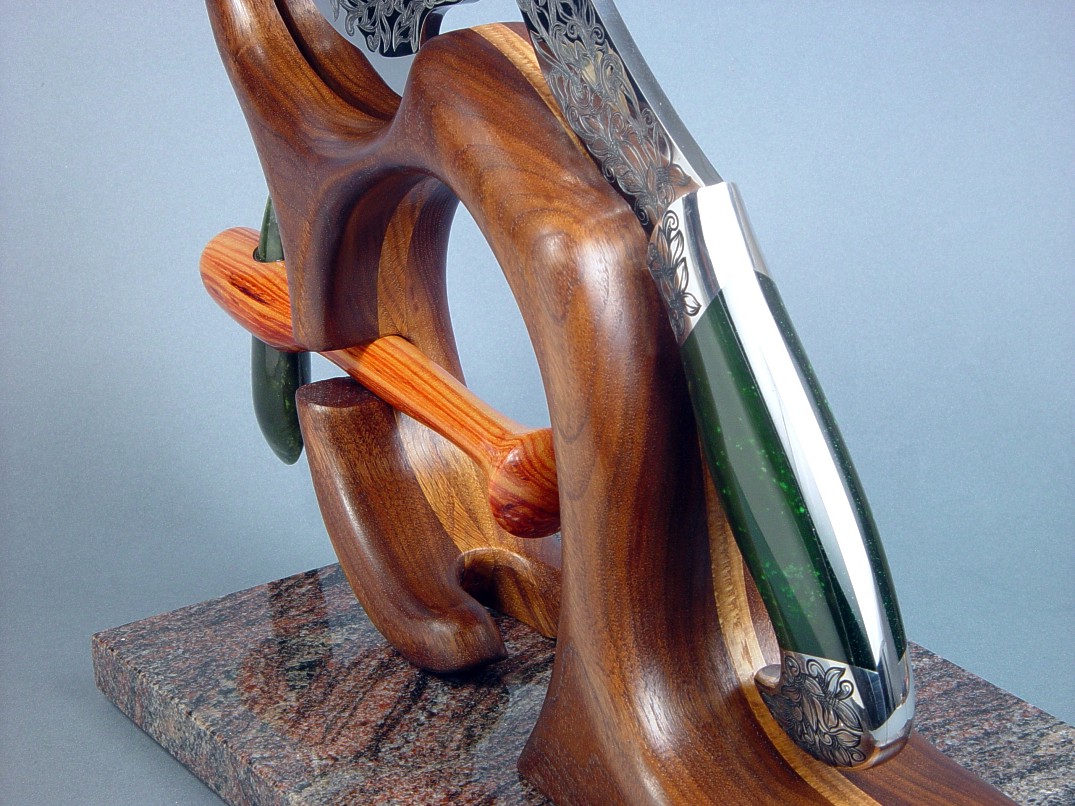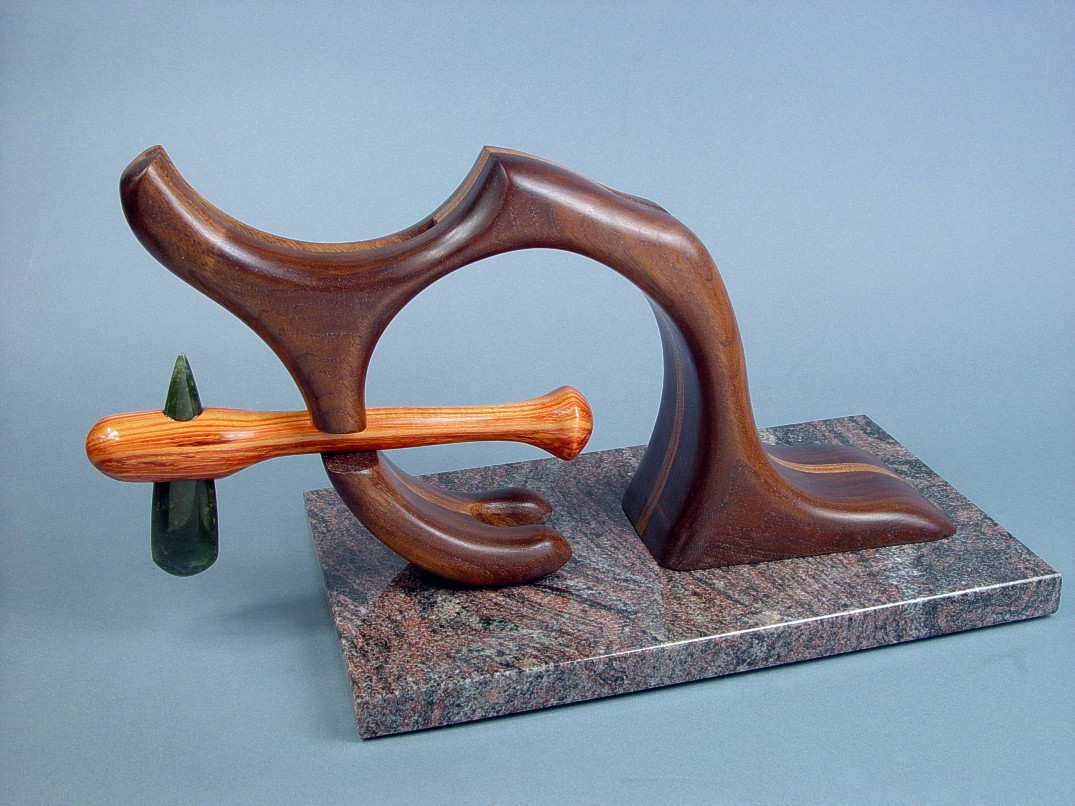 The petaloid celt is held in position in the base sculpture by tension in a key-holed slot in the hardwood. It is moved forward to the narrowest part of the handle for removal. The piece includes an engraved green lacquered brass nameplate in granite Migmatite base.
While I made this, I could not help but think the ancients would appreciate what I have tried too represent in this sculptural work. Bringing the old to the new with detail and bold style, I hope they would see the honor of their timeless contribution to form, and the evolution of that form to our present. As an artist, I hope that you, too, can experience this bridge across time.
My special thanks goes to my patron of this work of edged art, for without him, I could not have made this piece.
Thanks, P. K.!
---
"Manaya" Hatchet Sculpture Specifications, Materials
Size

Overall Sculpture: 11.0" (27.9 cm) height x 15.0" (38.1 cm) wide x 7.5" (19.1 cm) depth
Hatchet: Length Overall: 13.25" (33.7 cm), Edge Length: 4.75" (12.1 cm)

Weight

Sculpture with Hatchet: 10 lbs, 14.5 oz. (4.95 kg)
Hatchet: 2 lb., 4.0 oz. (1.021 kg)

Blade: ATS-34 high molybdenum martensitic stainless tool steel, hardened and tempered to 60HRC
Blade Finish: mirror polished throughout, hand-engraved
Bolsters, Fittings: Hand-engraved 304 high nickel, high chromium austenitic stainless steel
Handle: Polished Nephrite Jade, Green Goldstone Gemstones, doublet mount
Petaloid Celt: Polished Nephrite Jade Gemstone, Tulipwood (Dalbergia variabilis)
Sculpture, Base: American Black Walnut, American Red Oak, Paradiso Classico Migmatite Granite
Awesome!
Jay I made time to look extremely close at all the pictures and I am without words to describe how I feel. You have created numerous masterpieces for me over the years and to claim one is THE BEST would slight the other ones. The rescue knives are artistic and brutal, hunting and fillet knives are practical and beautiful, Titan and other self defense knives are art works in sheaths and my retirement display is second to none. All I can say is it is awesome and it is an art work that will be passed down for generations.
Thank you for creating it!
Upon arrival:
It just arrived and I am completely satisfied. My hands would would be destroyed if I had attempted that engraving.
I look forward to the Trailhead and the Lynx I ordered several years ago, I know these will also be masterpieces. When my number comes up I would like to talk to you about the thickness of the blades, the Arctica needs some companions!
Best always:
--P.
---
---