Mercator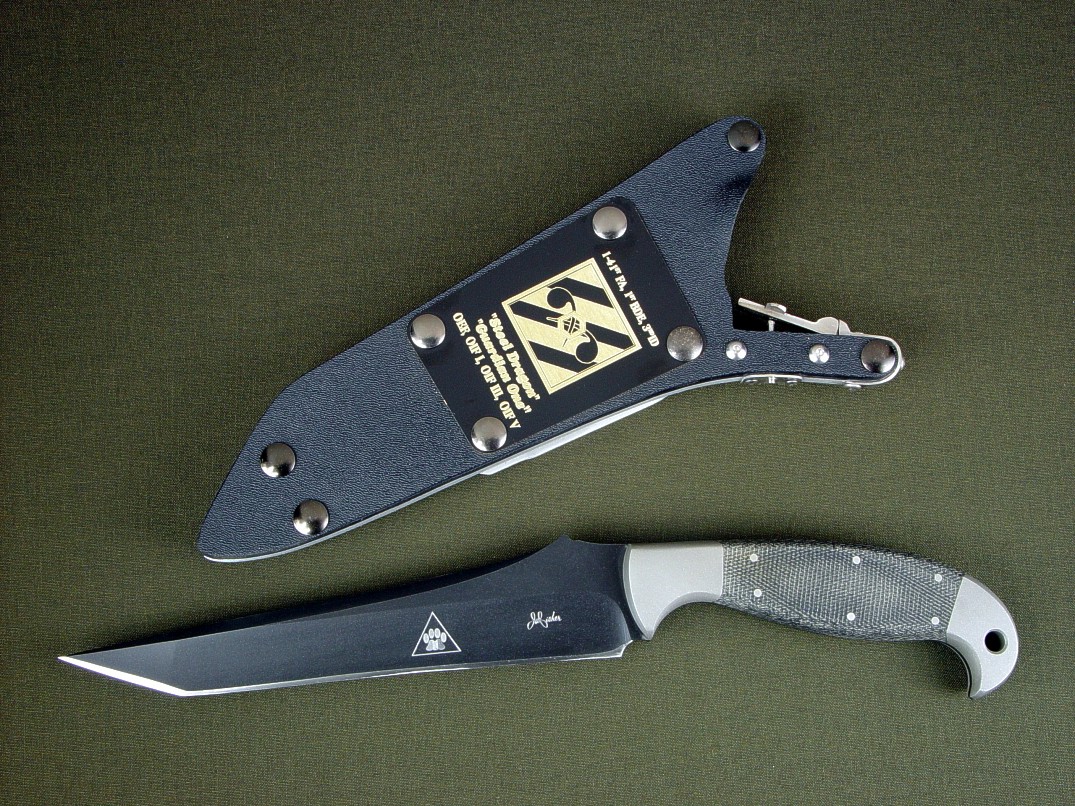 "Mercator" Custom Tactical Combat Knife
Size: Length overall: 11.5" (29.2 cm), Blade Length: 6.75" (17.2 cm), Thickness: .183" (4.7 mm)
Weight: Knife: 10.2 oz. (289 grams) Sheath, Locking Kydex: 9.9 oz. (281 grams), Leather: 7.0 oz. (198 grams)
Blade: O1 High Carbon Tungsten-Vanadium Tool Steel, Hardened and Tempered to Rockwell C59
Bolsters, Fittings: 304 Austenitic Stainless Steel
Handle: Canvas Micarta Phenolic
Sheath, Locking: Kydex, Aluminum, Stainless Steel, Blued Steel, Engraved Black Lacquered Brass
Sheath, Leather: Engraved and Hand-Stamped Leather Shoulder
Knife: One of a great pair of custom made combat knives, this Mercator is ready for business. See the other half of this great combo (the Phlegra Khukri) here. The Mercator blade is made of bead-blasted and hot-blued O1 high carbon tungsten-vanadium tool steel, and hardened and tempered to a very wear-resisting 59HRC. The blade is a hollow ground tanto style, with a very slight recurve and an extremely aggressive point geometry with a thicker grind at the point for support of the razor keen single bevel cutting edge. The blade has a full length top swage to reduce point profile for Primary Edged Weapon piercing. The knife has a slight thumb rise, notched to engage the locking sheath, and a fully tapered tang that leaves plenty of thickness in the butt for strength. The knife is bolstered with zero-care 304 austenitic high nickel, high chromium stainless steel, and the bolsters are multi-pinned and dovetailed to bed a pair of tough canvas reinforced Micarta phenolic handle scales secured with six through-tang 304 stainless steel pins. The rear hawk's bill bolster pair has a through-tang chamfered lanyard hole for extra security. All metallic surfaces of the knife have been bead blasted for low reflection, and the custom Guardian's Paw Print is diamond point machine-engraved deep into both sides of the blued steel blade.
Sheath, Kydex: The sheath for this knife is one of my positively locking military tactical combat models, made of double thickness kydex, 5052H32 corrosion resistant high strength aluminum alloy welt frame, 304, 302, and 316 stainless steel locking mechanism and components, bound with blued steel Chicago screws and 18-8 stainless machine screws. The high strength aluminum belt loops are reversible for a variety of wear positions and can also be moved up and down the sheath body for a variety of wear options. The sheath has a custom machine engraved flat black lacquered brass flashplate honoring the Steel Dragon and the multiple combat tours of the client which is removable for service and can be later replaced for legacy honors.
Sheath, Leather: The client also requested a legacy leather sheath, sturdy enough for civilian wear and custom and unique. I machine-engraved a bold rendition of the Guardian Paw Print into the sheath face, and hand-stamped and tooled the front, back, and belt loop of the sheath that is made of 9-10 oz. leather shoulder, dyed a medium brown, hand-stitched with polyester sinew, lacquered and sealed.
This is a great Primary Edged Weapon of a combat knife pair with dependable and useful accessories ready for action and honored legacy.
Thanks, C. C.!
Hi, Jay.
I got the knives today. They are Gorgeous. Hopefully, I'll never need to use them for combat, but at least I know that if I do need to use them, I'll be using the best.
Thanks again,
C. C.
---
Note: This is one knife of a matched pair. See the other knife: Phlegra
---