Mercator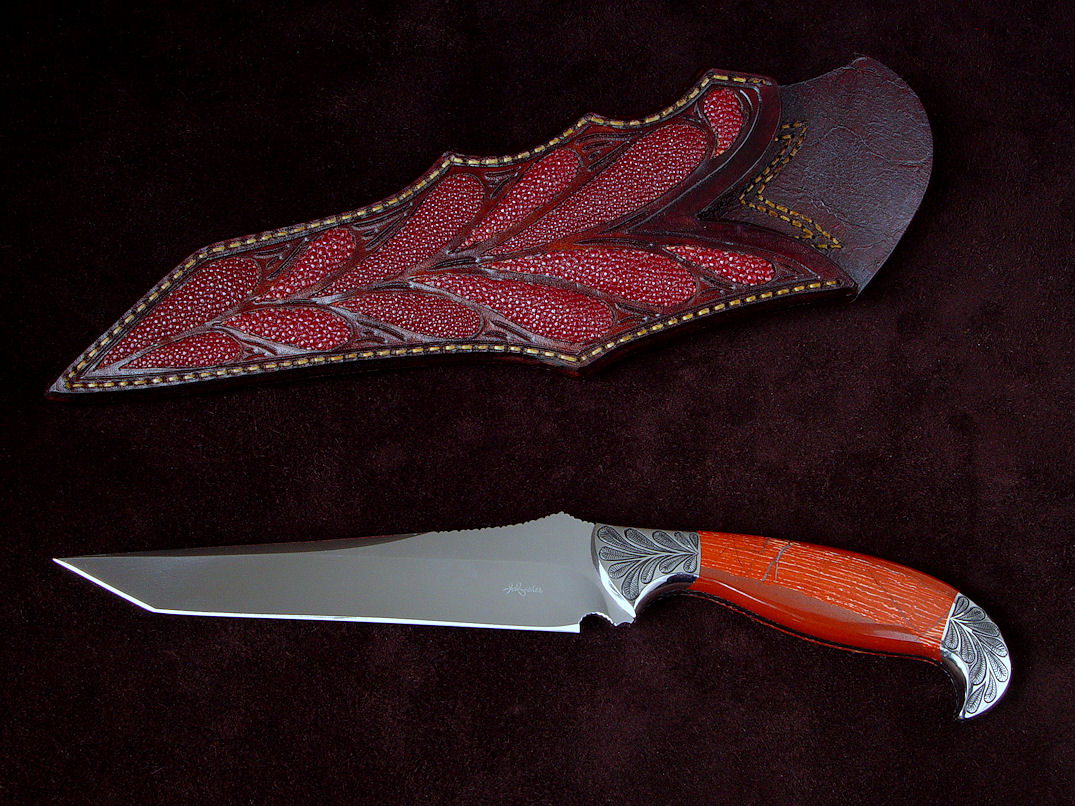 "Mercator" Custom Knife
Size: Knife: Length overall: 11.5" (29.2 cm), Blade Length: 6.75" (17.2 cm), Thickness: .191" (4.9 mm)
Weight: Knife: 11.6 oz. (329 grams) Sheath: 7.2 oz. (204 grams)
Blade: 440C High Chromium Martensitic Stainless Tool Steel, Hardened and Tempered to Rockwell C58, hollow ground and mirror polished
Bolsters, Fittings: 304 Austenitic Stainless Steel, mirror polished, hand-engraved
Handle: Snakeskin Jasper (Australia)
Sheath: Hand-carved leather inlaid with rayskin
Knife: This custom-made knife was commissioned by a great client, and it was a pleasure to make just for him. The Mercator is a great design, a tanto style tactical blade with aggressive angles and a tapering profile. The blade is clean, crisply defined 440C high chromium stainless tool steel, fully hollow ground and hardened and tempered to 58C Rockwell for just the right hardness balanced with the toughness this steel is known for. The chromium content means it is the most resistant to corrosion of all the stainless tool steels that have this performance rating of high wear resistance. The smooth and graceful razor-keen blade has a half-length spine swage to reduce the point profile without sacrificing strength, with a substantial spine at the ricasso for great handle-to blade rigidity. The fully tapered tang is completely fileworked with a light vine pattern. The knife is bolstered with zero-care 304 high nickel, high chromium austenitic stainless steel bolsters, the same steel used to make stainless steel nuts, bolts, and fasteners, and I hand-engraved a detailed fern-like pattern that is echoed in the custom sheath inlays. The bolsters are dovetailed and bed a pair of Snakeskin Jasper gemstone handle scales, solid and brightly polished. This gemstone is a microcrystalline quartz and comes from western Australia, and is extremely hard and tough, one of the most durable gemstones I've ever used. It is so hard, that I'm certain that it will outlast the rest of the knife and still look like the day it left the shop. This jasper has light colored lines with lightning-bolt shaped veins of translucent agate, with deep red tones. I took considerable time to bring out the lustrous polish, and the balance point is at the forefinger placement. The knife is smooth and comfortable to hold, as all of the edges, profiles, and surfaces are contoured, smoothed, rounded and polished.
Sheath: Matching the sheath with the knife was clear; I built one of my exotic inlay sheaths from hand-carved 9-10 oz. leather shoulder, tough and thick, inlaid with 23 individual inlays of red rayskin. This rayskin is like interlocking bone, and is very hard and tough. Even the double-row stitched belt loop has rayskin inlays. The sheath is hand-stitched with polyester sinew for durability, dyed a medium brown and coated and sealed. The sheath is deep and protective, while allowing a view of the beautiful handle material of the knife in a high-backed style that protects the wearer.
A handsome and striking ensemble, a classy work of edged art.
Thanks, J. S!
Jay,
The Mercator looks great. It flows really beautifully.
--J.
---
---