Mercury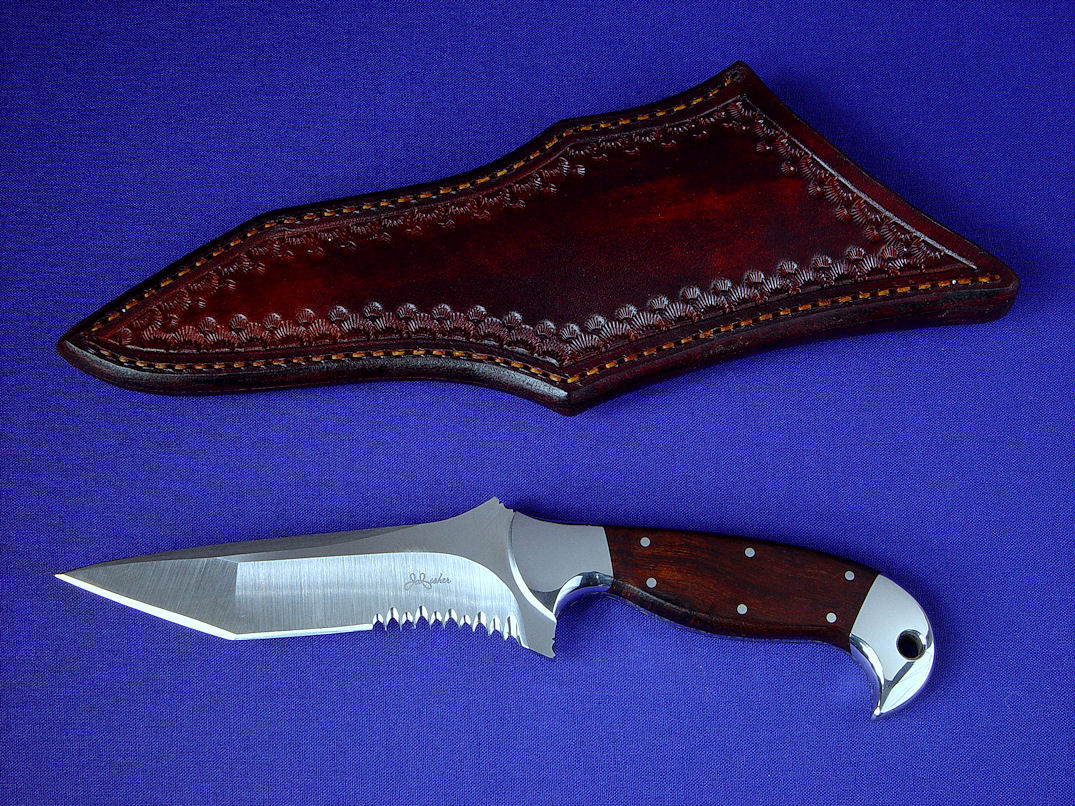 Mercury
Size: Knife: Length overall: 9.0" (22.9 cm), Blade Length: 4.75" (12.1 cm), Thickness: .196" (5.0 mm)
Weight: Knife: 8.0 oz. (227 grams) Sheath: 5.2 oz.(147 grams)
Blade: 440C High Chromium Martensitic Stainless Tool Steel, Hardened and Tempered to Rockwell C58, hollow ground and satin finished
Bolsters, Fittings: 304 Austenitic Stainless Steel, mirror polished
Handle: Desert Ironwood Hardwood
Sheath: Hand-tooled leather
Knife: The Mercury was designed as a tactical and defensive knife, but also doubles as a great utility knife with plenty of features packed into a modest size. This Mercury is made of hollow ground 440C high chromium stainless steel blade, for the highest corrosion resistance and great toughness with excellent wear resistance. The blade is a law angle tanto point, for good point geometry with a two-thirds length top swage that preserves spine strength. The razor sharp edge has 1.5 inches of my Vampire rip tooth serrations for difficult cutting chores and the thumb rise and sizeable front quillon protect the hand well. The knife is full tang, with bold and accurate handle filework around the tapered tang, and is bolstered with zero-care 304 high nickel, high chromium austenitic stainless steel. The bolsters are dovetailed and bed a pair of very dark, rich, and handsome Desert Ironwood handle scales, secured with six 304 stainless steel pins through the tang. The rear bolster has a chamfered lanyard hole for extra security and the handle is contoured and radiused for a very comfortable grip . The knife feels great in either forward or reverse grip.
Sheath: The sheath for this Mercury is simple and clean, made of leather shoulder, hand-tooled with a tidy pattern, and hand-stitched with polyester sinew for great toughness and longevity. The sheath is deep and protective, with just enough of the rear quillon to make unsheathing easy and fast. The belt loop is double-row stitched for strength, and the sheath is dyed a rich medium brown, and sealed for resistance against the elements.
A great knife for utility, defense, or collection: stout and beautiful.
Thanks, T. G!
It's awesome, thank you very much.
--T.
---
---