Mercury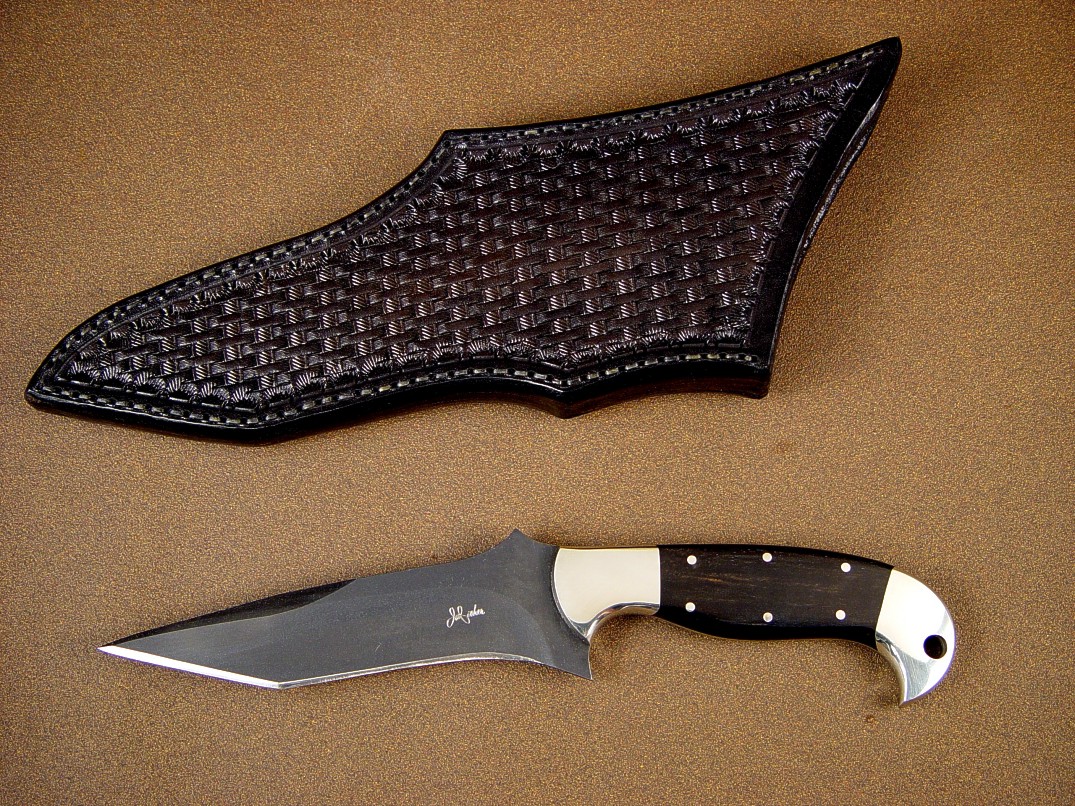 "Mercury" Tactical, SWAT Knife
Size: Knife: Length overall: 9.0" (22.8 cm), Blade Length: 4.75" (12.1 cm), Thickness: .184" (4.7 mm)
Weight: Knife: 7.5 oz. (213 grams) Sheath: 6.0 oz. (170 grams)
Blade: O-1 High Carbon Tungsten-Vanadium Alloy Tool Steel, Hardened and Tempered to Rockwell C59, hollow ground, bead blasted, hot blued
Bolsters, Fittings: Nickel Silver, Bright Satin Finished
Handle: Ebony Exotic Hardwood
Sheath: Hand-stamped Black Basket weave Leather
Knife: Designed for an active duty MERGE Unit (SWAT team) law enforcement member, the Mercury is a quick, light, useable rescue knife, capable of additional duty in defense, utility, and numerous other necessities professionals have a need for. This is a fine, extremely sharp blade made of O-1 high carbon tungsten-vanadium tool steel, a great steel that I've used in many of my best combat and professional knives. The client wanted a flat black look, so I bead-blasted the hollow ground blade, and hot blued it for deep corrosion resistance and flat black appearance. The blade has a half-length top swage for reduced point profile and a very aggressive point angle backed up with plenty of thick spine. The client wanted a clean spine and handle, so the tang is finished without filework and is very smooth. The sweeping grind termination conserves blade to handle strength, and the full tang is tapered for good weight balance. The handle shape has deep quillons, so the hand locks into the handle well in either tactical or defensive (reverse) carry, with a short thumb rise for applied force. The bolsters are brightly finished nickel silver, dovetailed to hold a pair of Ebony exotic hardwood handle scales. The Ebony is bedded and secured with six nickel silver pins, with a rear through-tang lanyard hole for security. This is my first edition of this knife, and it's already popular enough for six more to be in the works!
Sheath: The sheath is traditional law enforcement, and very tough, made of 9-10 oz. leather shoulder, hand-stamped in black basket weave, hand-stitched with polyester sinew, with double row stitching on the 2 1/8" wide belt loop for extra security. The deep leather sheath protects the knife and wearer well, and is edge-smooth, lacquered and sealed.
A fine professional tool for the professional client.
Thanks, E. C.!
Jay,
The knife is brilliant. I love the balance and feel of it. It's small and quick but tough enough to get the job done. I am very well pleased. Thanks so much for working on this project with me.
Cheers,
--E. C.
---
---