Mule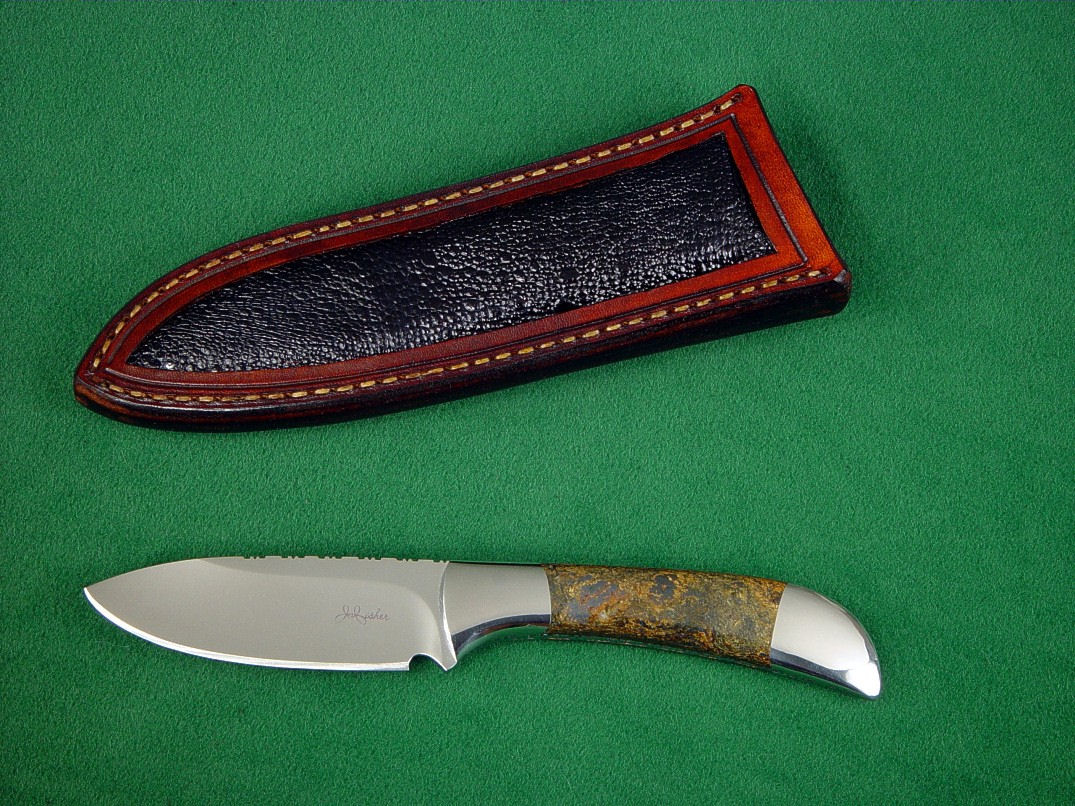 "Mule" Fine Handmade Knife
Size: Length overall: 7.0" (17.8 cm), Blade Length: 3.0" (7.6 cm), Thickness: .135" (3.4 mm)
Weight: Knife: 4.6 oz. (130 grams) Sheath: 3.2 oz. (91 grams)
Blade: 440C High Chromium Martensitic Stainless Tool Steel, Hardened and Tempered to HRC58, Mirror Polished
Bolsters, Fittings: 304 Austenitic Stainless Steel
Handle: Bronzite Hypersthene Gemstone
Sheath: Black Frog Skin inlaid in hand-carved leather shoulder
Knife: A fine handmade custom knife, the Mule is an immensely practical yet graceful and compact knife. This Mule has a deeply hollow ground and mirror polished blade of 440C high chromium martensitic stainless tool steel, for extremely low care, high longevity, and high corrosion resistance. The blade has a practical drop point shape for easy sheathing and high strength, and the tapered tang is fully fileworked with a tight, intricate, and punchy pattern. The handle is bolstered with zero care 304 high nickel, high chromium austenitic stainless steel, the same stainless steel used in corrosion-resistant nuts, bolts, and fasteners, and the bolsters are dovetailed to bed a pair of rich Bronzite Hypersthene gemstone handle scales. This gemstone has areas of dark gray metallic hematite throughout, and displays a brilliant fibrous luminosity of golden spangles in bright light, which the photos can not display. One of my proven working designs, the knife feels smooth and comfortable in the hand.
Sheath: I included one of my special inlaid sheaths for his knife, and I constructed this simple and elegant sheath with black frog skin inlaid in hand-carved 9-10 oz. leather shoulder. The tough sheath is hand-tooled and hand-stitched with polyester sinew, dyed a medium brown to bring out the frog skin panels, lacquered and sealed.
A beautifully unique practical knife with a rich sheath for use, carry, and collection.
Thanks, J. M.!
Hi Jay,
I wanted to let you know the Mule knife was delivered today. The packaging was top notch and made me feel like I was about to open something very special. This knife and sheath are absolutely a work of art. The knife looks stunning and your web pics come pretty close to presenting what the knife actually looks like in person. The bronzite gemstone is beautiful and has cavities of gold material that give it a three dimensional look. Very cool. The knife itself feels hefty and perfectly balanced in the hand and gives you the impression that when cutting with the blade will be smooth and effortless. I really like your choice of file work. It is simple yet has a tribal look to it if I am not mistaken. Awesome!  The sheath is just amazing and I love the solid beefy feel it has. The combination of colors and material used makes this sheath and knife look so good together.  Even the stitching matches the gold in the handle of the knife. This sheath looks so good front and back you can't decide on which side to rest it on. Sweet. 
I am totally thrilled with my first Jay Fisher knife and sheath. Thank you for passing this masterpiece on to me, I will take good care of it.  I know now I am truly in knife heaven!
Best Regards,
--J.
---