Nebula Stone Gemstone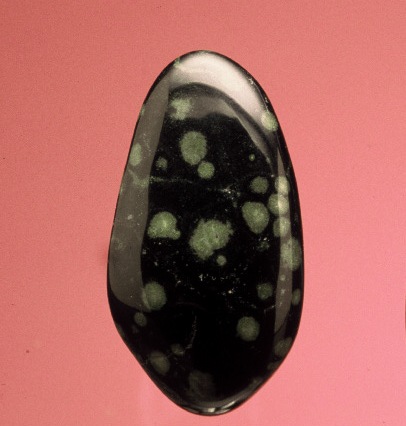 Nebula Stone: The New Discovery
It is rare these days when new stones are discovered that are notable, significant, and suitable as gemstones. This only happens a few times in a generation, though mineralogical discoveries still happen. When I saw the first pictures of Nebula stone, I knew I would have to try some for a fine knife handle. Since the find is so rare, I was certain that no knife had ever been handled before in history with this particular gemstone.
Ron and Karen Nurnberg, the sole suppliers of Nebula stone were kind enough to supply me with some small slabs for a very special knife handle. They are the discoverers and original suppliers of this gemstone, making it very special indeed. Read the details of their discovery here. The Smithsonian Institute first said was a new variety of nephrite jade, but then admitted they didn't know what it was. It is definitely not jade. The American Museum of Natural History claimed that "it's unlike anything any of us have ever seen!"
The stone looks like translucent, glowing, green nebulas floating in a sea of inky black space. It is very hard and dense and will make an extremely durable knife handle as well as unique. Here are some of the mineralogical details about this new gem:
| | | | |
| --- | --- | --- | --- |
| Name | Chemistry | Properties | Name origin |
| Acmite (Aegirine) | Sodium iron silicate (pyroxene group) | Black, greenish or brownish black, vitreous (glassy) | Named for the Greek word akmefrom "point" referring to the steeply pointed pyramidal crystalline form. The old Norwegian name aegirine, from Aegir, the Teutonic God of the Sea |
| Riebeckite | Silicate of sodium and iron (amphibole group) | dark blue-black vitreous (glassy) silky in crocidolite variety | Named for Emil Riebeck, German explorer and mineralogist. I've used the crocidolite variation in several projects, click here to see a beautiful gemstone handled Chef's' Set. |
| Anorthoclase | Sodium potassium silicate (feldspar group) | Greenish, transparent, vitreous (glassy), crystalline | Named from the Greek "oblique," and "fracture" referring to the crystalline cleavage |
| Zircon | Zirconium silicate | Black, green, transparent, vitreous (glassy) hard | Named from the Persian zargun, "gold-colored" |
| Quartz | Silicon dioxide | Lustrous, glassy, some in gem quality, all colors | Named from German quartz, meaning "uncertain origin" |
---
Read some very unusual comments from the scientific community on this stone and its unusual attributes on a special page on the Nebula stone site.
The breakdown of the mineralogy of this gemstone can not describe how these minerals combine to form this truly unique gemstone. This is some breathtaking and truly unique material that will make a stunning knife handle. Here are my first Nebula stone slabs that will be used on the very first Nebula stone knife handle: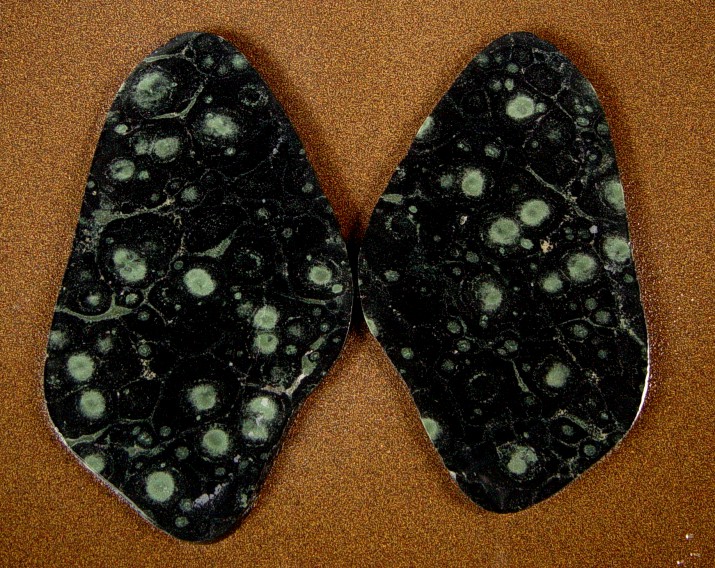 Cutting the Nebula Stone
From the moment I posted this page, I had clients that wanted Nebula stone gemstone handle scales on their knives, so they contacted the suppliers and had them ship me the stone for slabbing for use on their knife handles. This is some hard material and has even stalled the saw once. I'm cutting at near 5000 surface feet per minute, using a red blazer diamond blade by Raytech, one of the hottest diamond saw blades made. The feed is about 18 minutes per inch. The red stained Almag coolant was from cutting some jasper/hematite in a previous operation. The reason for the difficult cutting is probably the size and amount of zirconium silicate in this particular cobble. Tough, hard, and beautiful, I'll be very interested to see just how this gemstone looks on a finished knife handle. Here's a shot of a Nebula stone boulder in the saw: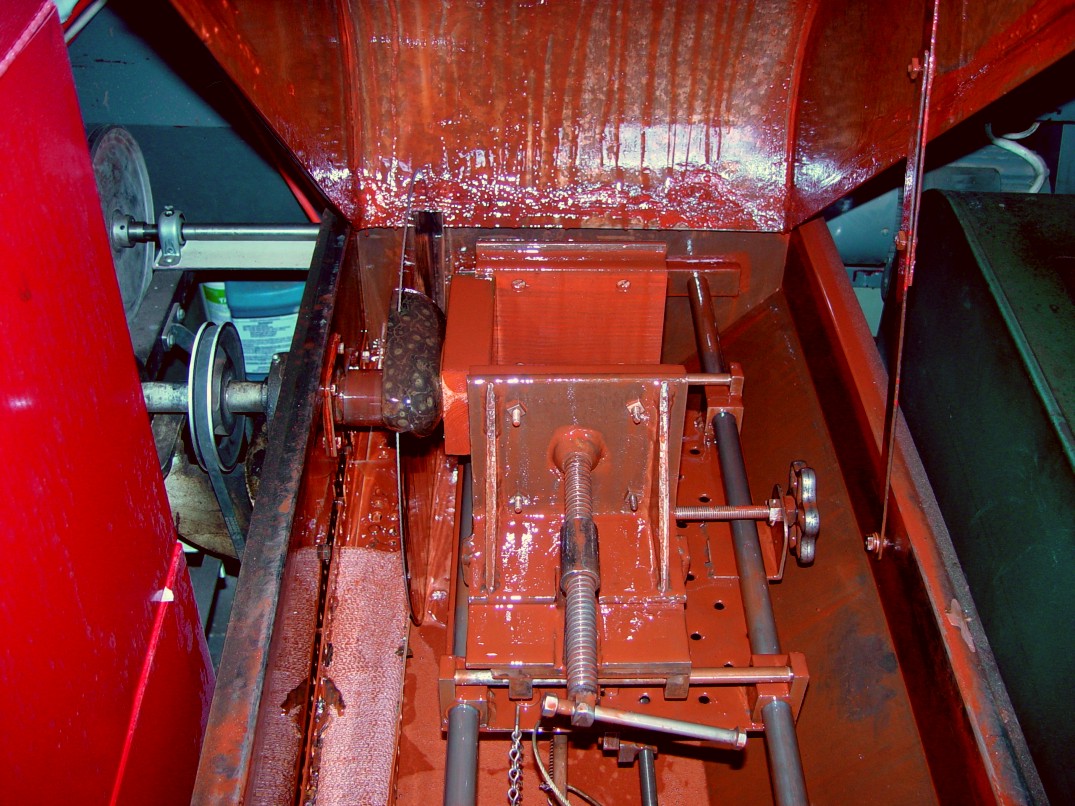 ---
The First Knife in the World to have a Nebula Stone handle!
After the long wait, while I sculpted and created the entire blade, fittings, gemstones, mounts, Nebula Stone handle scales, hangers, wax carving cast into bronze, backdrop, and granite base, here is the result of my creative efforts! "Aegir" is the very first knife on the planet to have a Nebula Stone handle!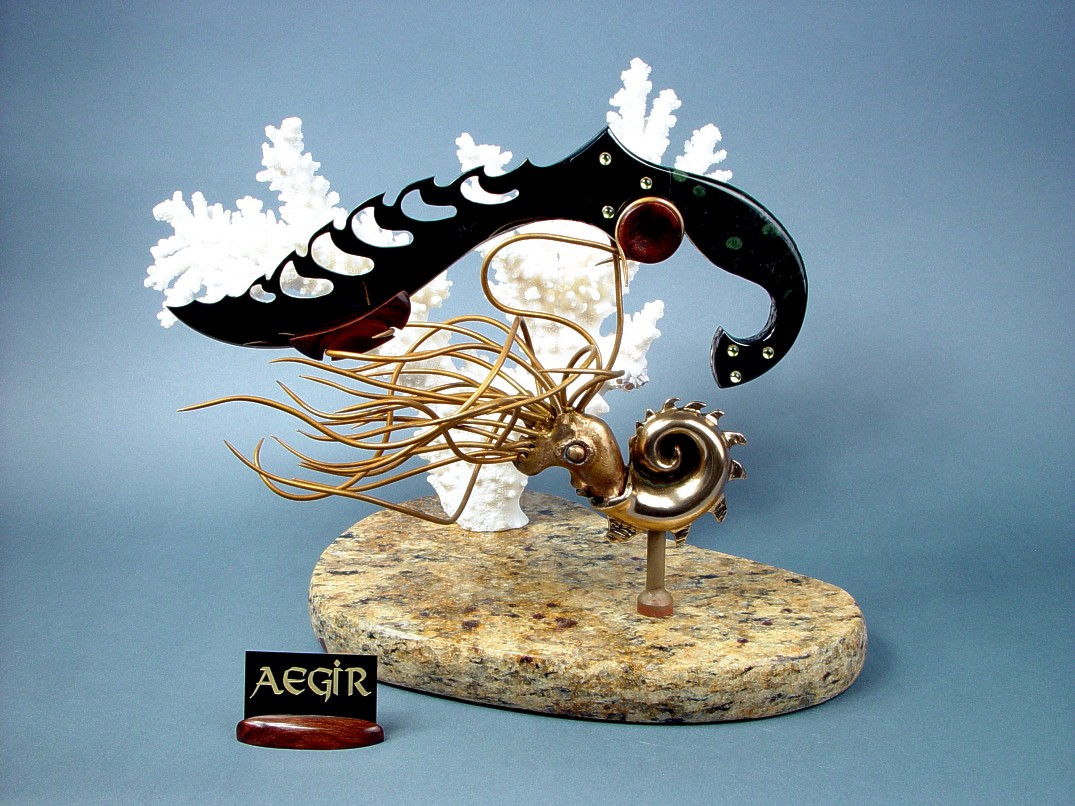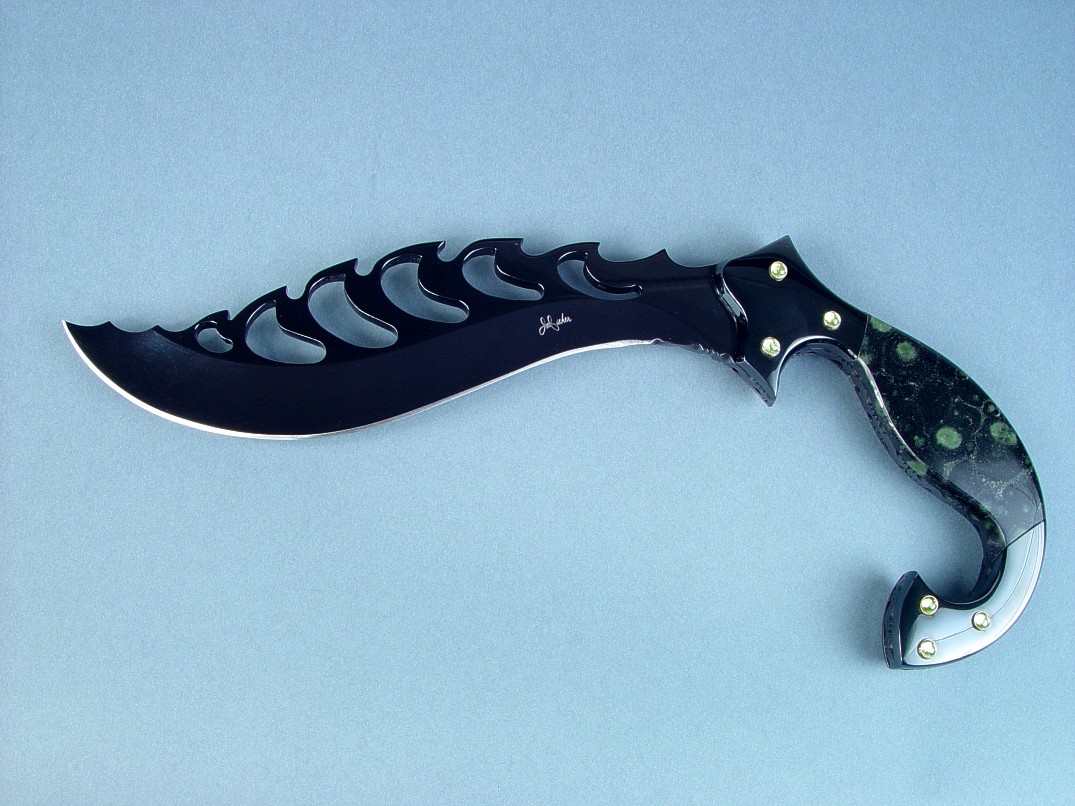 ---
If you're interested in Nebula Stone for yourself, please visit the official site, the origin of all Nebula Stone. Be sure and tell Ron and Karen that Jay sent you!
---