For Sale
"PJ-CT" (Shadow Line) Counterterrorism, Combat, Search and Rescue Knife
This is a sophisticated evolution of my counterterrorism and tactical knife line, one that is as specialized as a knife can be. The "PJ" was initially created with combat search and rescue, defensive tactical combat, and stealth in purpose. This counterterrorism, survival, and Combat Search and Rescue (CSAR) PJ is a hybridized knife that covers many fields and applications. It incorporates a new and exciting progression of this distinctive type of knife with specific features highly detailed below. The knife includes the most sophisticated, expansive, and adaptable modular sheath wear system made in the world.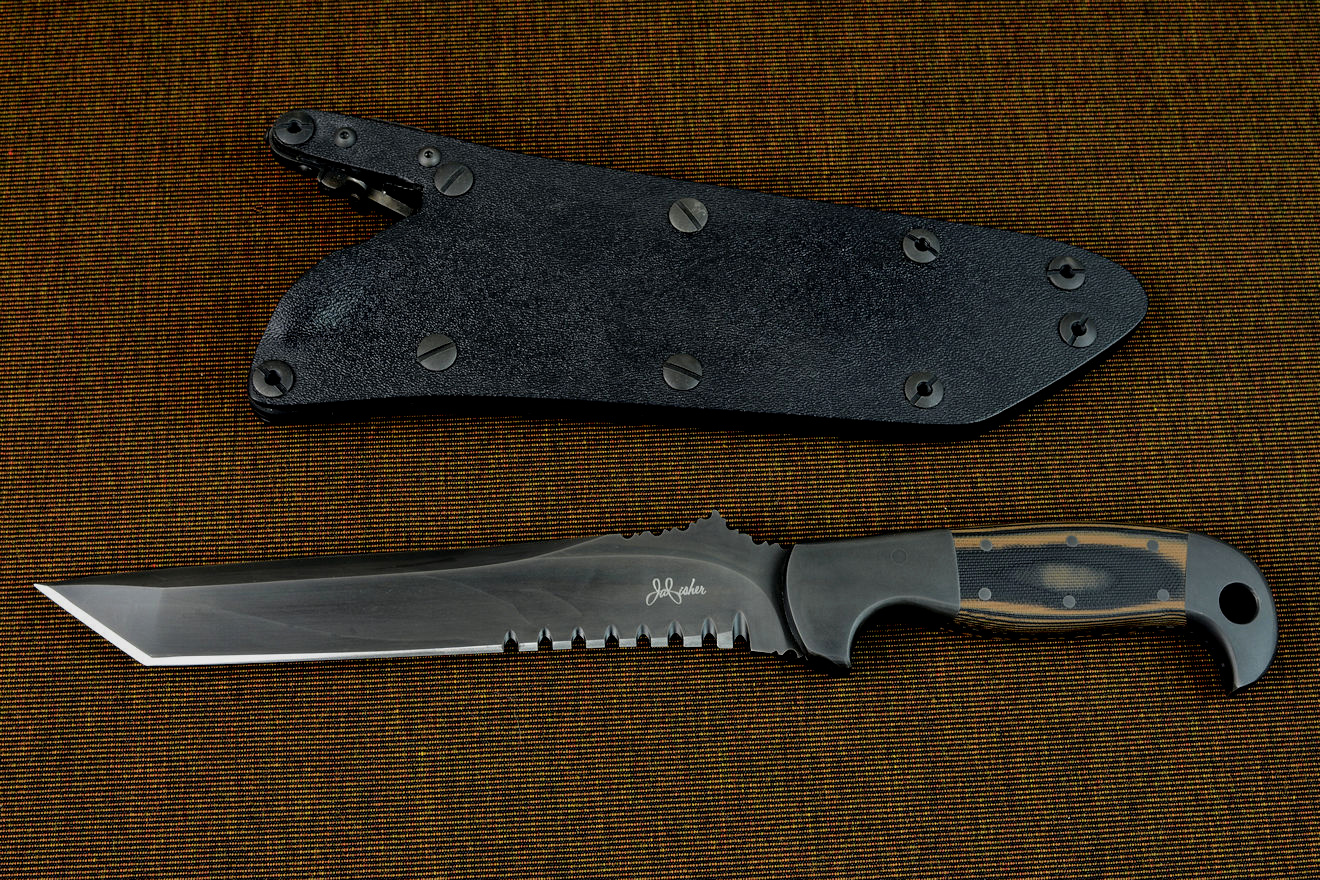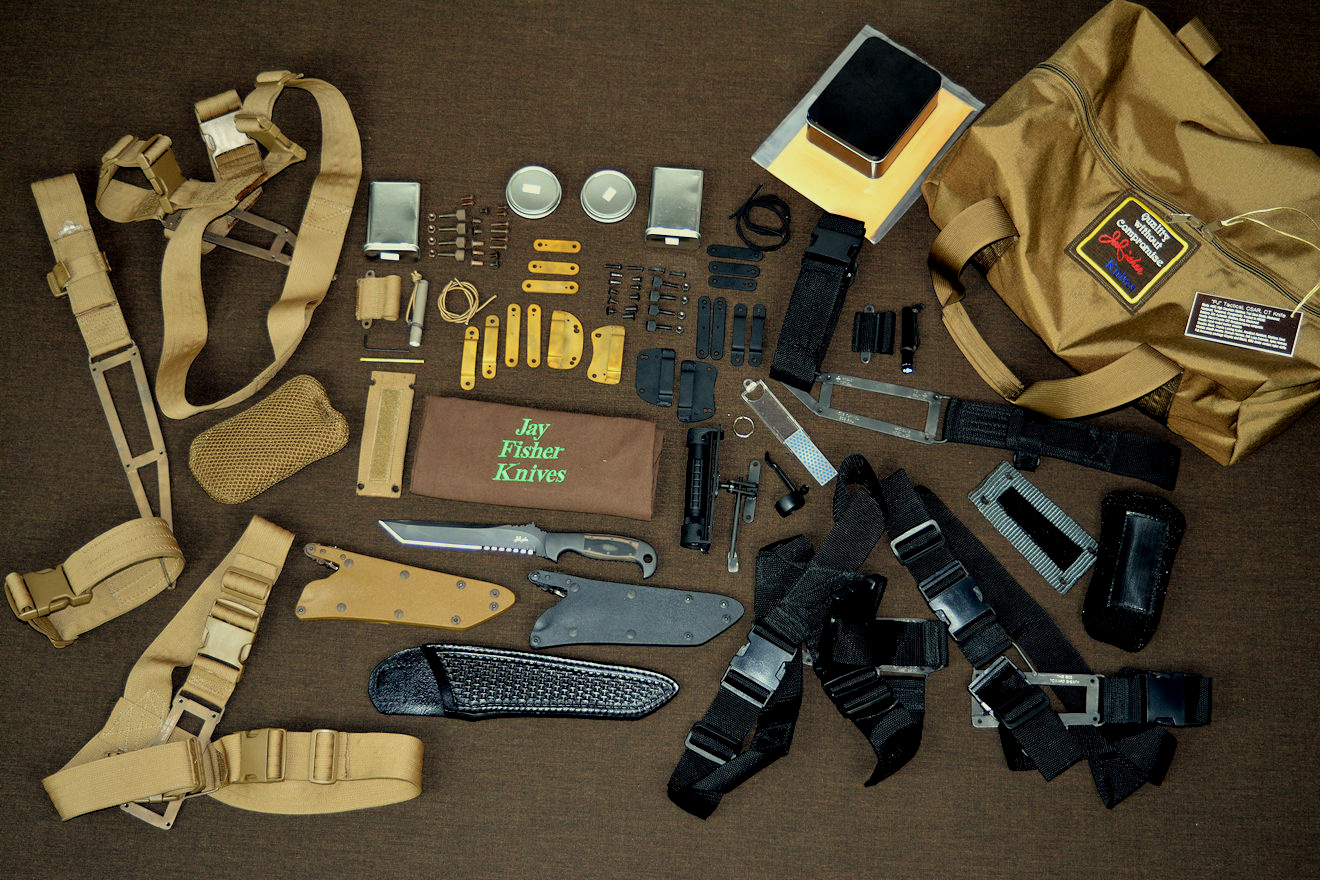 "PJ" Combat Search and Rescue, Counterterrorism Edition, Tactical Combat Knife (Shadow Line, Modular System)
Instructional Video Links Below!
Size: Knife Length overall: 12.6" (32.0 cm), Blade Length: 7.5" (19.1 cm), Thickness: .270" (6.9 mm)
Weight: Knife: 1 lb. (454 grams), Sheath (Black with HULA accessory and standard belt loop: 1 lb. 5.0 oz. (595 grams), Sheath (Coyote, with standard belt loops): 11 oz. (312 grams), Sheath (black basketweave leather): 8 oz. (227 grams)
Blade: 440C High Chromium Martensitic Stainless Tool Steel, Hardened and Tempered, Cryogenically treated to Rockwell C60, proprietary surface oxide treatment "Ghost Slate."
Bolsters: 304 High Nickel, High Chromium Austenitic Stainless Steel, proprietary surface oxide treatment "Ghost Slate."
Handle: Black/Coyote G10 Fiberglass/Epoxy Composite Laminate
Sheath 1: Locking in Black Kydex, Black Anodized Aluminum Alloy, Blackened Stainless Steel
Sheath 2: Locking in Coyote Tan Kydex, Coyote Tan Anodized Aluminum Alloy, Tan Oxide Stainless Steel
Sheath 3: Hand-tooled 9-10 oz. Leather Shoulder, Black Basketweave hand-tooled
Accessories: Full compliment including modular sheath mount and wear system, listed at bottom of page
Price and availability: See bottom of page
---
The Shadow (and Coyote) Line
This knife is made in my new "Shadow" line of counterterrorism knives; this is a very special knife. I've created the Shadow line because my counterterrorism and combat knife clients have repeatedly requested completely subdued packages, knives and full accessory compliments that are dark, flat, minimized, and with minimal visual imprint. While these could be called stealthy, that wouldn't quite be accurate since these are highly effective, substantial, and imposing weapons and tools that are not easily hidden! It has taken a lot of research and experimentation to come up with the processes that define the Shadow line. I start with my effective and well-recognized combat and counterterrorism knife designs, and add as many features and accessories possible so that these ensembles will interface with all the gear, in every situation, as dictated by my combat and counterterrorism clients. They have given me the guidance to create this gear, and I believe it is the best of its field in the entire world. I know of no other knife maker or manufacturer that has even come close, and none that have even tried.
In addition to the black "shadow" appearance of the knife, sheaths, and accessories, I've also included a complete Coyote Tan (or Coyote brown) set of the entire compliment of accessories. This I've done because depending on the situation, mission, wear, environment, and particular case, my tactical counterterrorism clients need different color sets to match their gear, in order to remain in camouflage. Details below.
Additionally, I've made and included the complete set of modular sheath wear system components. This is absolutely the finest, most durable, most comprehensive and complete wear system made in the world today. The modular system allows complete and fast integration of the knife/sheath combination to be worn as an independent, quickly donned and doffed, integrated unit, made of the most durable materials possible. The wearer can quickly and easily switch between belt loop wear, wear at the sternum, handle down, or even wear behind the spine. Please see the linked videos listed below for complete instructions and wear applications of these devices.
Creating a substantial CT (counterterrorism) knife is just the start, and even that is a continual evolution of process, conversation, field trials, and feedback from the guys who absolutely use these knives in the most serious action and scenarios one can imagine. I give special thanks to our United States Military; specifically USAF Pararescue, Army Infantry, Special Operations, Navy SEAL Teams, and Marines that have guided and influenced my work. Additionally, special counterterrorism recognition must go to the Israeli Defense Force/National Police Force YAMAM members for their input and advice in creating this evolving line. It is because of these men that I continue to strive to provide what they ask for and need. It is a huge honor.
The evolution of this line includes sophisticated designs, complicated and lengthy heat treating and cryogenic processing of highly evolved knife blade steels, careful attention to high strength blade-to-handle and hand-to-knife design for maximum application of force with high security in grip. The evolution includes unique serration geometries, puncture, piercing, and breaching features, and strengthened points and edges with the maximum geometry that balances strength and cutting ability. Continue this with unique and brutally tough sheaths, the very best in the world, with positively locking, or hybrid tension-locking, with variable retention and release options. Evolution of the metal components of my sheaths, mounting, and wear options are high strength materials, corrosion resistant materials, aluminum and titanium alloys which are anodized, hard surfaced with the wear resistance of ceramics. All included accessories, mounts, and designs have evolved, too.
The color and reflectivity of these packages is important. CT and military clients requested non-reflective, flat, dark hardware, mountings, fittings, and blades. In addition, they requested inclusion of complete Coyote Tan assemblies to interface with their existing camouflage gear. They needed extremely high corrosion resistance, and the durability my knives, sheaths, and accessories are known for. This was particularly challenging, and I worked, experimented, built, tested, and refined my processes to bring the Shadow and the Coyote line of knives to being. Every ordinarily visible component on the Shadow package is darkened, subdued, non-reflective and obscure. Every ordinarily visible component on the Coyote package is darkened, subdued, non-reflective and obscure. How have I done this?
Most fittings, hardware and mountings are made of stainless steel. This is 304 stainless steel, a high nickel, high chromium austenitic stainless steel that is used to make stainless nuts, bolts, and fasteners. I've created a proprietary process that results in a flat, non-reflective oxide patina that is tough and corrosion resistant while being near-black. I use a heat-oxide process to impart the Coyote Tan patina to all of the stainless steel in my Coyote package.
Some components are titanium, and this is anodized to darkness as well, with a passive oxide surface that is hard, resilient, and subdued, including dark blue and coyote.
Many components are aluminum, specifically 5052H32 corrosion resistant, high strength aluminum alloy. They are formed, welded where necessary, milled, marked, and anodized with a 1mil thick ceramic-hard surface that is permanently dyed to be non-reflective and very black. The Coyote tan items are processed the same way, with color matching the sheath kydex. This surface is sealed, sunlight bleaching-resistant, scratch resistant, and extremely corrosion resistant.
All dark or black materials are used in the nylon, polypropylene, and polyester components, and all wear and mount components that are acetyl plastic (webbing and harness buckles) in the Shadow package are black. The same goes for the Coyote package; all webbing, buckles, thread in nylon, polyester, and acetyl is Coyote tan.
Most importantly, the entire knife, apart from the cutting edge and maker's mark, are black, darkened, subdued and minimized for reduced reflectivity. This is a special process, particularly since the blades are hardened and tempered stainless steel an the bolsters and pins are high nickel-chromium stainless steel and are by their very nature, resistant to the chemistry and process of darkening or coloring. If you've read my FAQ page and Blades page, you might remember that I don't blue stainless, and this is not a bluing process like the one I perform on low chromium alloys like O1. This is a selective patina, a specialized oxide, that offers a subdued finish with interesting character. For the blades, I call this initial finish "Ghost Slate." The pattern on the blade is like fog drifting through a graveyard on the darkest night, and the color is not quite black, but dark slate, thus the name. It's fairly durable, while not as durable and thick as hot bluing (which can't be done on mounted blades, bolsters, and handles), it's not a coating like paint that can chip, peel, or accelerate corrosion underneath. What you see is the actual stainless steel of the blade, bolsters, and pins, with a darkened oxide surface.
My CT clients have been asking for this for years, and I'm excited to now be able to offer it, in my Shadow line of tactical knives.
---
The "PJ-CT"
Counterterrorism Edition
This is a sophisticated evolution of my counterterrorism, survival, and combat knife line, one that is as wide ranging in application as a knife can be. This is my PJ (Pararescue Jumper), originally designed with direct input of United States Air Force Pararescuemen for their use and carry in combat, tactical operations, Combat Search and Rescue, and counterterrorism needs. This is a tremendously robust knife, with over 1/4" in thickness, a long tanto blade with extremely aggressive and tough hammerhead serrations. The tanto style is a knife with a lot of reach, and this aggressive point with a top length swage means the blade has substantial strength in piercing geometry with durability. This is a serious tool, working across many spectrums from survival and stealth to counterterrorism combat. The PJ is my flagship knife for combat, search and rescue, and the progenitor of my "PJLT" (Pararescue Jumper Light), the most popular and desired knife design I've ever made. This PJ incorporates a new and exciting progression of this distinctive type of knife with specific features and modular sheath wear system highly detailed below.
I encourage you to look over my Pararescue page describing our nation's top military rescue service. Additionally, my Counterterrorism Knives page and my Combat Knives page discusses the distinctive factors necessary for effective, modern, and reliable Primary Edged Weapons needed in modern warfare, which includes, by necessity, counterterrorism missions and operations.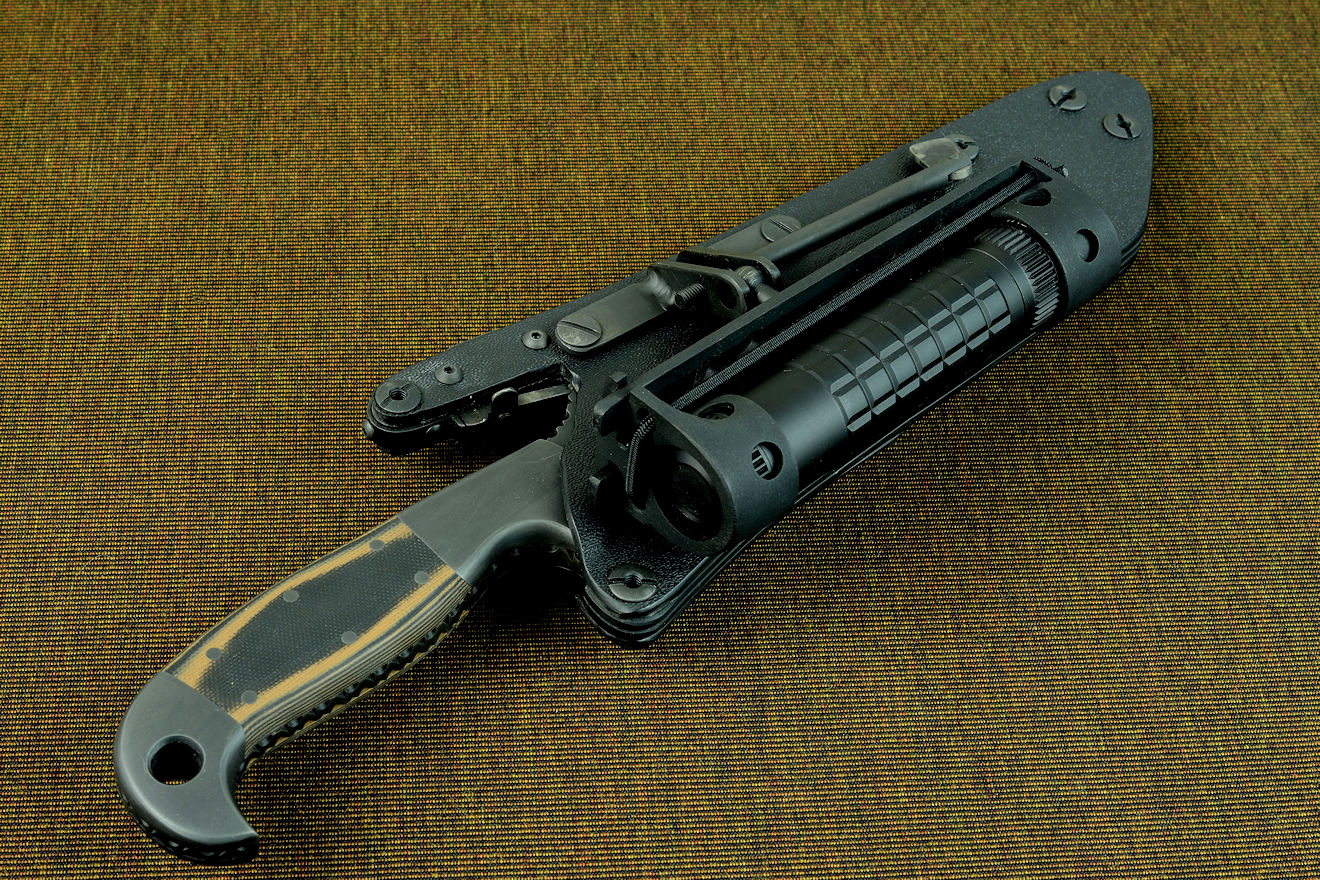 The knife blade of the PJ-CT is very thick and strong, over a quarter of an inch, which means it has plenty of spine to support the long and straight razor-keen cutting edge of the blade. The substantial spine continues throughout the knife, full tang, and though the tang is fully tapered, I've left plenty of support for the most demanding of force. The tang is fully fileworked with "alternating waveform" pattern, distinct and accurate, signifying handmade excellence while increasing grip purchase.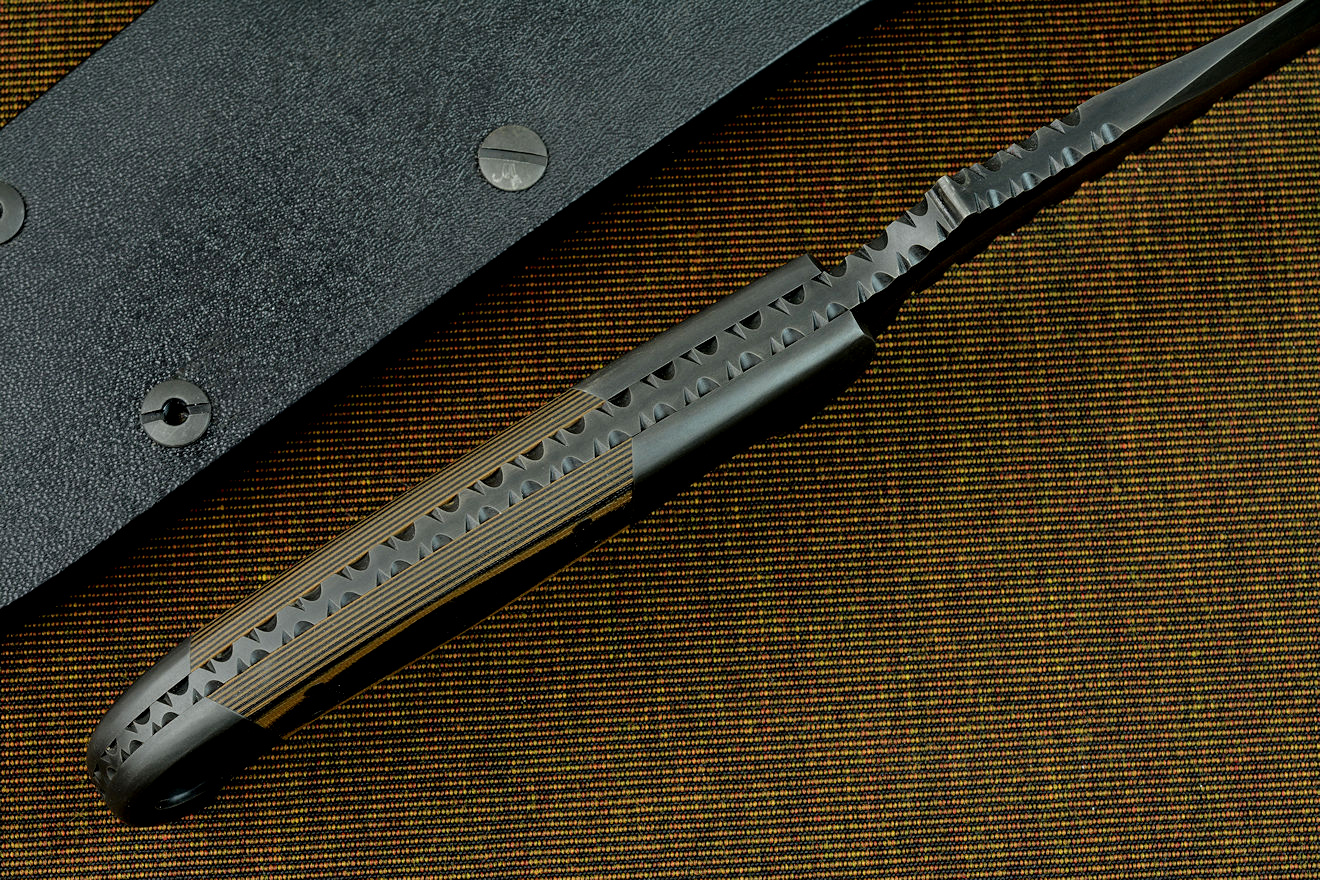 This blade is 440C high chromium martensitic stainless tool steel, a long-proven favorite of my clients for several reasons. The first is its high wear resistance and toughness. So durable is this steel it is classified as an aerospace material. It's greatest advantage is its extreme corrosion resistance, and it's suitable for even marine environments. I've heat treated and cryogenically processed this steel to result in its most durable and dimensionally stable state, with deep cryogenic quenching and aging of over 40 hours, followed by three tempering cycles alternated with deep cryogenic thermal cycling at -325°F. This results in extremely fine and profuse chromium carbides, fine asperity, superior wear resistance, and increased toughness of the steel over conventionally treatment methods. Simply put, this is the best condition this steel can be for this application. Additionally, my Ghost Slate treatment results in a dark, wispy flowing pattern of density and tone that is durable and actually part of the steel blade: for reduced glare, reflectivity, and indication without sacrificing corrosion resistance or any other aspect of the blade steel.
The hollow grinds of the blade are accurate, concise, and matched side to side, and the spine of the knife offers a good thumb rise with deep bold filework for control of the grip. The bolsters are 304 high nickel, high chromium austenitic stainless steel, and the front bolster is rounded for easy cleaning and service, with no areas to trap debris. The bolsters are dovetailed to bed the handle scales of super-tough and durable black and coyote G10 fiberglass/epoxy composite laminate, secured additionally with 304 stainless steel pins, all darkened. The rear bolster has a large 3/8" lanyard hole for easy threading, with chamfered edges for non-abrasion of the lanyard, and through-tang construction for security. All surfaces of the handle are rounded, contoured, smoothed and comfortable. The front and rear quillons lock the hand to the handle with security and comfort, with or without gloves.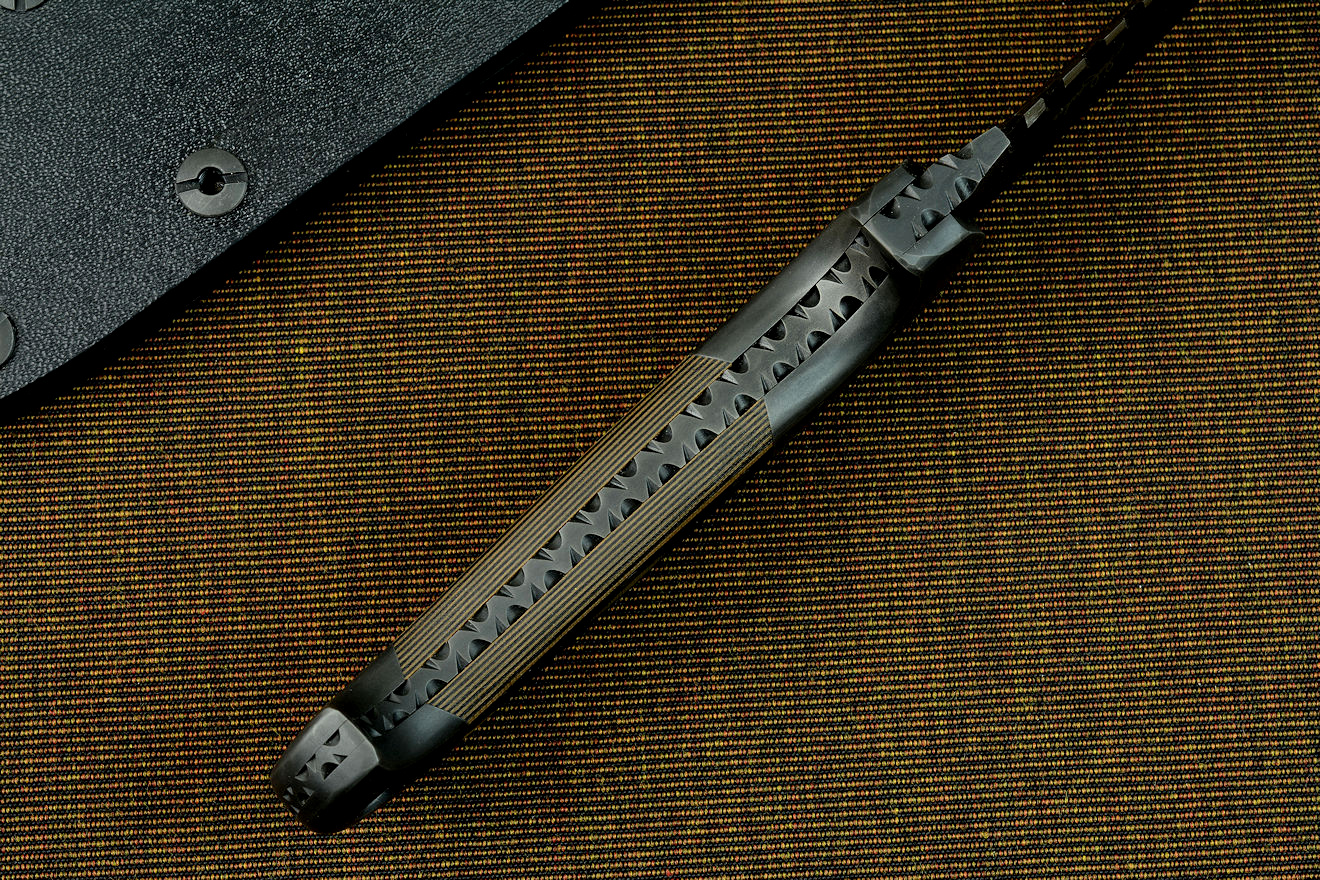 The feel of this knife is solid and tough with a long, determined reach and an unyielding straight razor cutting edge. This is a tremendously adaptable and wide-field knife, at home in marine or desert environments. It balances exactly at the forefinger placement, and feels completely useable independent of the very long reach of the 7.5" blade length. The handle is large enough to accommodate light tactical gloves in a large hand. The blade has almost 2.5" of my tough, tremendously popular hammerhead serrations, made to aggressively rip through heavy textiles, plastics, and even some light metals, the most asked-for serrations I create. Please remember that this knife has a proven record in the hands of many United States Air Force Pararescuemen, and is their number one primary edged weapon and tool. I've made this knife for PJs for over 20 years for a reason.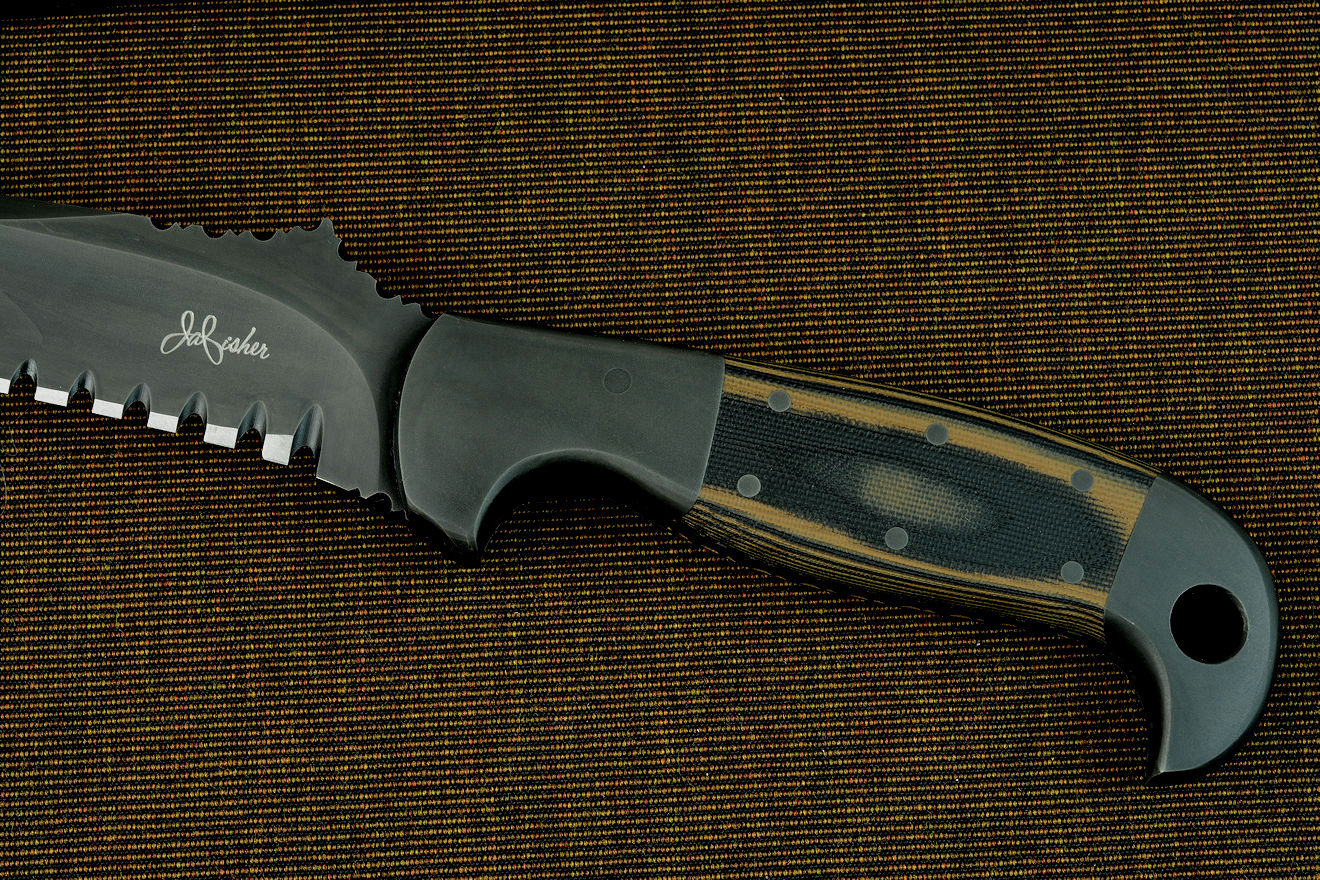 My locking sheath is absolutely the finest made in the world today, and has been for many years. I first designed these by request of USAF Pararescuemen in the early 1990s, for this very knife, and in the hundreds I've made, I've never had a failure of a single one. This is because they are extremely well-built, tremendously durable, and highly corrosion resistant. They are completely waterproof, with all surfaces and components either treated, naturally waterproof, or stainless steel. The sheaths are built of double thickness (.125" thick) kydex (methyl acrylate and polyvinyl chloride) over a welt-frame of black or coyote tan anodized 5052H32 corrosion resistant high strength aluminum alloy. I've meticulously anodized all of the aluminum surfaces, even through holes, of each welt component, mount, fitting, and fixture for extremely high durability, ultimate corrosion resistance, strength enhancement, and muted or matching camouflage appearance. If you're not familiar with anodization, it's a chemo-electric process that creates a near-ceramic hard surface on the aluminum alloy, a surface that increases wear resistance tremendously, and a surface that can accept permanent dyes that are sealed in place. For my black kydex sheaths, the anodized aluminum color is black for low reflectivity and matching appearance, and for the coyote tan sheaths, the aluminum closely matches the sheath kydex and modern desert camo gear. For high durability, the anodized surface is a full 1 mil thick, and is sealed with a process that resists sunlight bleaching to the highest degree. The sheath is bonded with waterproof cement and bolted together with all appropriately colored or darkened 304 stainless steel Chicago screws for zero care and extreme corrosion resistance while being minimized and non-reflective.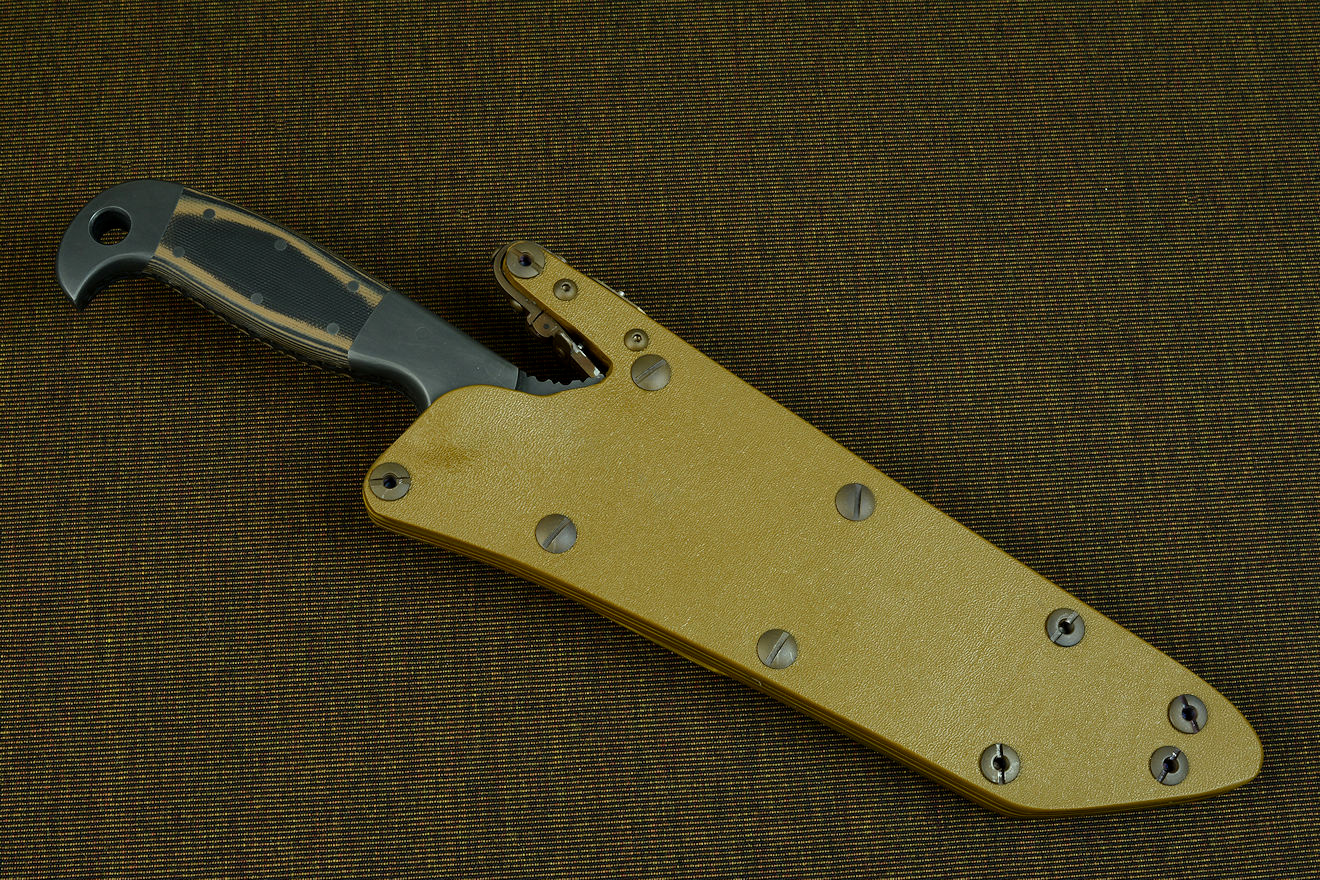 The locking sheath comes with two pairs of belt loops (footman's loops) that are die-formed and anodized 5052H32 aluminum alloy. One pair is high profile for .250" x 1.5" belt sizes and the other pair is low profile for thinner .190" x 1.5" sized belts. The belt loops are able to be moved to multiple locations as well as either side of the sheath frame. On this particular knife, the belt loops have 8 different locations with multiple combinations for versatile wear. I also include heavy vertical/horizontal clamping straps in anodized aluminum that allow the sheath to be rigidly clamped to belt, webbing, PALS (Pouch Attachment Ladder System), straps, body armor gear, and anywhere there is a need. Also included are reversible horizontal belt loop plates, to allow the sheath to be worn horizontally along the belt line. Included are vertical clamping straps of anodized 5052 aluminum, and horizontal clamping straps as well. These allow rigid clamping of the sheath to webbing and gear in virtually any orientation, with all the clamping hardware included. All of the mounting assemblies are reversible, as is the spring retention for the tension-lock sheath, so the versatility of this sheath is unsurpassed. It's also completely and absolutely waterproof, for zero worry about exposure, even in marine salt water environments. The knife can be unsheathed by thumb pressure moving the locking tang only; the knife is otherwise solidly locked in the sheath. This is an extremely durable sheath and mechanism, the best in the world.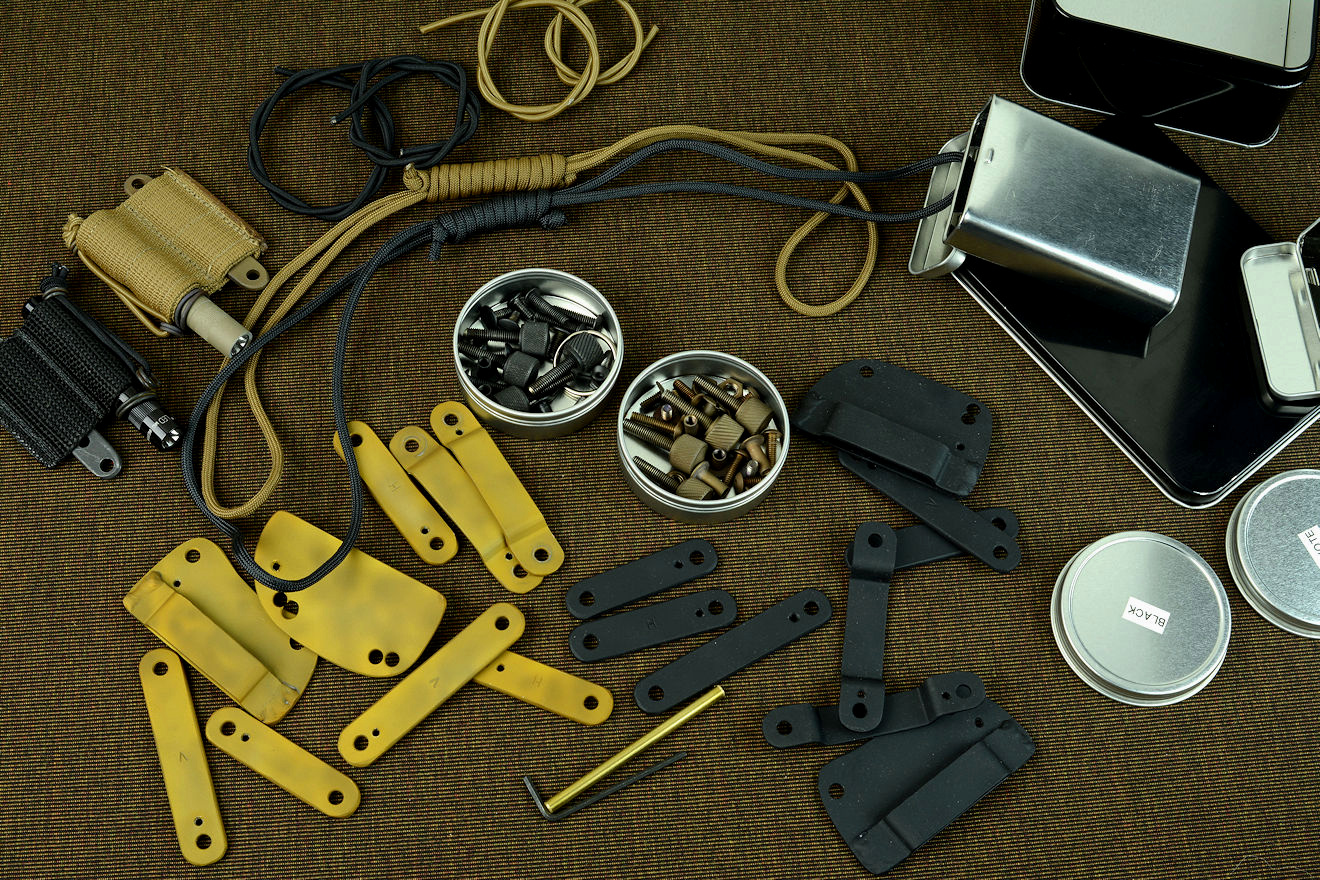 This knife package also includes a basketweave pattern hand-stamped leather sheath, made of 9-10 oz. leather shoulder, dyed black and sealed. The sheath was included for quiet operations, when moving against hard objects (concrete or stone) could telegraph a position through noise. It's also useful for traditional and conventional wear options. The sheath has double-row stitching throughout, and at the belt loop with the toughest polyester thread, water and sunlight resistant. The knife fits deep and secure into the sheath, with the handle exposed and the back of the sheath rises high to protect the wearer. The entire sheath (body and welts) is double-row stitched for extreme durability. The sheath edges are dressed and smoothed for comfort; the entire sheath is sealed with acrylic for water resistance, permanence, and longevity.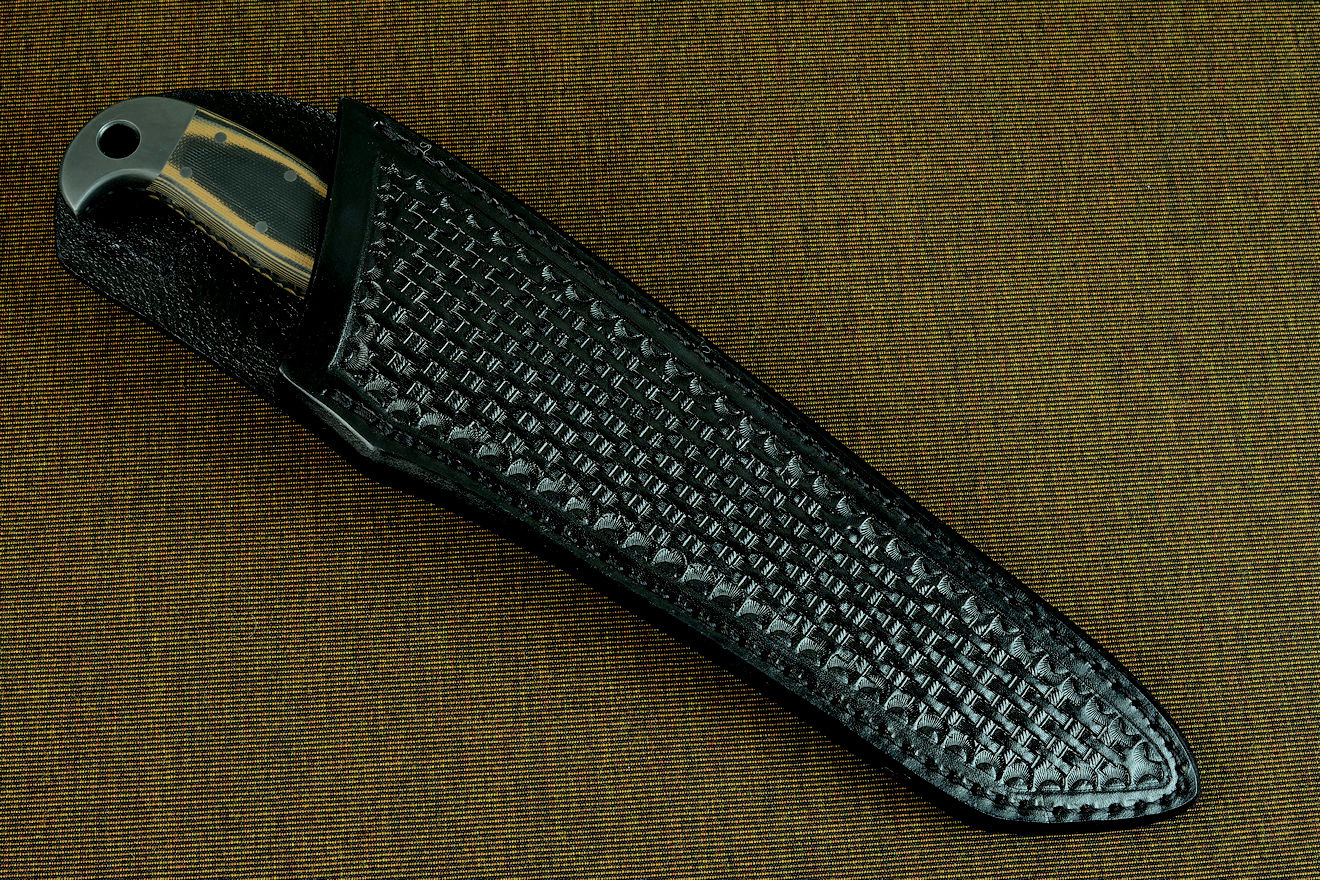 This intensive and packed kit includes my entire modular sheath wearing system: the belt loop extender, the sternum harness and the spine harness. This allows fast changes between setups and wear modules by simply loosening and replacing four thumbscrews on the sheath. With entire modular systems included in both black and coyote, this is the absolute best knife sheath wear system made in the world. All of it is handmade with the highest quality components in my studio. Look at the videos listed below and I'm certain you'll appreciate the thought, background, and input of my counterterrorism clients, my tactical, military, and law enforcement clients who have been so generous with their ideas, evaluation, and testing of the components.
Accessories: This is an example of my commitment to the entire knife experience, from design to working service, with some of the finest professional knife users in the world. Since the bolt pattern of the sheath matches my 2.5" bolt pattern for my accessories, most of my accessories can be used on this sheath, including any new ones I develop. At the request of the counterterrorism professionals, this knife comes with the most complete bunker of attachment, wear, and useful accessories made in the world today! I even hand-make the heavy 1000 denier duffle bags to hold the entire kit. The kit includes my modular sheath wear system components, in both coyote and black:
Die-formed anodized aluminum belt loops (footman's loops), in both black and coyote tan, accommodating belts 1.5" wide and up to .190" thick
Die-formed anodized aluminum belt loops (footman's loops), in both black and coyote tan, accommodating belts 1.5" wide and up to .250" thick
Vertical flat clamping straps, in both black and coyote tan, in anodized aluminum, allowing rigid clamping of sheath on webbing or straps up to 2" wide along the welts of the sheath, working well with existing strap systems including PALS (Pouch Attachment Ladder System) on MOLLE gear, and can allow wearing of the locking sheaths in any position.
Horizontal flat clamping straps, in both black and coyote tan, in anodized aluminum, allowing rigid clamping of sheath on webbing or straps up to 2.25" wide across the welts and width of the sheath including PALS (Pouch Attachment Ladder System) on MOLLE gear, and can allow wearing of the locking sheaths in any position.
Horizontal belt loop plates, in both black and coyote, allowing traditional placement along belt line but in a horizontal position (typically used in the lower middle of back wear)
Modular Sheath Wear System Belt Loop Extenders in both black and coyote tan, for lowering the knife handle position to the belt line, securing the sheath tail at the leg, and preventing movement of the knife handle while locked in the sheath, additionally mounting the diamond pad sharpener. They secure to the welded 304 stainless steel module frames with matching color thumbscrews, are made of nylon polyester, acetyl, and 304 austenitic stainless steel, with an adjustable leg strap and quick release buckles.
Modular Sheath Wear System Sternum Harnesses in both black and coyote tan, for wearing the knife sheaths inverted and handle down, directly at the sternum. These include three point suspension and welded 304 stainless steel frames that secure to the sheath with matching color thumbscrews and indexed quick release buckles.
Modular Sheath Wear System Spine Harnesses in both black and coyote tan, for wearing the knife sheaths at the upper spine, with the handle behind the right shoulder. These include four point suspension and welded 304 stainless steel frames that secure to the sheath with matching color thumbscrews and indexed quick release buckles.
Breathable Mesh Pads, in both black and coyote tan, with anchor pads that allow a double-thickness breathable nylon mesh between the sheath back and modular mount and the body, for comfort and perspiration prevention in hot and humid wearing situations
LIMA and Solitaire (Lamp Independent Mounting Assembly with Maglite® Solitaire LED emergency back up light), a small but powerful LED lamp, water resistant, mounted in an independent web assembly secured with stainless steel strap to multiple positions on the knife sheath, in matching black and coyote tan
HULA with MagTac main flashlight and adjustable aiming system, in black for nighttime operations, in anodized high strength corrosion resistant aluminum and blackened stainless steel, the finest, most durable holding, wearing, and aiming system made in the world today. Included is the high tech MagTac high intensity tactical lamp, and the HULA also fits the XL series of Maglite® flashlights
Lanyards: Adjustable 550 cord in both black and coyote tan
Sharpener: Diamond pad sharpener mounting in belt loop extender module for blade touch-up
All necessary stainless steel hardware, fittings, fasteners, and tools for mounting, moving, and adjusting, all exposed screws and fittings are darkened or oxide in coyote tan for flat non-reflectivity
Replacement shock cords for HULA and LIMA
Containers: Tin-steel storage containers, labeled for quick changes, holding aluminum loops, straps, and clamps, LIMA, and tools, screw lid can for screws and hardware
Heavy stitched embroidered canvas drawstring bag for sheaths, allowing breathability and protection for leather sheath inside the kit's duffle
Heavy Coyote Tan Duffle made in 1000 denier ballistic Cordura® polyurethane coated, water resistant nylon bag, double-row stitched throughout, with nylon handle-straps, and waterproof #8 zipper with metal pulls. Includes embroidered "Quality Without Compromise" patch
Archival and Instructions: Detailed Bio, Care Sheet, materials sheet with instructional video links, instructions for sharpener, Maglite MagTac and Solitaire, Archival engraved co-extruded acrylic information plate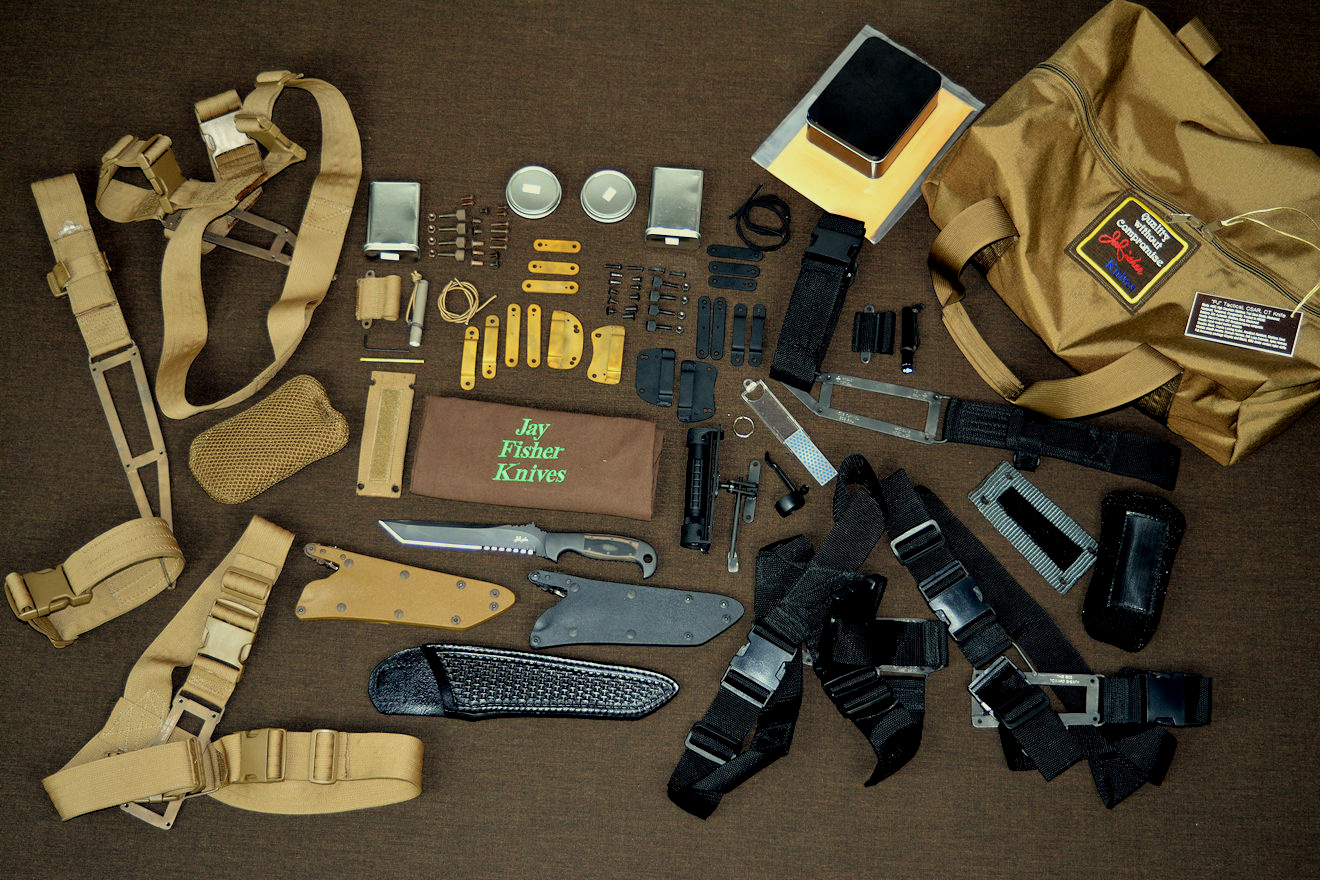 This is the finest professional counterterrorism knife kit made, designed with and for professional use, in the most modern and best treatment and construction possible, with the widest-ranging and most durable materials and accessories made.
Link to my video describing the basic locking sheath mount and wear components here
Link to my video describing my modular sheath wearing system and setup of this very kit here.
Learn much more about my Counterterrorism Knives on this page
---
"PJ-CT" Counterterrorism Tactical Combat, Combat Search and Rescue Knife (Shadow Line, Modular System)
Entire Kit Size: 20" (51cm) long x 10" (25.4 cm) wide x 9" (22.9 cm) tall
Entire Kit Weight: including all accessories, sheaths, modules and duffle: 12.5 lbs. (5.7 kilograms)
Size: Knife Length overall: 12.6" (32.0 cm), Blade Length: 7.5" (19.1 cm), Thickness: .270" (6.9 mm)
Weight: Knife: 1 lb. (454 grams), Sheath (Black with HULA accessory and standard belt loop: 1 lb. 5.0 oz. (595 grams), Sheath (Coyote, with standard belt loops): 11 oz. (312 grams), Sheath (black basketweave leather): 8 oz. (227 grams)
Blade: 440C High Chromium Martensitic Stainless Tool Steel, Hardened and Tempered, Cryogenically treated to Rockwell C60, proprietary surface oxide treatment "Ghost Slate."
Bolsters: 304 High Nickel, High Chromium Austenitic Stainless Steel, proprietary surface oxide treatment "Ghost Slate."
Handle: Black/Coyote G10 Fiberglass/Epoxy Composite Laminate
Sheath 1: Locking in Black Kydex, Black Anodized Aluminum Alloy, Blackened Stainless Steel
Sheath 2: Locking in Coyote Tan Kydex, Coyote Tan Anodized Aluminum Alloy, Tan Oxide Stainless Steel
Sheath 3: Hand-tooled 9-10 oz. Leather Shoulder, Black Basketweave hand-tooled
Accessories: Full compliment including modular sheath mount and wear system
Price: $6695.00
Status: Available. Email me at jayfisher@jayfisher.com to purchase this fine ensemble
---
---