"PJFZ" USAF Pararescue CSAR Professional Knife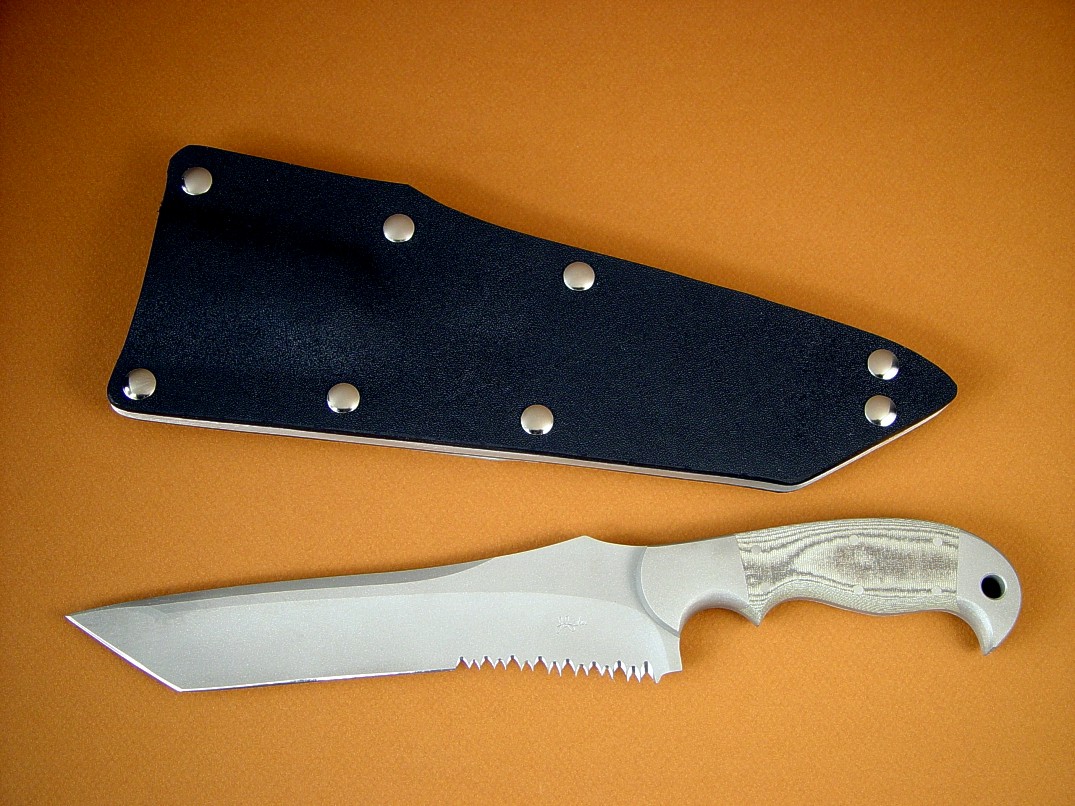 United States Air Force Pararescueman's CSAR knife: "PJFZ"
Size: Length Overall: 12.25" (31.1 cm), Blade Length: 7.75" (19.7 cm), Thickness: .190" (4.8 mm)
Weight: Knife: 13.3 oz., Sheath: 13.3 oz.
Blade: ATS-34 high molybdenum martensitic stainless steel, hardened and tempered to HRC59
Bolsters/Fittings: 304 austenitic stainless steel
Handle: green canvas micarta phenolic
Knife: This is a new design by a United States Air Force Pararescueman, for his professional use and carry in combat search and rescue. The knife honors him in the style name, "PJFZ". Pararescue are our nation's top military service rescue professionals, and it is a great honor to make this knife to his specifications. He spend a good deal of time in the studio, working up the design, handling the pattern, discussing the options, features and potentials of this great knife. Thanks, Nick!
The blade is made of ATS-34 high molybdenum stainless tool steel, chosen for its great toughness through a thin cross sectional area. The blade is hollow ground with a total of 5.25" of straight edge length, portioned off in a worthwhile tanto design that will allow good pressure on the secondary point. The primary point terminates with a half-length top swage that reduces point profile and spine weight. The edge has 2.5" of very aggressive "vampire" rip-tooth serrations at the base, and a sweeping, gentle grind termination to evenly distribute stresses between the handle and blade. The blade has a fully tapered tang, clean and even, which contributes to the perfect forefinger balance of the knife. The bolsters are zero-care 304 austenitic stainless steel, double pinned and dovetailed, reinforcing the critical areas of the knife. The rear bolster has a .3125" lanyard hole, through the tang for security. The handle scales are tough green canvas micarta phenolic, bedded and pinned with six .125" 304 stainless steel pins. The handle shape is great work by Nick, with a good forefinger indent for control, a substantial belly at the ring finger, and useful hawk's bill at the butt to easily pull the knife from the sheath, and keep it locked in the hand. The handle feels great in either traditional or reverse grip style.
Sheath: The sheath has to be up to the missions, so I made it in double-thickness kydex thermoformed over a quarter inch total thickness of 5052H32 corrosion resistant aluminum frame welts. The belt loops are also the same aluminum, and can be easily swapped for reverse side wear, or for flat straps accommodating PALS webbing on Molle tactical gear. The entire sheath is assembled with waterproof cement and secured with nickel plated steel Chicago screws.
A great CSAR tool for the professional!
Thanks, N. F.!
Wow, Jay, That's Awesome!
The knife is incredible, and I can't wait to use it... I can't wait to replace what I currently use.
N. F.!
---
---