PJLT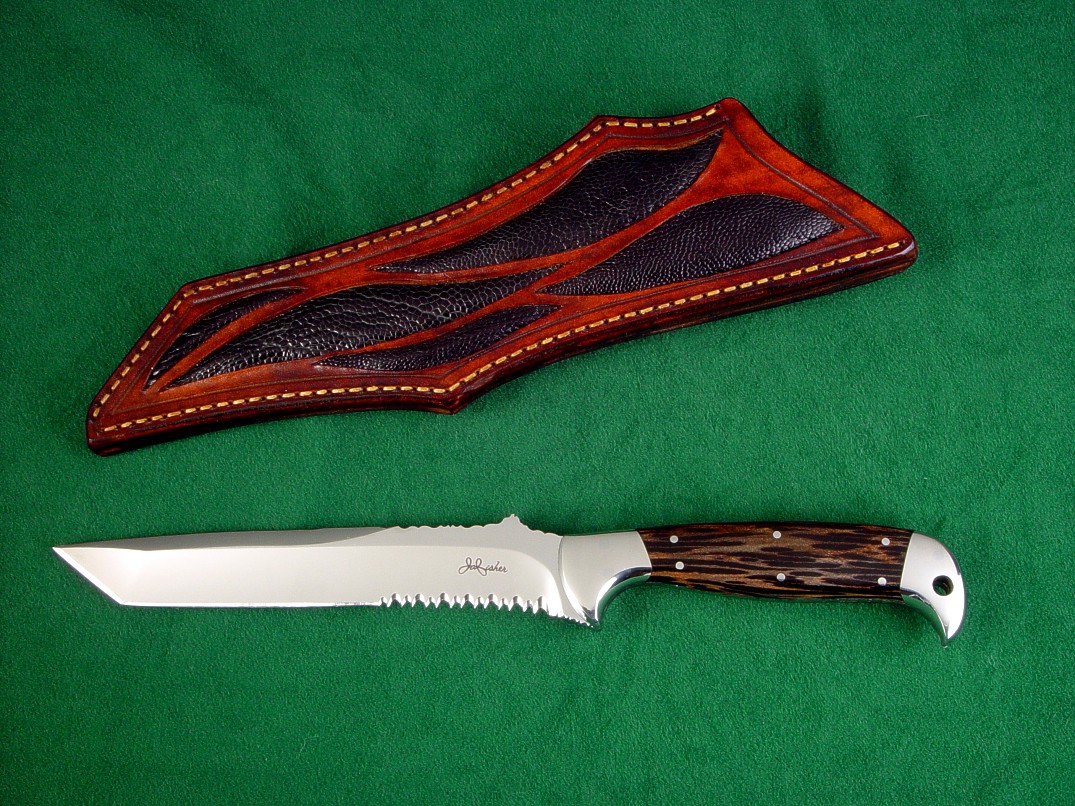 "PJLT" Tactical, Working CSAR Knife
Size: Length overall: 11.25" (28.6 cm), Blade Length: 6.25" (15.9 cm), Thickness: .1875" (4.7 mm)
Weight: Knife: 8.5 oz. (227 grams) Sheath (leather): 5.8 oz. (164 grams) Sheath (Kydex, Locking) 8.0 oz. (227 grams)
Blade: 440C High Chromium Martensitic Stainless Tool Steel, Hardened and Tempered to Rockwell C59, hollow ground and mirror polished
Bolsters, Fittings: 304 Austenitic Stainless Steel, mirror finished
Handle: Polished Black Palm Hardwood
Sheath 1: Ostrich leg skin inlaid in hand-carved leather
Sheath 2: Kydex, Aluminum, Stainless Steel, Locking
Knife: Here's a PJLT, my most popular combat search and rescue, tactical and emergency response tanto, completed to collector's grade finish and detail. The blade is 440C high chromium martensitic stainless tool steel, hardened and tempered to 59HRC, for high wear resistance and toughness. The blade has proven field use; I've made many of these knives for everyone from USAF Pararescue (our nation's top military rescue service) to Army Rangers and Emergency Response Police units. I've even made them for Smoke Jumpers. You can see the long reputation of this popular blade style on a special page on my site here. This PJLT has been mirror finished throughout, with a fine reflective polish and crisp, clean, accurate and balanced grind lines. Hollow ground with a 10 inch contact wheel, the grind is deep and just the right thickness for many decades of use. The top has a half length swage for reduced spine profile at the point, and the knife has two inches of my super-aggressive and sharp Vampire rip teeth serrations. The blade has a fully tapered tang for excellent balance, and is fully fileworked from the spine to the choil. The bolsters are 304 austenitic high-chromium, high-nickel stainless steel, highly polished and dovetailed. They hold a pair of beautiful Black Palm Exotic Hardwood handle scales, pinned and secured with six 304 stainless steel pins. This Black Palm is a very hard, very tough wood, has a bright, smooth finish, and in the sunlight, the dark bands glisten with orange translucency. I really like this striking wood and will be using more of it.
Sheath (Leather): I wanted a matching theme for the sheath, so I echoed the dark banding of the Black Palm with 11 ostrich leg skin inlays in hand-carved 9-10 oz. leather shoulder. This thick sheath is deep and protective, fully hand-stitched with polyester sinew, dyed a rich brown color, lacquered and sealed. Even the belt loop has ostrich leg skin inlays.
Sheath (Kydex): Because I thought the buyer might need it, I also constructed one of my custom locking, waterproof kydex, aluminum, and stainless steel combat grade sheaths that is included with this knife. This sheath is made of double-thickness black thermoforming kydex, with a 5052H32 corrosion resistant aluminum welt frame and belt loops. The locking mechanism is all stainless steel, including the lock tang spring, retainer plate, and all machine screws. The sheath is constructed with nickel plated steel Chicago screws, and the belt loops are reversible for wear on either side. Read more about these fine combat sheaths on a special page here.
This is a beautiful combination unit suitable for tough use and carry and still fine enough for collection.
Thanks, M. B.!
Dear Jay,
The knife arrived and it is spectacular! I look forward immensely to using it in the field. You were right to point out that is is an extremely robust piece of kit.
Sincerest thanks.
--M.
---
---