PJLT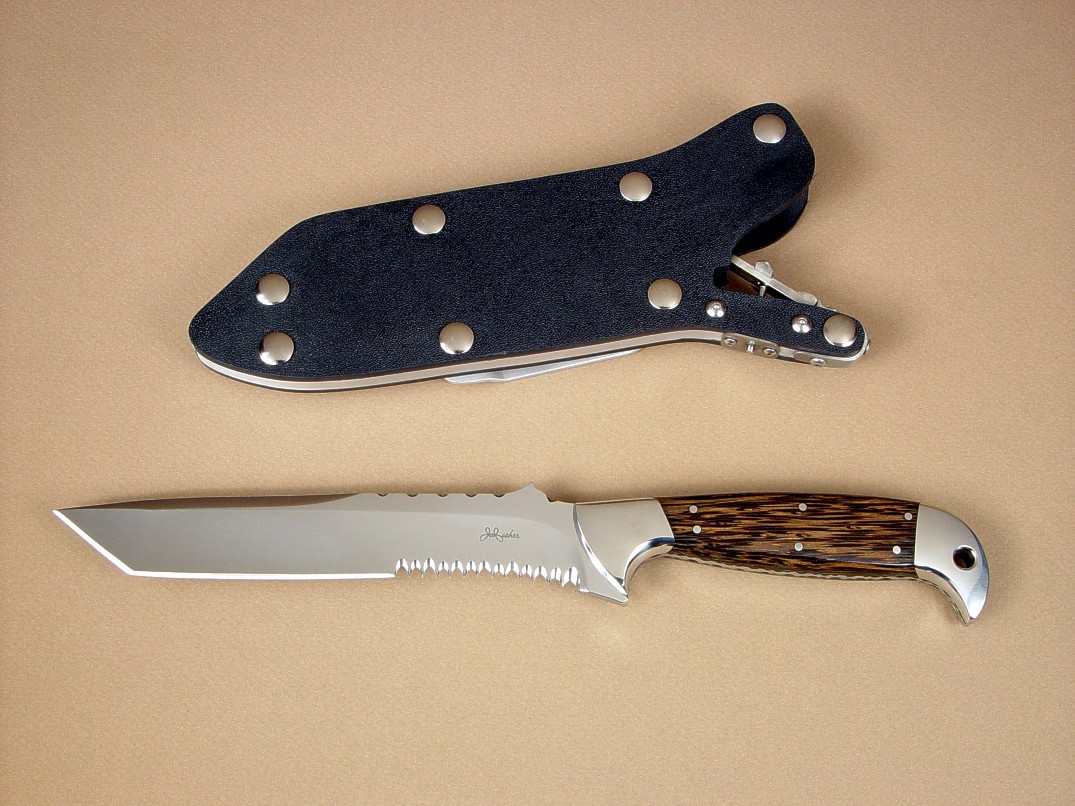 "PJLT" Custom Knife
Size: Length overall: 11.25" (28.6 cm), Blade Length: 6.0" (15.2 cm), Thickness: .176" (4.5 mm)
Weight: Knife: 8.9 oz. (252 grams) Sheath: 9.4 oz. (267 grams)
Blade: 440C High Chromium Martensitic Stainless Tool Steel, Hardened and Tempered to 58HRC
Bolsters, Fittings: 304 Austenitic Stainless Steel
Handle: Black Palm Exotic Hardwood
Sheath: Locking Kydex, Aluminum, Stainless Steel, Nickel Plated Steel
Knife: Here's one of my PJLT models, created and used for Combat Search and Rescue by our United States Air Force Pararescue. This one is custom made for a great client for his own personal use and collection. It's made of brightly mirror polished 440C high chromium stainless steel blade, accurately hollow ground with 2" of my vampire rip-tooth serrations, and a half length top swage. The tanto edges are sharp and durable, with plenty of good thin geometry at the edge that will allow an extremely long blade life. The steel is highly corrosion resistant, and it's no wonder that 440C is my most popular knife steel with its bluish chromium finish and classy appeal. The knife has full filework along the spine and fully tapered tang with my sunrise pattern and a punchy offset pattern inside the tang. The knife is bolstered with zero care 304 high nickel, high chromium austenitic stainless steel bolsters, which are polished throughout, comfortably contoured and finished for the hand, and dovetailed to bed a pair of striking Black Palm wood hardwood handle scales. This is the only palm wood that is durable enough to use on a knife handle, and it's striking pattern has hints of orange translucency in bright sunlight. The handle feels solid and comfortable and the scales are secured with six 304 stainless steel through-tang pins. The rear bolster has as pronounced hawk's bill quillon for grip, and also has a chamfered through-tang lanyard hole for extra security. This is a great knife; it's easy to see why it's one of my most popular designs.
Sheath: The sheath for this knife is one of my waterproof locking tactical knife sheaths, simply the best knife sheath made anywhere. It's constructed of double thickness kydex, 5052H32 corrosion resistant high strength aluminum alloy welt frame, 304, 302, and 316 stainless steel locking mechanism and components, bound with nickel plated steel Chicago screws and 18-8 stainless machine screws. The high strength aluminum belt loops are reversible for a variety of wear positions.
A great knife for a great client!
Thanks, G. D.!
Hi, Jay.
The PJLT is fantastic. I am so happy to have it in my collection. I can't tell you how much I love the beautiful "works of art" that others might see as only a knife. I assure you I see so much more and am so happy to have them. God bless you and thanks so much.
Sincerely, G.
---
---