PJLT Tactical CSAR Knife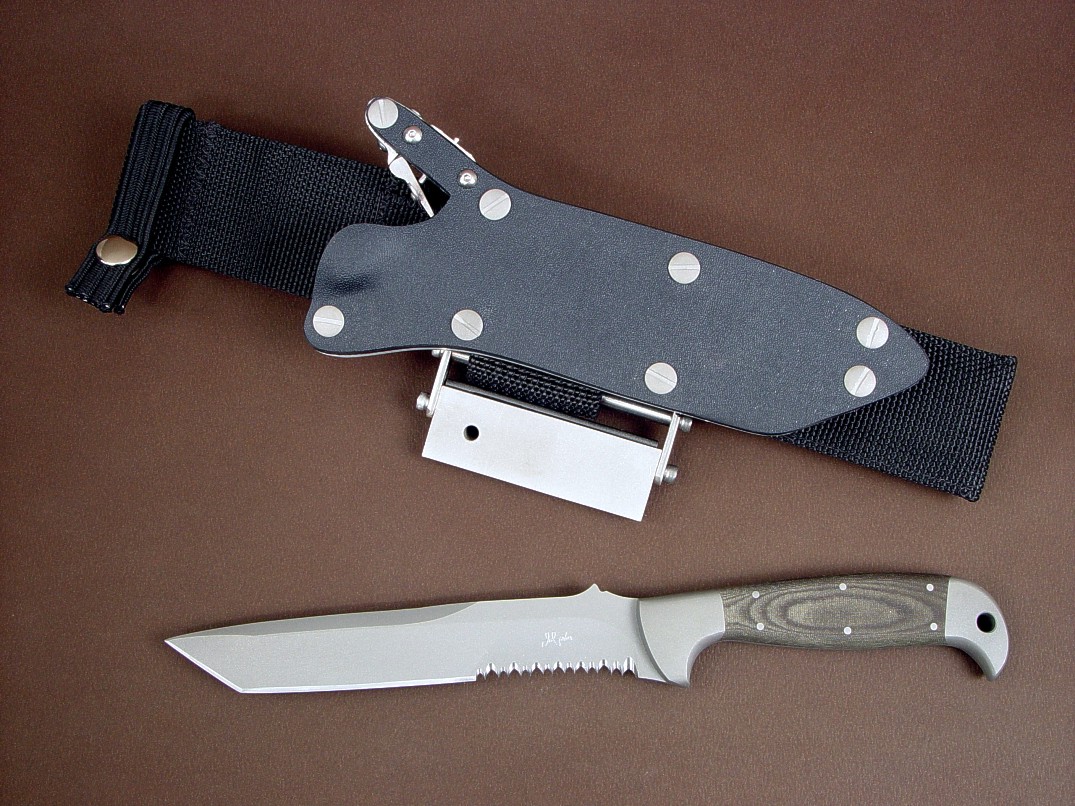 "PJLT" Tactical CSAR Knife
Size: Length overall: 11.125" (28.3 cm), Blade Length: 6.25" (15.9 cm), Thickness: .189" (4.8 mm)
Weight: Knife: 9.5 oz. (269 grams) Sheath (with extender and accessories): 15.7 oz. (445 grams)
Blade: 440C High Chromium Martensitic Stainless Tool Steel, Hardened and Tempered to Rockwell C58, Bead Blasted
Bolsters, Fittings: 304 Austenitic Stainless Steel, Bead Blasted
Handle: Green Linen Reinforced Micarta Phenolic
Sheath: Locking, Kydex, Aluminum, Stainless Steel
Extender: Polypropylene, Nylon, Diamond Pad Sharpener, Firesteel-Magnesium block fire starter
Knife: Custom made for a great client, here's a PJLT with a green linen micarta handle and locking sheath. A beautiful, useful, and popular knife, this one will give decades of service. It's easy to see why this is my most popular knife. The tanto blade is stout and hollow ground for a low relief angle and a very sharp single bevel cutting edge. Add to that the 2" of deep "vampire" serrated rip teeth for the most stubborn cutting chores. The blade has a two-thirds length top swage for reduced point profile, and the spine and handle tang are clean with no filework to hold debris. The fully tapered tang is bolstered with zero care 304 high nickel, high chromium stainless steel bolsters which are dovetailed to bed a pair of green linen reinforced micarta phenolic scales secured with six 304 stainless steel 3/32" pins. Micarta is considered of of the premiere manmade knife handle materials, tough, durable, and impervious to moisture and most chemicals. It's bead blasted for increased texture and tooth to assure a good, tight grip, aided by the quillons on the front and rear bolster. I've domed it in the handle swell for a comfortable shape, which also brings out the layered pattern.
Sheath: One of my fine locking, waterproof tactical models on this knife; it has double-thickness kydex over a 5052H32 corrosion resistant, high strength aluminum welt frame. The sheath has all stainless steel locking components for low-care and high usability with security. The sheath is secured with stainless steel machine screws and bead blasted stainless steel Chicago screws. 1.75" wide belt loops are included in die formed in high strength aluminum, and are reversible for versatile wear.
Ultimate Extender: My client requested an additional option, my ultimate sheath belt loop extender. This allows a lower, more traditional placement of the locking sheath on the belt, will accommodate thicker belts and belts up to 2.5" wide, and includes the anti-flop shock cord with snap retention, the diamond pad sharpener, and the magnesium-Firesteel fire starter. Learn more about these useful accessories here.
This is a very tough knife and sheath, the same model carried by USAF Pararescuemen, law enforcement, and professional rescue technicians in combat and emergency rescue operations.
Thanks, E. H.!
Hi Jay,
Thank you very much for the knife. I am still playing with the knife for the past few days. I am still floored at how handy it feels in both hands. I really am glad you made the low hanging belt loop, it works well for me.
Even though I'm not a PJ, I still plan to use this knife often on my outings. I just may have to get another knife soon . :) some day I hope to get a gemstone polished knife....
--E. H.
---
---