Pararescue Instructors "PJLT" CSAR Knife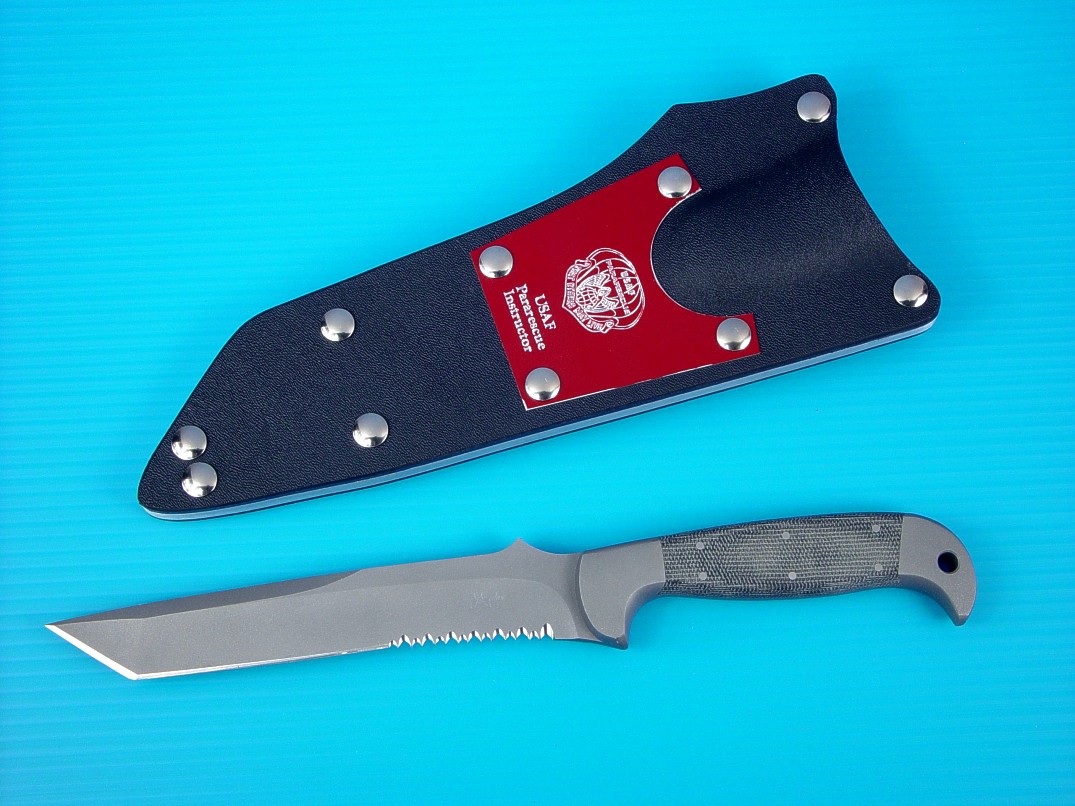 "PJLT" USAF Pararescue Instructors Combat Search and Rescue Knife
Size: Length Overall: 11.25" (28.6 cm), Blade Length: 6.3" (16.0 cm), Thickness: .195" (4.9 mm)
Weight: Knife: 10.0 oz. (284 grams), Sheath 11.0 oz. (312 grams)
Blade: 440C high chromium martensitic stainless tool steel, hardened and tempered to HRC59
Bolsters, Fittings: 304 austenitic high nickel, high chromium stainless steel
Handle: Canvas Micarta Phenolic
Knife: It's always an honor to make a knife for a member of our nation's top military combat rescue service, United States Air Force Pararescue, and even more so for a PJ instructor. USAF Pararescue has the toughest training pipeline in the military, and two years of intensive physical, mental, and professional training is required, taught by Pararescue professionals who are active PJs themselves. The PJLT (Pararescue Jumper LighT) has become a dependable standard in CSAR knives for the PJs, with a strong, hollow ground 440C high chromium stainless steel blade in a tough tanto shape. 440C is chosen mostly for this application for its great toughness and wear resistance as well as high corrosion resistance for marine duty and wet environments. The blade has a half-length top swage for decreased point profile and two inches of my "Vampire" serrations for ripping through tough materials. The cutting edge is single angle bevel and honed to razor sharpness with a thin enough hollow grind for long serviceability and thick enough for strength. The bolsters are zero care 304 high nickel, high chromium stainless steel and bed a very durable canvas reinforced Micarta phenolic handle secured with six stainless steel pins. The blade tang is fully tapered for weight balance and control, the rear bolster has a through-tang lanyard hole for additional security if needed, and the entire knife is bead blasted for subdued reflection, easy care, and noticeable grip texturing. The knife balances at the forefinger and locks well in the hand in both forward and reverse grip. This is a combat and rescue-proven knife going to the best of the best.
Sheath: This is a real CSAR knife and requires an extremely durable sheath so it's made of double-thickness kydex thermoformed over 5052H32 corrosion-resistant high strength aluminum frame welts, secured with nickel plated steel Chicago screws and with aluminum 1.75" aluminum die-formed reversible belt loops. The welts are bedded to protect the cutting edge and the knife is held in the sheath with solid tension. The sheath has a removable maroon engraved aluminum flashplate honoring the service.
This is a serious tactical combat search and rescue knife for one of our best.
Thanks, K. W.!
I did get the knives and they are great! The guys loved them. Thank you again, and I appreciate all the help.
--K.
---
---