PJLT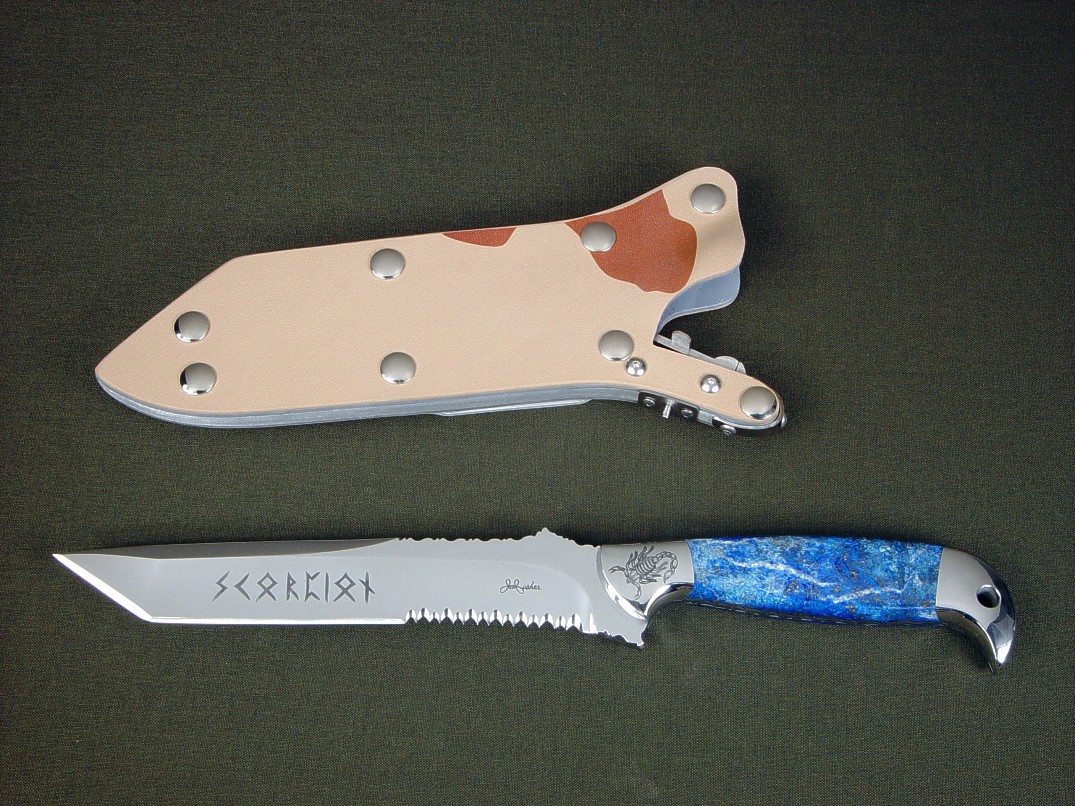 "PJLT" Custom Tactical Combat Knife
Size: Length overall: 11.25" (28.6 cm), Blade Length: 6.25" (15.9 cm), Thickness: .197" (5.0 mm)
Weight: Knife: 10.7 oz. (303 grams) Sheath: 9.0 oz. (255 grams)
Blade: 440C High Chromium Martensitic Tool Steel, Hardened and Tempered to Rockwell C59
Bolsters, Fittings: 304 Austenitic Stainless Steel, Hand-Engraved
Handle: Lapis Lazuli (Lazurite) Gemstone from Afghanistan
Sheath: Locking Kydex, Aluminum, Stainless Steel, Nickel Plated Steel
Knife: This is a great knife, custom ordered by one of our military. The knife design is my popular PJLT, combat proven and CSAR ready. The knife blade is mirror polished 440C high chromium martensitic stainless tool steel, hardened and tempered to 59HRC for great hardness and wear resistance. The hollow ground blade has a single bevel razor keen edge and two inches of my aggressive Vampire rip-teeth serrations. The blade hollow is custom-etched with the Germanic-Danish runes meaning Scorpion. The blade has a half-length top swage to reduce point profile, and has full modified vine filework for increased tactile purchase and original handmade style.The fully tapered tang mounts two pairs of 304 high nickel, high chromium austenitic stainless steel bolsters. The front bolster is hand-engraved with a detailed scorpion on both sides, and the rear bolster has a through-tang lanyard hole for security. The bolsters are dovetailed and bed a pair of very cool Lapis Lazuli gemstone handle scales. This gem was supplied by the owner and acquired in Afghanistan, and honors his service there. The gem (also called Lazurite) is actually classified as a rock, because it contains several minerals, namely blue lazurite, hauynite, sodalite, and noselite as well as pyrite, calcite, diopside, feldspar, and mica. This beautiful stone has a very old and respected past, admired and used for over 6,000 years. This particular gemstone has streaks of mica in calcite, deep blue areas, and nice gold-colored pyrite flakes throughout.
Sheath: The sheath for this knife is one of my positively locking military tactical combat models, made of double thickness kydex in desert camo tan outside and gray inside, 5052H32 corrosion resistant high strength aluminum alloy welt frame, 304, 302, and 316 stainless steel locking mechanism and components, bound with nickel plated steel Chicago screws and 18-8 stainless machine screws. The high strength aluminum belt loops are reversible for a variety of wear positions.
A great custom knife, unique and original, made for a special client.
Thanks, M. K.!
WOW!!!!
Thanks so much, Jay!! The pics of the knife are GREAT!! It is EVERYTHING I hoped it would be!! Absolutely worth the wait and every penny!!!! Thank you so much for being patient with a knife-novice like me - and for turning my idea into a beautiful, functional, piece of art!!!! I can't wait to get my paws on it!!!!!
As I mentioned when I first emailed you all those many months ago, I am very thankful to you for your support of our armed forces. Its always a great comfort to know that there are so many great people in this country like you who are pulling for us no matter what we get asked to do!!
Thanks so much again.....it is a truly gorgeous knife!!
--M.K.
---
---