PJLT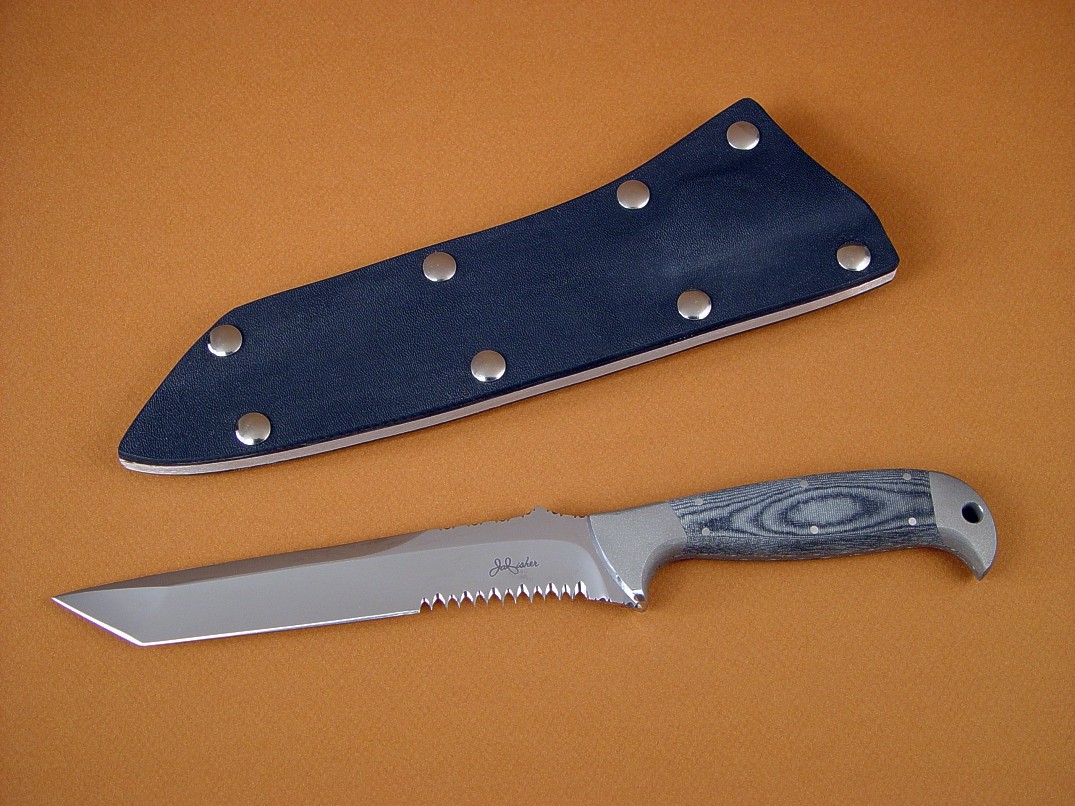 "PJLT" Pararescue Jumper LighT Combat Search and Rescue Knife
Size: Length overall: 11.25" (28.6 cm), Blade Length: 6.5" (16.5cm), Thickness: .176" (4.5 mm)
Weight: Knife: 8.6 oz. (244 grams), Sheath: 9.3 oz. (264 grams)
Blade: 440C High Chromium Martensitic Stainless Steel, Hardened and Tempered to Rockwell C58, mirror finished
Bolsters, Fittings: Bead Blasted 304 Austenitic High Nickel, High Chromium Stainless Steel
Handle: Bead Blasted Canvas Micarta Phenolic
Sheath: Kydex, Aluminum, Nickel Plated Steel
Knife: This is one of my popular Combat Search and Rescue (CSAR) knives, the Pararescue Jumper LighT, or PJLT. Designed and used by United States Air Force Pararescuemen, our nation's top military rescue service, the PJLT is an all-business tactical combat and rescue tool, weapon, and adjunct. This one is made for a military client for his professional use. Please read more about the PJLT on a very special page on my site at this link. It is an honor to make knives and have them carried into battle, rescues, and on missions by these elite forces. This particular CSAR knife has a highly corrosion resistant 440C stainless steel blade, mirror finished for easy care and cleaning, and great corrosion resistance. It's got 2" of of my extremely aggressive Vampire rip teeth serrations, and a two-thirds length top swage to reduce the point profile without sacrificing strength in the blade spine. The knife has full light filework for increased tactile contact and original flair. The bolsters are super-tough zero care 304 austenitic high nickel, high chromium stainless steel, dovetailed and bedding a pair of tough canvas reinforced Micarta phenolic handle scales, secured with six 304 stainless steel pins. The rear bolster has a 1/4" through-tang lanyard hole for additional security. This is a very useful, well-made combat knife that has been picked up by Emergency Response Teams, Rescue professionals, Hazardous Materials specialists, and law enforcement.
Sheath: The sheath is tension fit double-thickness kydex over a 5052H32 corrosion resistant, high strength aluminum alloy welt frame, secured with nickel plated steel Chicago screws and aluminum belt loops.
One of the best going to one of our best!
Thanks, J. M.!
"Those pics are great! You've done a fine job, sir."
--J.M.
---
---