United States Air Force Pararescue "PJLT" CSAR Knife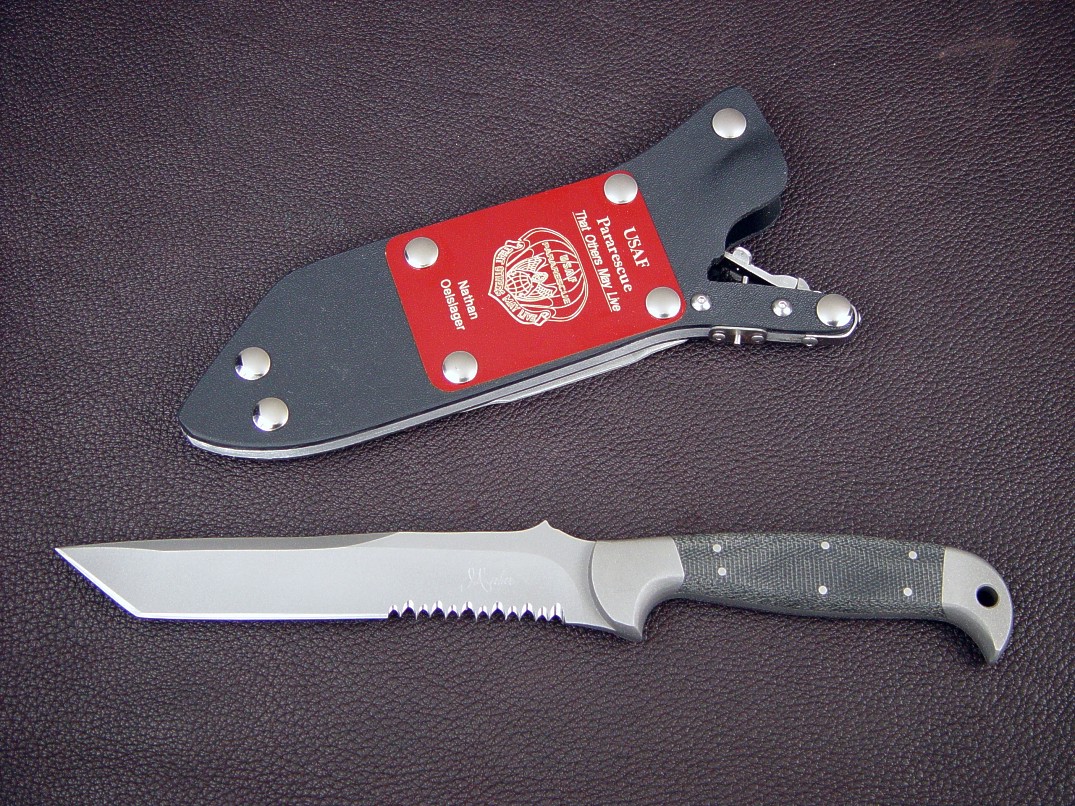 "PJLT" Custom CSAR Knife, Pararescue
Size: Length overall: 11.25" (28.6 cm), Blade Length: 6.25" (15.9 cm), Thickness: .202" (5.1 mm)
Weight: Knife: 9.6 oz. (272 grams), Sheath: 9.8 oz. (278 grams)
Blade: 440C High Chromium Martensitic Stainless Tool Steel, Hardened and Tempered to Rockwell C58
Fittings/Bolsters: 304 stainless steel
Handle: Canvas Micarta Phenolic
Sheath: Locking, Kydex, Aluminum, Stainless Steel, Nickel Plated Steel screws
Knife: Another great custom handmade PJLT for an active duty United States Air Force Pararescueman, this PJLighT is a popular knife for good reason. The proven tanto blade style is a favorite in Combat Search and Rescue, with plenty of width to support the strong point and thickness that is relieved behind the point with a half length top blade swage. The 440C martensitic stainless steel is highly corrosion resistant and suitable for use in wet missions, and with the bolsters and pins made in 304 high nickel, high chromium stainless steel, this knife can take every environment that the Pararescueman might encounter. The handle is solid and well shaped in the hand, and the handle material is canvas reinforced Micarta phenolic, which offers good tooth for tactile traction. The entire knife is bead blasted for a no glare look and easy care, and the hollow ground blade has a razor keen single bevel cutting edge with 2" of my Vampire rip teeth serrations for realistic and dependable use.
Sheath: The sheath is made of double thickness kydex, thermoformed over a .250" double layered 5052H32 corrosion resistant, high strength aluminum welt frame, secured with nickel plated steel Chicago screws. The sheath is fully and positively locking and waterproof. All of the components of the locking mechanism are stainless steel for ultimate corrosion resistance and longevity. This is, simply, one of the finest knife sheaths made for CSAR and CQB. The sheath has reversible belt loops for a variety of carry and wear options. On the sheath face is a removable custom engraved maroon lacquered brass flash plate.
A great knife going to one of our best, and he honors me in its use!
Thanks, D. O!
Upon seeing this page of the finished knife:
HI Jay!
Holy cow, the pictures alone sent shivers down my spine and and tears to my wife's eyes. ...she agrees that this was the best possible thing we could get him.
Upon receiving the knife:
The knife arrived today. What can I say? Pictures are beautiful, but holding the real thing is a whole other experience. It had just the right "heftiness" to it I wasn't fully expecting. And of course, your presentation is outstanding. The flashplate and engraved knife description are beautiful, and I know this knife will be displayed with pride and honor by Nate long after he is no longer a PJ.
I just had to send the link to the picture of the knife to my older brother, who is going to attend Nate's graduation. He is a graduate of the United States Military Academy at West Point, now retired from the Army. He is also a bit of a knife aficionado and collector. As he said in his email back to me (and I quote): "Two words for Jay Fisher -- Classy and Awesome. Nathan is going to own one hell of a knife." Bit of an understatement in my book. Wow. My brother is as anxious to see this knife as I was. Hmmm. Won't surprise me if you get an inquiry about your knives from another O.!
Your efforts to have this done in time for his graduation still leave me in awe. Can't thank you enough.
And upon is graduation from Pararescue Training:
Jay,
Here is one satisfied customer who was speechless for almost 5 minutes when we gave him the knife! What an exciting day it was. 22 of the most "top shelf" guys I have ever met. Nate LOVES the knife, and my thanks and kudos once again!
--D. O.
---
---