PJLT Smokejumpers Knife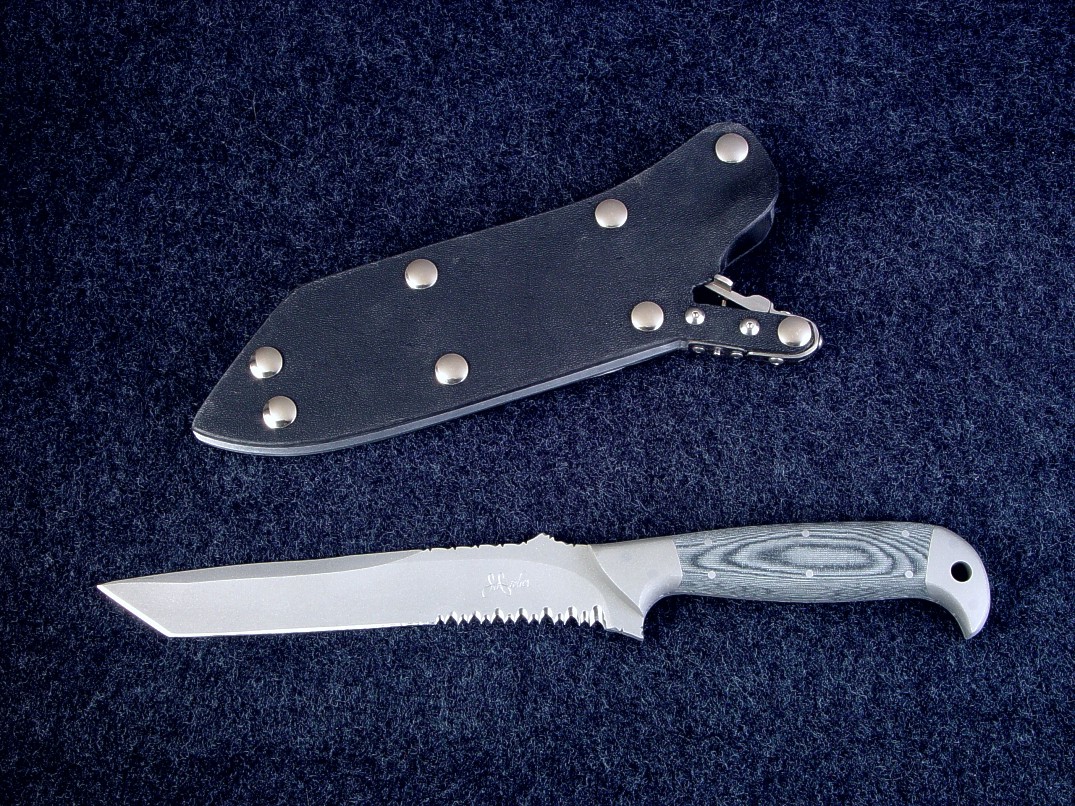 "PJLT" CSAR, Smokejumper's Knife
Size: Length overall: 11.25" (28.6 cm), Blade Length: 6.25" (15.9 cm), Thickness: .1875" (4.7 mm)
Weight: Knife: 8.5 oz. Sheath 8.9 oz.
Blade: 440C High Chromium Martensitic Stainless Tool Steel, Hardened and Tempered to Rockwell C59, hollow ground, bead blasted
Bolsters, Fittings: 304 Austenitic Stainless Steel, bead blasted
Handle: Canvas Micarta Phenolic, bead blasted
Sheath: Kydex, Aluminum, Stainless Steel, Locking
Knife: Here's a great PJLT, my most popular combat search and rescue, tactical and emergency response tanto, custom made for a Smokejumper and Wild lands Firefighter in the Great North. The blade is 440C high chromium martensitic stainless tool steel, hardened and tempered to 59HRC, for high wear resistance, corrosion resistance, and toughness. The blade has proven field use; I've made many of these knives for everyone from USAF Pararescue (our nation's top military rescue service) to Army Rangers and Emergency Response Police units. You can see the long reputation of this popular blade style on a special page on my site here. This PJLT has been bead blasted throughout, with clear and even grind lines, and tight and solidly fitting components. The top has a half length swage for reduced spine profile at the point, and the knife has two inches of my super-aggressive and sharp "Vampire" rip teeth serrations. The blade has a fully tapered tang for excellent balance, and is fully fileworked from the spine to the choil. The bolsters are 304 austenitic high-chromium, high-nickel stainless steel, bead blasted and dovetailed. They hold a pair of super tough and durable Black Canvas Micarta handle scales, pinned and secured with six 304 stainless steel pins, bead blasted for great texture and grip.
Sheath: This is one of my custom locking, waterproof kydex, aluminum, and stainless steel combat grade sheaths, suitable for security when parachuting into action. This sheath is made of double-thickness black thermoforming kydex, with a 5052H32 corrosion resistant aluminum welt frame and belt loops. The locking mechanism is all stainless steel, including the lock tang spring, retainer plate, and all machine screws. The sheath is constructed with nickel plated steel Chicago screws, and the belt loops are reversible for wear on either side. Read more about these fine combat sheaths on a special page here.
Thanks, D. K.!
Jay I received the knife last week...It is by far the best knife I have ever had in my hand. It was well worth the wait. I'm going to field test it this up and coming fire season. The knife is so nice to look at I almost don't want to put it to the test. I purchased it for a purpose and it would be a shame to not use it...so look out paracargo in tow static lines, fiber tape, 8 cord, brake tape, and any wild game that needs carving. Thanks again and I'll give you an update at the end of this season.
--D. K.
---
---