Patriot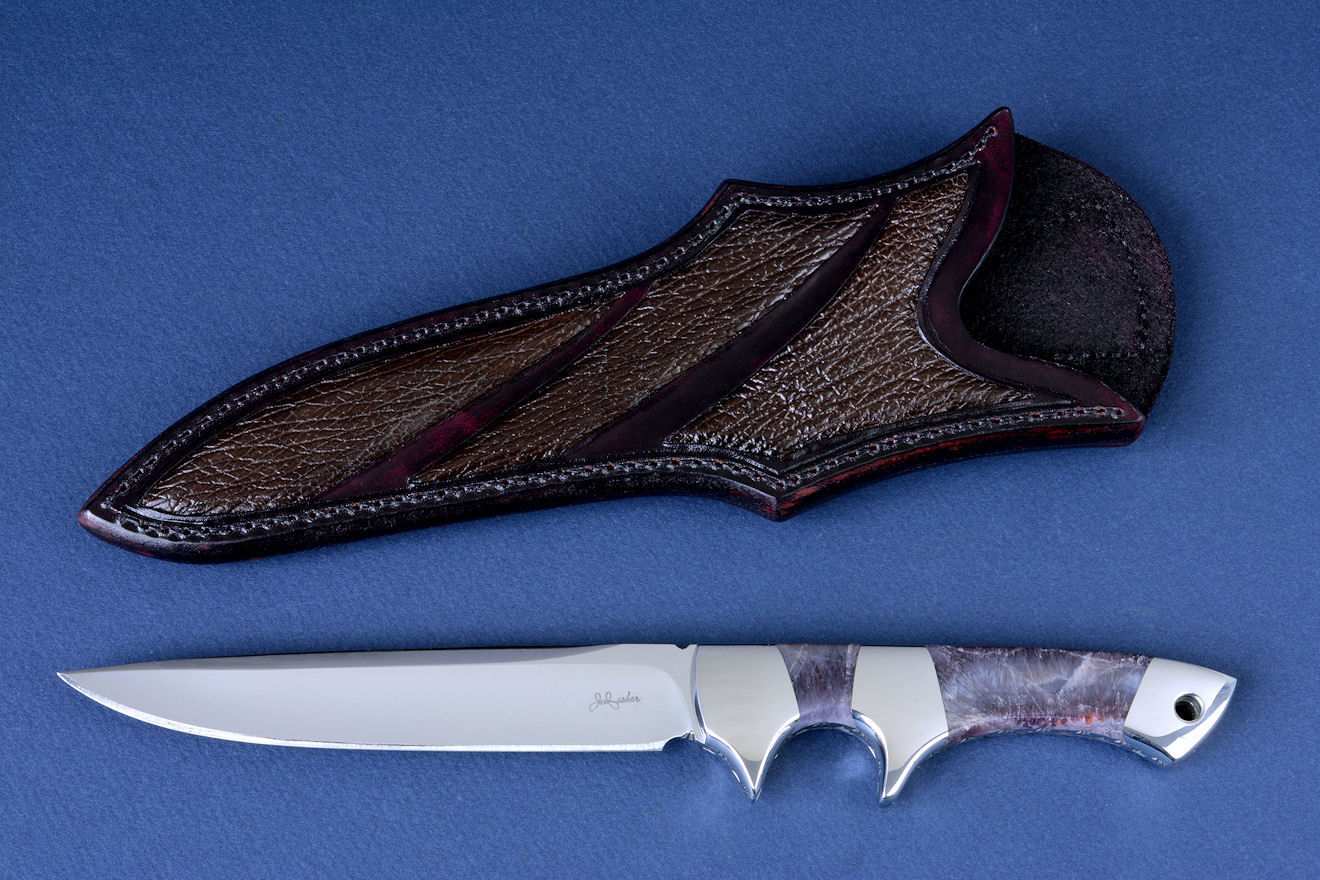 "Patriot" Custom Knife
Size: Knife: Length overall: 12.3" (31.3 cm), Blade Length: 6.5" (16.5 cm), Thickness: .208" (5.3 mm)
Weight: Knife: 13.5 oz. (383 grams) Sheath: 7.6 oz. (215 grams)
Blade: 440C high chromium stainless steel, hardened and tempered to 59HRC, mirror polished
Bolsters, Fittings: 304 Austenitic Stainless Steel, mirror polished
Handle: Lace Amethyst Gemstone
Sheath: Hand-carved leather, inlaid with shark skin
Knife: The Patriot is a popular knife design of mine, and it was a pleasure to create one custom made for my client. The blade is a beautifully ground piece of high chromium 440C tool steel, with good hardness for great wear resistance and high corrosion resistance. The blade has long, elegant lines, graceful and sleek, with a very well matched and even set of hollow grinds and a razor-keen cutting edge. The blade is reinforced with a substantial spine thickness, and a three quarter length swage reduces the point thickness while preserving the spine. The knife has a fully tapered tang for weight balance, and is fully fileworked in my sunrise pattern. The knife is bolstered with triple bolsters, all dovetailed and made of zero-care 304 stainless steel, brightly mirror polished. The bolsters are rounded, contoured, and very comfortable, and they lock in the purple Lace Amethyst gemstone handle scales with tight, accurate dovetails. Amethyst is a purple-violet gemstone, prized throughout history and was the chosen stone of kings and popes, as well as one of the 12 foundation stones of the Bible. The purple color of the amethyst is due to iron, manganese, and titanium and in this particular piece, the bookmatched scales are filled with white agate and crystal for a fascinating pattern. The gem is polished and smooth, and the knife handle feels great in the hand, with the balance point exactly at the forefinger placement.
Sheath: I wanted something very special for the sheath, commensurate with the knife and handle, so I hand-carved 9-10 oz. leather shoulder for inlays of cocoa brown sharkskin. I dyed the sheath body a deep purple color, and the entire sheath is hand-stitched with black nylon, coated and sealed for longevity. The lines of the 9 inlays match, front to back and even in the heavy belt loop.
A very sleek, graceful, and handsome knife and sheath for a great client.
Thanks, S. Y.!
Mr. Fisher,
Unreal!!!! Wow is this knife beautiful. Thank you so much.
It's unreal how many different colors are in that handle. I kind of go lost in it last night!!!
--S. Y.
---
---