Patriot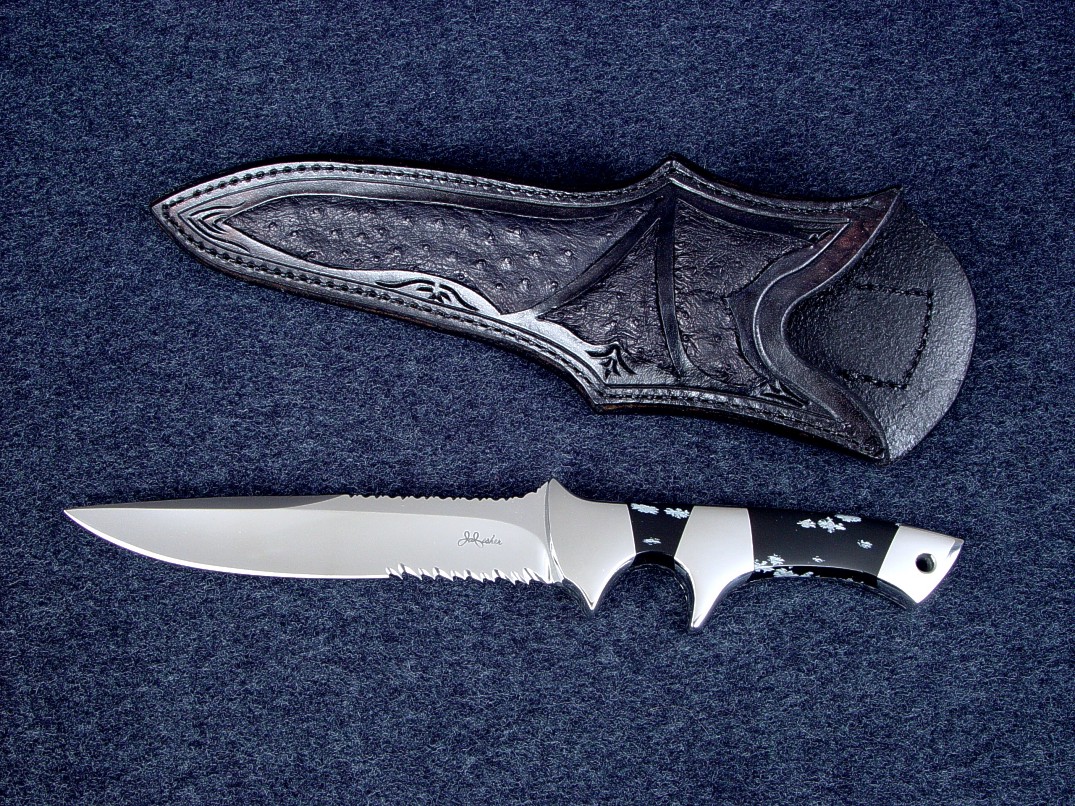 "Patriot" Custom Knife
Size: Length overall: 12.25" (31.1 cm), Blade Length: 6.5" (16.5 cm), Thickness: .234" (5.9 mm)
Weight: Knife: 1 lb. (454 grams) Sheath: 6.9 oz. (196 grams)
Blade: ATS-34 High Molybdenum Martensitic Stainless Tool Steel, Hardened and Tempered to 61HRC
Bolsters, Fittings: 304 Austenitic Stainless Steel
Handle: Snowflake Obsidian Gemstone
Sheath: Hand-carved leather shoulder inlaid with Emu Skin
Knife: Elegance and grace define this Patriot, from its slender and aggressive blade to its distinctive and well-formed handle. The steel chosen for this custom knife project is ATS-34 a high molybdenum stainless tool steel that allows great toughness at a high hardness. The knife blade is hardened and tempered to 61HRC, which makes it extremely wear-resistant. The blade is nicely hollow ground, mirror polished, and features a half-length top swage. The knife blade and tang are fully fileworked in a modified vine pattern, from the swage to the canted rip tooth serrations that are honed to a razor edge. The knife has a fully tapered tang for balance, and the fulcrum point is right where the forefinger rests in a forward grip style. The knife has three pairs of mirror polished 304 high nickel, high chromium austenitic stainless steel bolsters, which support the knife at the front quillon, the rear butt, and at the mid-quillon area (sometimes called a sub-hilt). This particular bolstered area of the handle allows great force to be applied to the canted serrations for certain rip-cut results. The bolsters are dovetailed and bed two pairs of fitted and bedded Snowflake Obsidian gemstone handle scales. This gem is smooth and glassy, with jet black areas and light "snowflakes" that contrast the main field of color in the stone. The gem is well-protected with the substantial bolsters and heavy, thick tang. The rear bolster has a 1/4" chamfered lanyard hole for security and the thumb rise area is fully bolstered for a comfortable placement and pressure from the thumb.
Sheath: Going nicely with this knife, my client requested a natural dark sheath that compliments the bold knife. I started with 9-10 oz. leather shoulder, hardened and carved, finished in black with brown highlights for a genuine and relaxed finish. The carved sheath is inlaid with nine panels of black Emu skin, with a softer and interesting texture. The sheath is lacquered and sealed, hand-stitched with black nylon thread, very tough and durable.
A very nice combination, sharp, aggressive, yet elegant.
Thanks, J. M.!
I am truly stunned. Gorgeous piece. Wowww. That's nice....thank you for your time, skill, and effort.
--J
---
---