Pyxis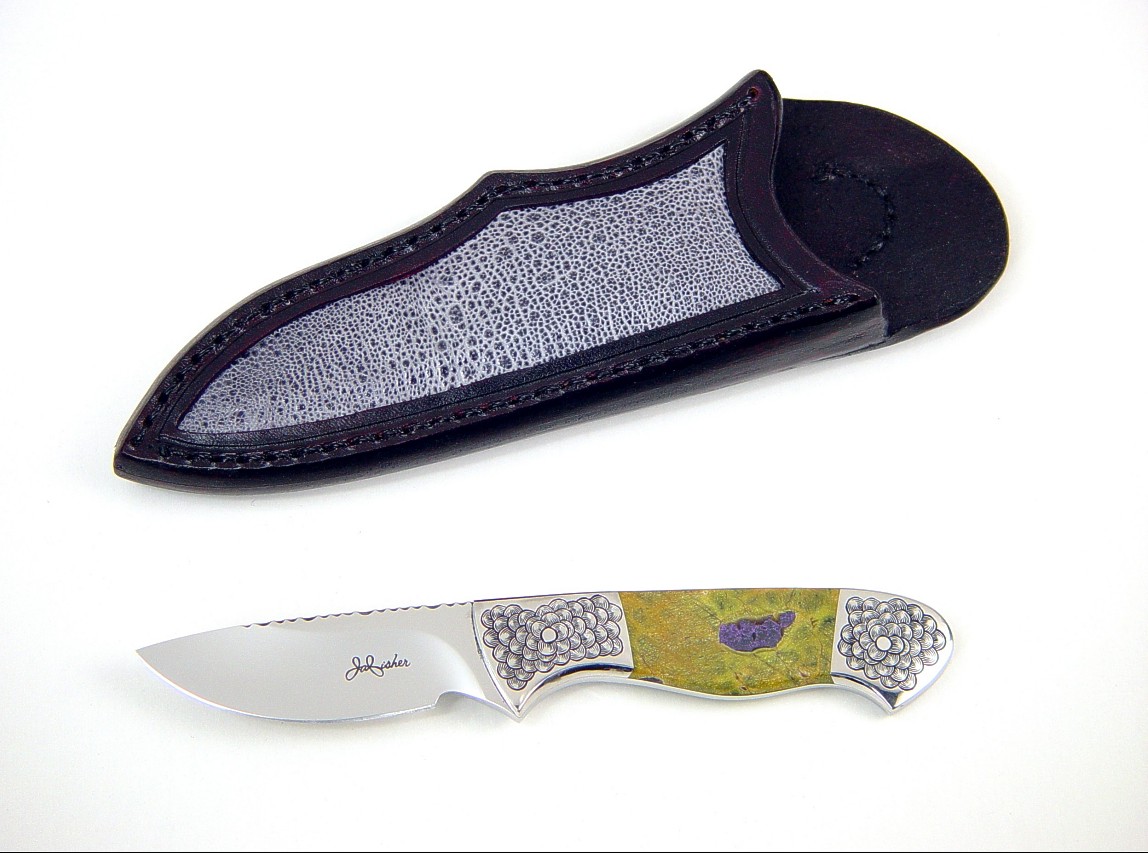 Pyxis
Size: Length overall: 6.0" (15.2 cm), Blade Length: 2.5" (6.4 cm), Thickness: .128" (3.3 mm)
Weight: Knife: 3.3 oz. (94 grams) Sheath: 3.0 oz.(85 grams)
Blade: 440C High Chromium Martensitic Stainless Steel, Hardened and Tempered to Rockwell C58, mirror finished
Bolsters, Fittings: Hand-engraved 304 Austenitic High Nickel, High Chromium Stainless Steel
Handle: Polished Atlantisite Gemstone
Sheath: Frog Skin Inlaid in Hand-carved Leather
Knife: Pyxis is a unique and unforgettable small knife that packs plenty of visual punch. The name Pyxis comes from the constellation of the compass in the southern hemisphere and is also the name of seed of some fruits that occur in a group or capsule. This small drop point blade is clean and crisply ground and mirror finished in 440C high chromium martensitic stainless tool steel for super corrosion resistance, great wear characteristics and long term beauty. The hollow grind is gently terminated and I left plenty of thickness in the point for toughness in this 1/8" thick blade. The blade has nice, open, half-round filework on the spine only, leaving the fully tapered tang clean and smooth at the butt and inside the handle. The blade is framed in two pairs of zero care, hand-engraved, high nickel, high chromium 304 stainless steel bolsters. The tight and clean pattern I engraved was inspired by the small seeds of some pod fruit where Pyxis gets its name. The bolsters are dovetailed and frame a pair of polished Atlantisite gemstone handle scales. Atlantisite is a fairly new gemstone discovery and comes from a singular hilltop in Tasmania. It is striking in contrast as most of the gem is serpentine, which is plainly workable for the lapidary, but the purplish inclusions are magnesium chromate (Stichtite), which is very, very hard. So finishing this knife is a challenging task! The serpentine is a bright yellowish green with golden brown hues and striations, and the purple magnesium chromate is glistening with a beautiful near metallic reflection in bright light.
Sheath: The sheath I made for this knife is 9-10 oz. leather shoulder, hand-carved and hand-stitched with tough black nylon. The sheath has full panel inlays of gray frog skin, and is dyed black, lacquered, and sealed.
A unique small knife with a big personality.
Thanks, D. E.!
Hi Jay,
Pyxis arrived safely and I have been admiring it. The size is just perfect --it is really a piece of fine jewelry. It fits the hand perfectly and the balance is spot on. I am not sure that I will be able to keep from carrying it and using it--it is the exact size I need for many every day small tasks, and the size is not intimidating. I will feel comfortable using it where many larger knives would not be welcome. The engraving, gemstone handle, file work are all impeccable. Thanks for another work of art!
--D. E.
---
Please click on thumbnail photos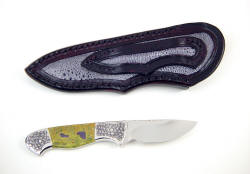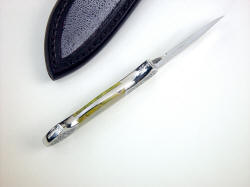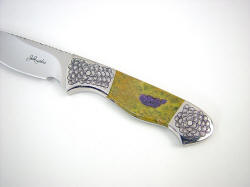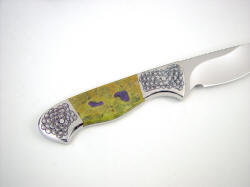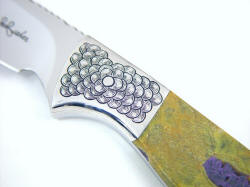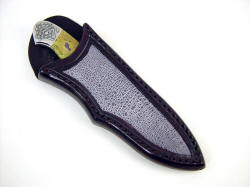 ---