Raptor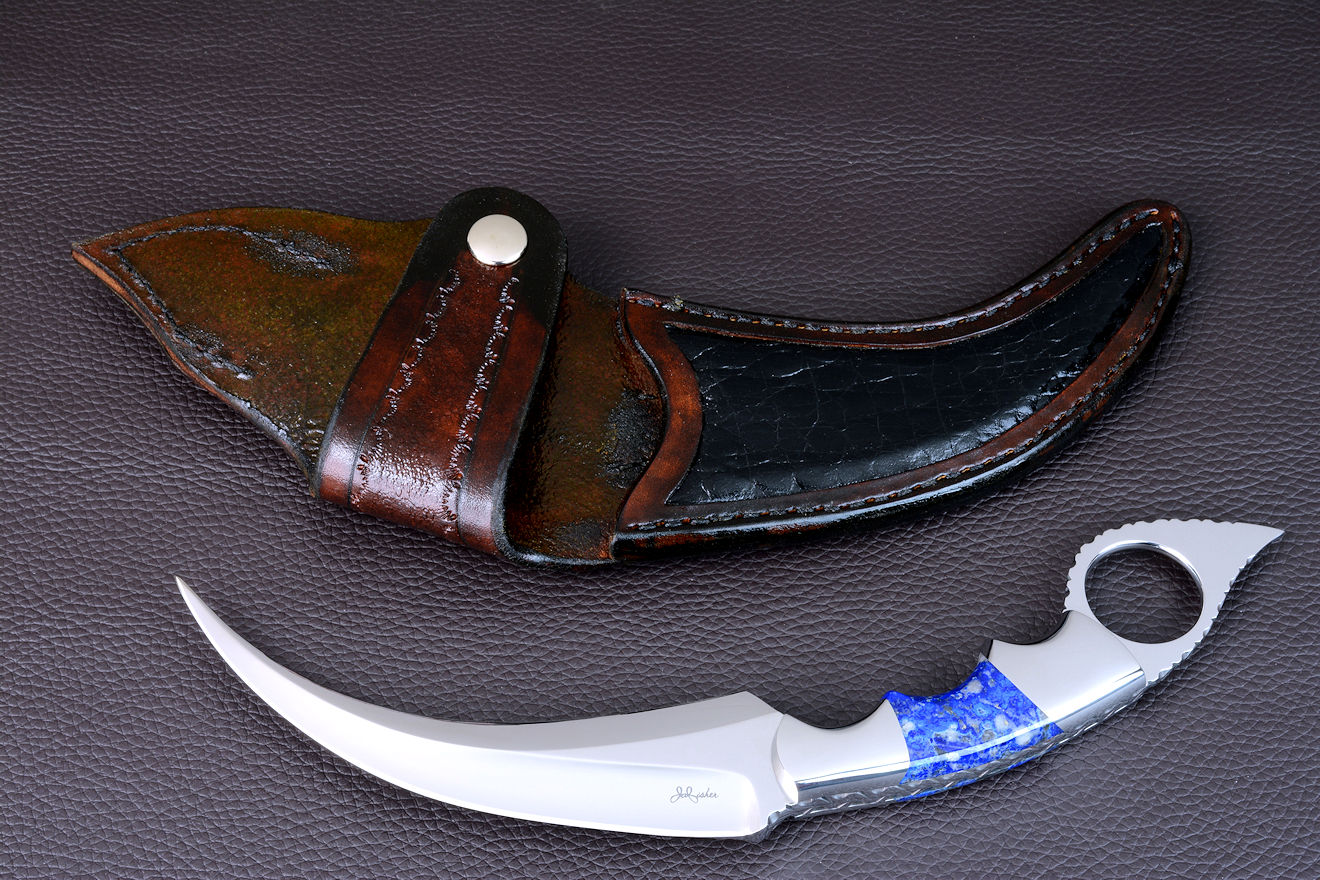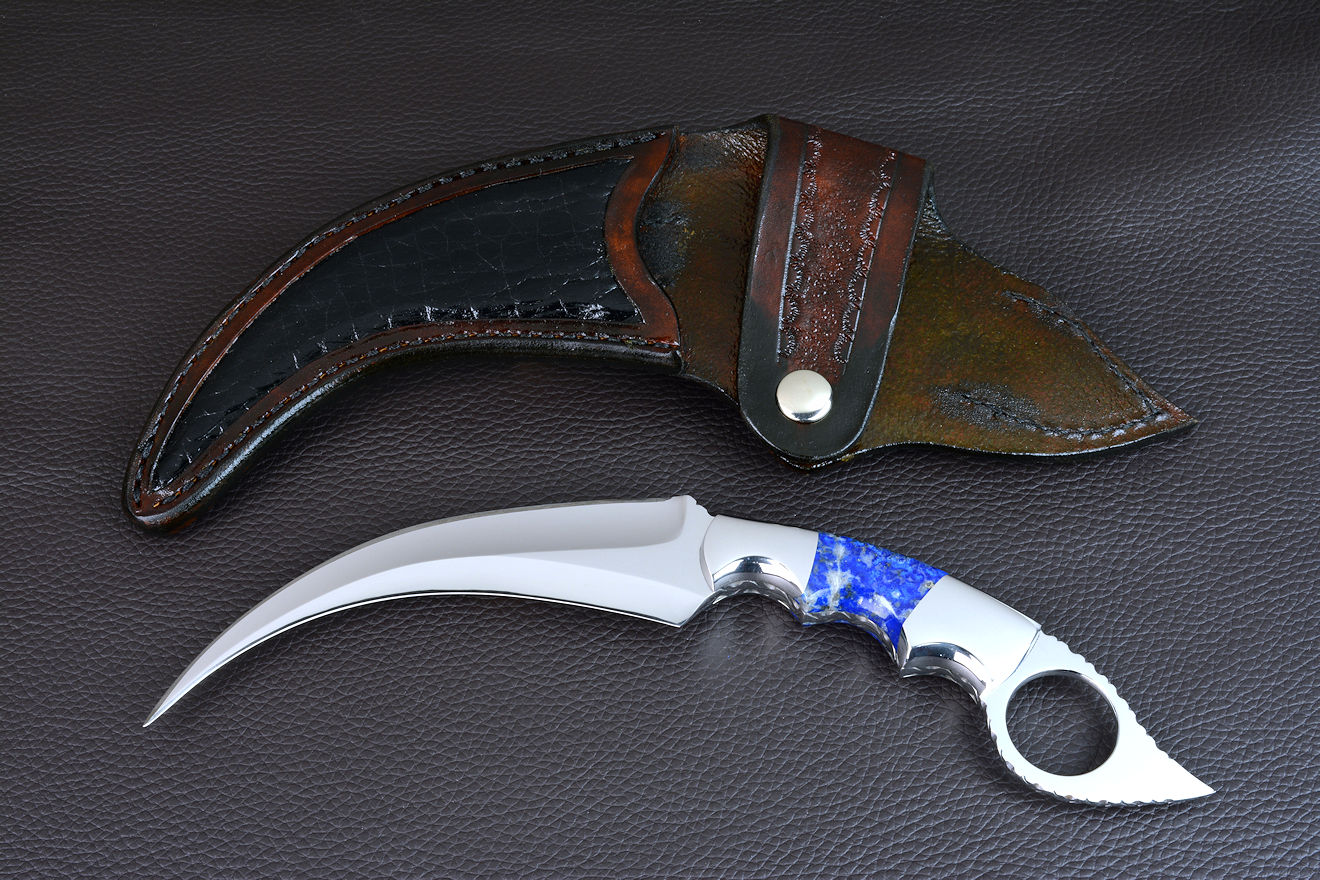 "Raptor" Custom Karambit (Kerambit)
Size: Length overall: 10.5" (26.7 cm), Blade Length: 5.75" (14.6 cm), Thickness: .254" (6.5 mm)
Weight: Knife: 10.2 oz. (289 grams) Sheath: 5.2 oz. (147 grams)
Blade: CPM154CM High Molybdenum Powder Metal Technology Martensitic Stainless Tool Steel, Cryogenically Treated, Hardened and Tempered to 60.5 HRC
Bolsters, Fittings: 304 Austenitic Stainless Steel
Handle: Lapis Lazuli Gemstone, Peru
Sheath: Hand-carved leather shoulder inlaid with Caiman skin
Knife: The Raptor is a striking form, a kerambit (or karambit) that is based on a 16th century rice harvesting sickle, adapted into a modern form and weapon. This Raptor is custom made for a great client, to his specifications. The blade is CPM154CM high molybdenum martensitic stainless steel. This is modern powder metal technology steel, created as a finely powdered mass fused into a solid bar with no segregation or density variation of the alloy components. I've employed deep cryogenic treatment at -325°F with additional deep thermal cycling at -325°F for the ultimate in high wear resistance with high toughness this steel offers. This radical and extensive heat treating process creates the maximum carbide precipitation, maximum transformation of martensite, deep thermal cycling and compression, and quite simply, makes this steel the very best it can possibly be. The steel is brightly mirror polished throughout, and the convex profile edge is hollow ground with a 3" contact wheel for a thick spine but a razor thin cutting edge. The concave edge has a thick taper grind, for a durable, strong edge well supported by the spine of the knife. This is a very difficult knife grind to do well; most karambits seen are only single-edged. The blade has full vine filework for some distinctive handmade beauty, and the rear finger ring is polished throughout for smooth contact. The spine is fully tapered for strength, yet enough thickness is left in the persuader point for durability. This is a very tough steel, with high molybdenum, critical in such a slender grind form. I bolstered the knife with zero-care high nickel, high chromium 304 stainless steel bolsters, the same material that is used to make stainless nuts, bolts, and fasteners. The bolsters are contoured rounded, polished, and finished for comfort, and are dovetailed to bed a pair of striking gemstone handle scales. This is Peruvian Lapis Lazuli, with extremely bold blues, whites, and bits of gold-colored pyrites. It's a tough rock (not a mineral but a group of minerals) and has much more distinctive character than the uniform blue of Lapis from Afghanistan. The striking knife feels comfortable and solid in locked in both forward and reverse grip with the thumb draped over the rise at the persuader on the finger ring.
Sheath: The sheath was made to compliment the knife, and my client requested Caiman skin inlays. I chose black glazed Caiman side, and hand-carved 9 - 10 oz. leather shoulder for large inlay pockets in the front, back and the wide belt loop. The sheath is dyed a deep mocha brown, and the Caiman is black glazed. I made the folding flap of the sheath to hide the striking gemstone handle scale, for a bold display hiding beneath. The snap is nickel plated steel, and the sheath is stitched with black nylon and sealed with acrylic.
A wild, bold, and beautiful custom karambit with a curvaceous double-edged blade in premium steel and finesse.
Thanks, A. F.!
---
Jay,
The knife was absolutely beautiful, pictures can't do it justice! The "Raptor" is a surprisingly light knife when in the hand and leads to quick maneuverability regardless of hand position. Despite the light and quick feel, the spine is substantial and in no way feels weak or fragile. As usual, the fit and finish is perfect and the grinds are beyond description! The Lapis inlay really sets the knife apart with the particles of pyrite and other minerals. The sheath looks SO much better in person! The brown against the black caiman inlays both front AND back compliment each other beautifully! In summation, this knife is now the pinnacle of my growing collection of Jay Fisher knives!
Thank you,
A.
---
---