Sadr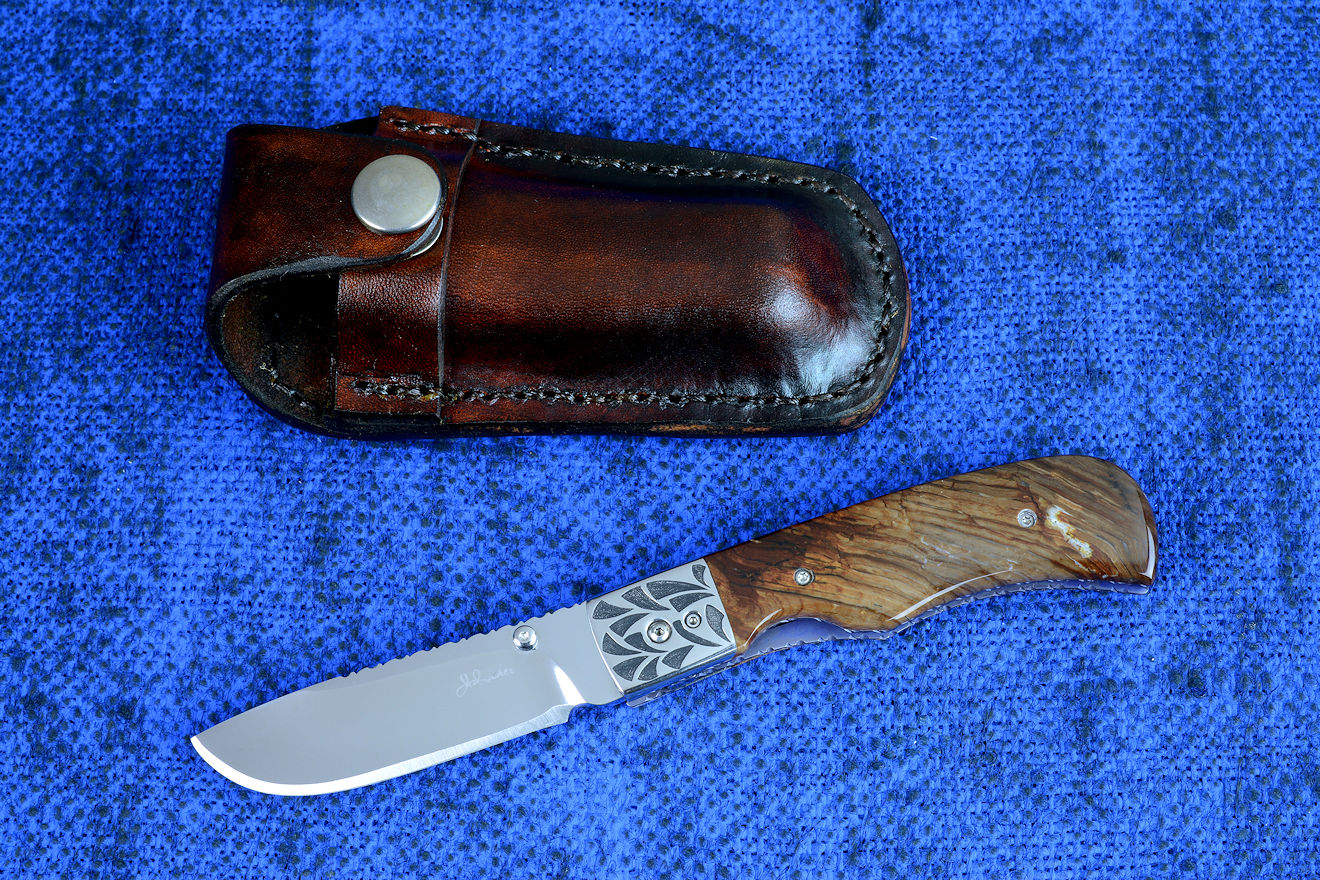 ---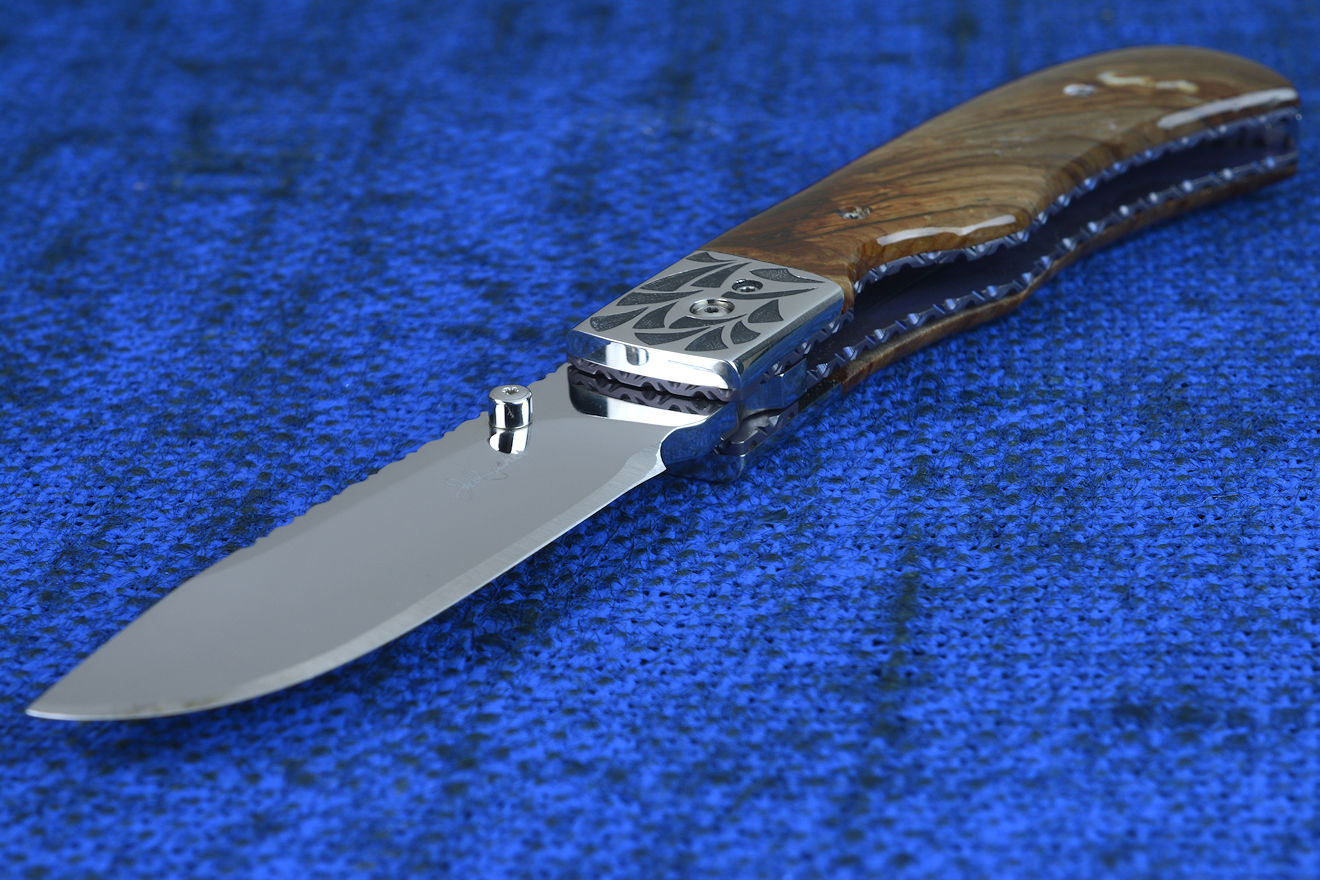 "Sadr" Fine Handmade Liner Lock Custom Folding Knife
Type: Liner lock folding knife
Size: Length overall open: 6.6" (16.8 cm), Length overall closed: 3.8" (9.7 cm) Blade Length: 2.75" (7.0 cm), Blade Thickness: .145 ( 3.7 mm)
Weight: Knife: 3.9 oz. (111 grams), Sheath: 2.0 oz. (57 grams)
Blade: 440C High Chromium Stainless Tool Steel, Cryogenically Treated, Hardened and Tempered to Rockwell C60, hollow ground, mirror polished
Bolsters: 304 stainless steel, hand-engraved
Liners: 6AL4V Titanium, fileworked, anodized blue
Handle: Biggs Jasper Gemstone, Oregon, USA
Hardware, Fasteners: 304 (18-8) Stainless Steel
Sheath: Pouch style, leather with stainless steel snap
Knife: Sadr (pronounced "sadder") is named for a star in the constellation Cygnus, and is in a complex region of the Milky Way, surrounded by reddish interstellar clouds, excited by the glow of ultraviolet hot stars. Sadr lies at the center of the constellation of the northern cross. This is a custom linerlock folding knife, made for a great client. The blade is 440C high chromium martensitic hypereutectoid stainless steel, and I've treated this blade for the best possible condition with deep cryogenic processing, extended time soak for maximum precipitation of sub-microscopic eta-carbides, followed by triple tempering with deep cryogenic soaks in between for the highest toughness, wear resistance, and highest corrosion resistance possible in this steel. Every piece of hardware: the pivots, the machine screws, the hidden and exposed parts are all stainless steel or titanium, offering the highest strength and corrosion resistance possible. The blade is mirror polished, with an accurate, serviceable hollow grind, and a thin cutting edge backed up with plenty of spine for support. The spacer-spine is also hardened, tempered, and cryogenically treated, and is fully fileworked for handmade distinction, even on the inside which is polished and finished. The knife is bolstered in 304 high chromium, high nickel austenitic stainless steel, for zero care, and I hand-engraved a masculine, bold and deeply relieved pattern to compliment the handsome handle scales and design. I made the liners in 6AL4V high strength titanium alloy, and chemically anodized them for a tough, wear and corrosion-resistant surface of deep blue, and they are fully fileworked with a tight, close and meticulous pattern. The handle scales are Biggs Jasper gemstone, a very tough, hard, and durable gem of cryptocrystalline quartz, polished to a vitreous luster, smooth and comfortable. The jasper has bold areas of browns in layers almost like petrified wood, but with a few small areas of white crystal. The gemstone scales are secured with bedding and stainless steel machine screws for a permanent, solid fit. The knife feels compact, dense, and tough in the hand; the lockup is secure and tight; the detent pulling and holding the blade closed operates smoothly and evenly.
Sheath: My client asked for a simple working sheath, so I made a wet-formed pouch style sheath in 5-6 oz. thick leather shoulder, hand-stitched with polyester and dyed a medium brown to match the knife. The flap is secured with an all-stainless steel dot snap for permanence and strength; the entire sheath is sealed with acrylic.
A handsome knife, tough and beautiful in masculine form.
Thanks, J. C.!
Jay,
A simply beautiful knife! Almost scared to wear it!! I'll be proud to pass this to my son, one day!!
Thanks again for your fine work! I couldn't be happier!
--J.
---
---