Saussure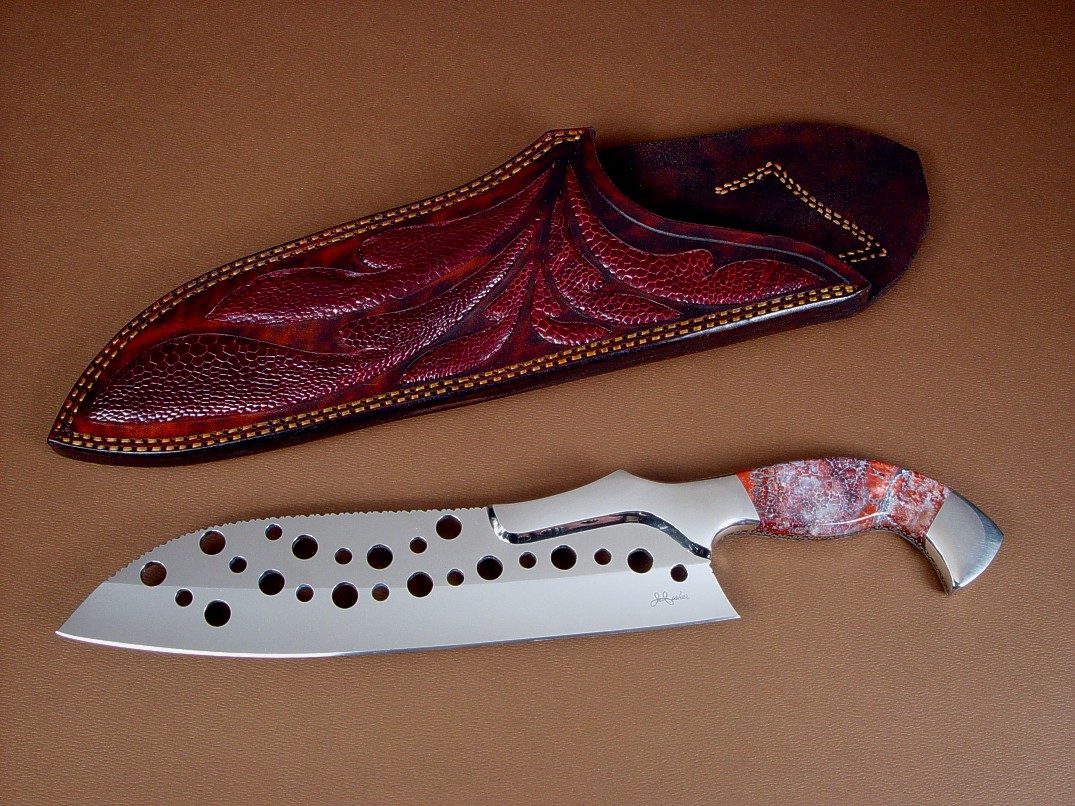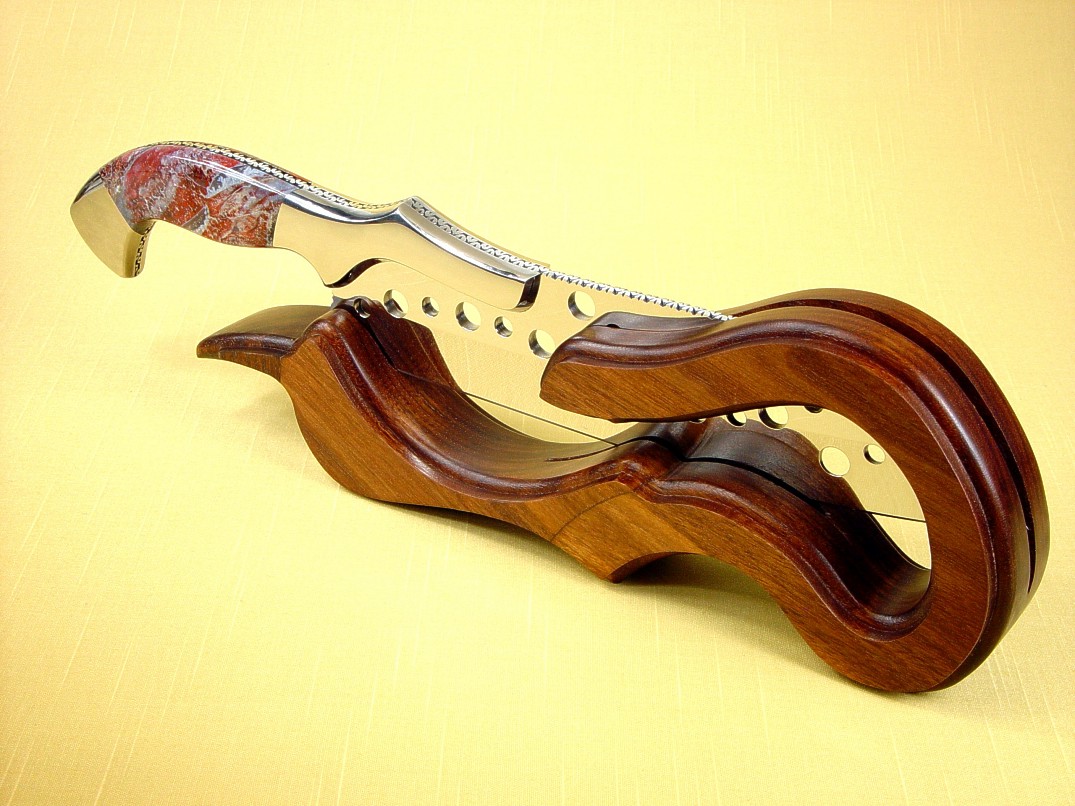 "Saussure" Master Chef's Knife
Size: Length overall: 14.125" (35.9 cm), Blade Length: 10.0" (25.4 cm), Thickness: .158" (4.0 mm)
Weight: Knife: 1 lb., 5 oz. (595 grams) Sheath: 11.0 oz. (312 grams)
Blade: 440C High Chromium Martensitic Stainless Steel, Hardened and Tempered to Rockwell C59
Bolsters, Fittings: 304 Austenitic Stainless Steel
Handle: Argentina Agate Gemstone
Sheath: Leather Shoulder Inlaid with Ostrich Leg Skin
Stand: American Black Walnut Hardwood
Knife: The Saussure was named for a lunar crater with a large curve that overlays other craters, with the eponym of Horace B. de Saussure. This is a beautiful version of my Saussure master chef's knife, with a 10 inch long blade. The blade is thinly and accurately hollow ground 440C high chromium martensitic stainless steel for the highest durability and lowest care, with full milling in a nice curved pattern for weight reduction and easy release of cut foods. The blade is brightly and evenly mirror polished for easy cleaning and beauty, and has an incredibly sharp single bevel cutting edge and is hardened and tempered to 59HRC for great wear resistance and long edge life. The Saussure has a full, detailed and intricate filework along the spine and completely around the handle, and the tang is fully tapered for balance. The knife is bolstered with 304 high nickel, high chromium austenitic stainless steel for zero-care and greatest corrosion resistance. The contoured bolsters are sculpted and polished, the front bolster is elongated along the spine for a comfortable topside grip style for accurate and light chopping. The bolsters bed a pair of striking Argentina Agate gemstone handle scales, a new material imported from the southern hemisphere. This agate is very hard and tough, with beautiful color and pattern and crystal areas with complex and deep forms in reds, pinks, whites, and burgundy. This lustrous agate will absolutely outlast the blade, and was very difficult to finish requiring diamond abrasives. The handle is completely contoured and radiused for comfort and this substantial knife feels great in the hand.
Sheath: The large sheath for this knife is not typical for wearing, but is built to protect the blade (and the owner of the knife!) in transit. It is a variation of my chef's knife slip sheath, and is made of 9-10 oz. leather shoulder, dyed a medium brown, lacquered and sealed. The entire sheath body, welts, and loop is hand-stitched with double row stitches of polyester sinew for durability and strength, and the sheath has ten nicely shaped inlays of Burgundy Ostrich Leg Skin that compliment very well the color of the gemstone handle and shape of the knife.
Stand: The client requested a simple yet functional display and working knife stand for the counter. I made this one in American Black Walnut, one of our country's most beautiful hardwoods. The stand is shaped and curved, finely finished in oils and waxes for a natural appeal. The stand protects the knife edges and point, yet allows an easy grasp of the knife handle. The horizontal orientation of the stand means the ensemble is compact and functional.
A aesthetically beautiful and unique master chef's knife, sheath, and stand.
Thanks, J. C.!
'Saussure' has been in my proud, but somewhat startled hands for over a week now. I really did not expect to own a Jay Fisher knife so soon.
In the brief time that I have owned this knife I have done everything from chopping pork ribs & butterflying a leg of lamb to Julienning carrots & chopping coriander (that's cilantro to you, Jay). Seriously, this knife is excellent. It fits my hand like a well designed tool should and it is always beautifully cool to pick up out of the stand. The control that I have using the standard cutting grip is wonderful and when I move my hand forward into a pinch grip to chop herbs or mince garlic... superb. That extended front bolster should be patented and made compulsory on all chef's knives.
Oh, and did I mention that it is absolutly beautiful to look at? Gorgeous, simply stunning. Sometimes I just pick it up to look at it, to feel it in my hand, even when there's no cooking or food prep involved!
All in all, a piece of functional artistry. No, that's wrong - many artistries - knifework, lapidary, leatherwork, carpentry. They all come together in this wonderful, beautiful, wickedly sharp tool.
Thank you, Jay.
--J.C.
---
---