Saussure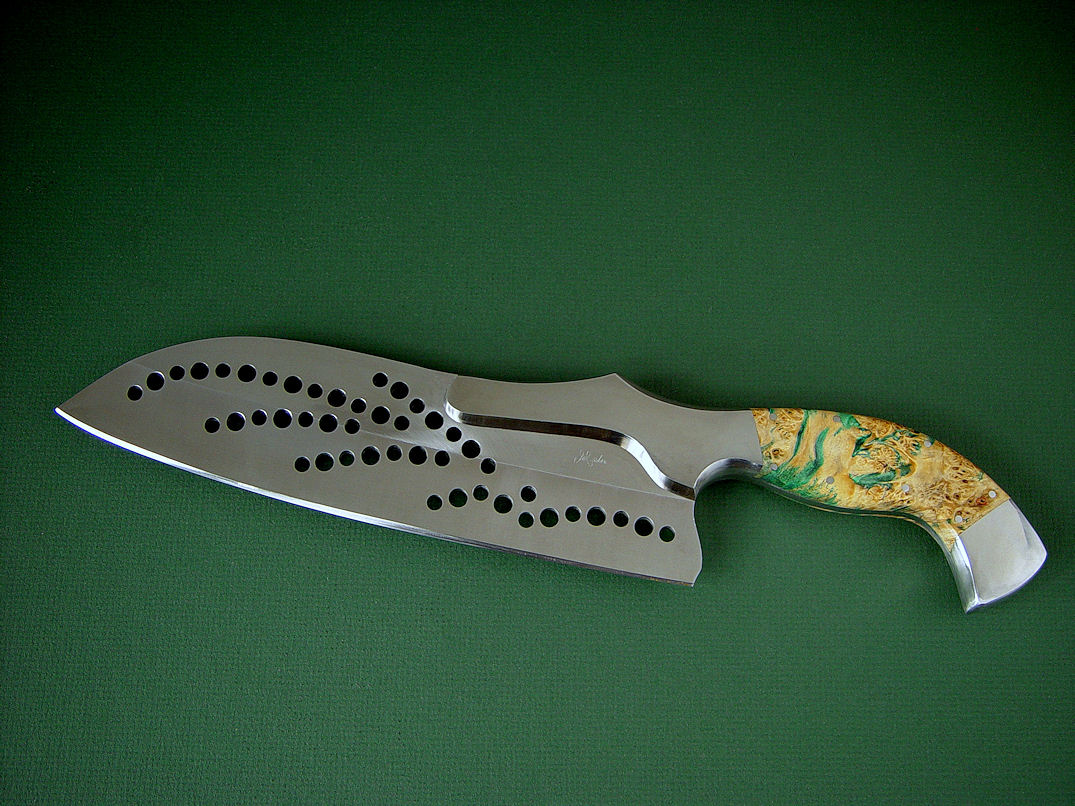 "Saussure" Fine Custom Chef's Knife
Size (Knife): Length overall: 13.0" (33.0 cm), Blade Length (at cutting edge): 8.5" (21.6 cm), Thickness: .263" (6.7 mm)
Size (Stand with knife): 13.5" (34.3 cm) long, 3.8" (9.7cm) wide, 6.75" (17.2 cm) tall
Weight: Knife: 1 lb. 8 oz. (680 grams) Stand: 1 lb. 12 oz.(794 grams)
Blade: 440C High Chromium Martensitic Stainless Tool Steel, Hardened and Tempered to Rockwell C58, satin finished
Fittings/Bolsters: 304 Austenitic Stainless Steel, satin finished
Handle: Polished Stabilized Box Elder Burl Hardwood
Stand: American Cherry Hardwood, American Pecan Hardwood Base, Neoprene Feet
Knife: It was a great pleasure to make this fine custom handmade knife for my client. The Saussure was named for a lunar crater system and has a reputation of being a substantial and tough proven chef's knife. There is no task too big for the Saussure, and this one begs to be used. I made it in satin finished, extremely corrosion-resistant 440C high chromium martensitic stainless tool steel for low care and maintenance with excellent wear resistance. I ground the strong blade with a very deep and thin hollow grind to offer a great geometry that is razor keen at the cutting edge. The blade has a nice curved array of milled holes to help release foodstuffs from the blade flats and balance the knife, and even the inside of these holes is satin-finished for easy cleaning. The blade is clean, too, with no filework that could trap debris, and a simple rinsing should be all that is necessary for cleaning. The blade drops deeply to the cutting board, while the design of the handle keeps the fingers clear while offering a comfortable grip. This Saussure has an excellent front bolster geometry that encourages a pinch-type spine grip, necessary for lighter chores with this substantial knife. This, combined with the curve of the cutting edge, makes for just the right balance for rocking and mincing. The bolster also incorporates the thumb rise into a wide ramp for the thumb to apply pressure for heavier cutting tasks. The bolsters are satin-finished for easy care, and are made of completely corrosion resistant 304 high nickel, high chromium austenitic stainless steel. This is the same stainless used on nuts, bolts and fasteners, and the same stainless steel used in zero-care stainless steel cookware. The bolsters are dovetailed and bed a pair of unique handle scales. The scales are Box Elder Burl, with light touches of green, that have been pressure-stabilized with over 19,000 pounds per square inch of polymer resin for absolute solid penetration and stabilization. This is as close to waterproof as wood can get, meaning the handle will fare well in the damp kitchen environment. The handle is bedded and sealed, mounted with eight through-tang stainless steel pins for absolute durability. All surfaces are smooth and comfortable. The completely contoured and finished knife handle feels great in the hand, and the massive nature of this knife is well balanced when in the pinch-grip style.
Stand: My client opted for a display type stand, one that would compliment the knife without hiding it. I carved this one with a Cherry hardwood upper holder that accommodates the knife while allowing the blade drainage and access to free air to aid in keeping the knife dry. The Cherry is strong and beautiful in its natural color, and is secured to a base of solid Pecan. The Pecan is an incredibly tough and hard wood, being a member of the Hickory family means that this wood is extremely durable and long lasting. The light color of the Cherry and Pecan sets off the handle in a complimentary fashion without being too dark. The Pecan has inlaid feet of neoprene to keep the base off damp counters and access to dry air while providing great stability. All of the hardwood is oiled with Danish penetrating oil and sealed with hand-rubbed wax finish for a soft glow. The choices of all American hardwoods for this entire project work very well together, and the knife handle begs to be grasped from the stand.
A beautiful and striking working knife and piece of art.
Thanks, J. F.!
Hi, Jay. Just wanted to tell you that the knife was beautiful and my wife loved it!!!
Thanks again,
J.F.
---
---