Sirona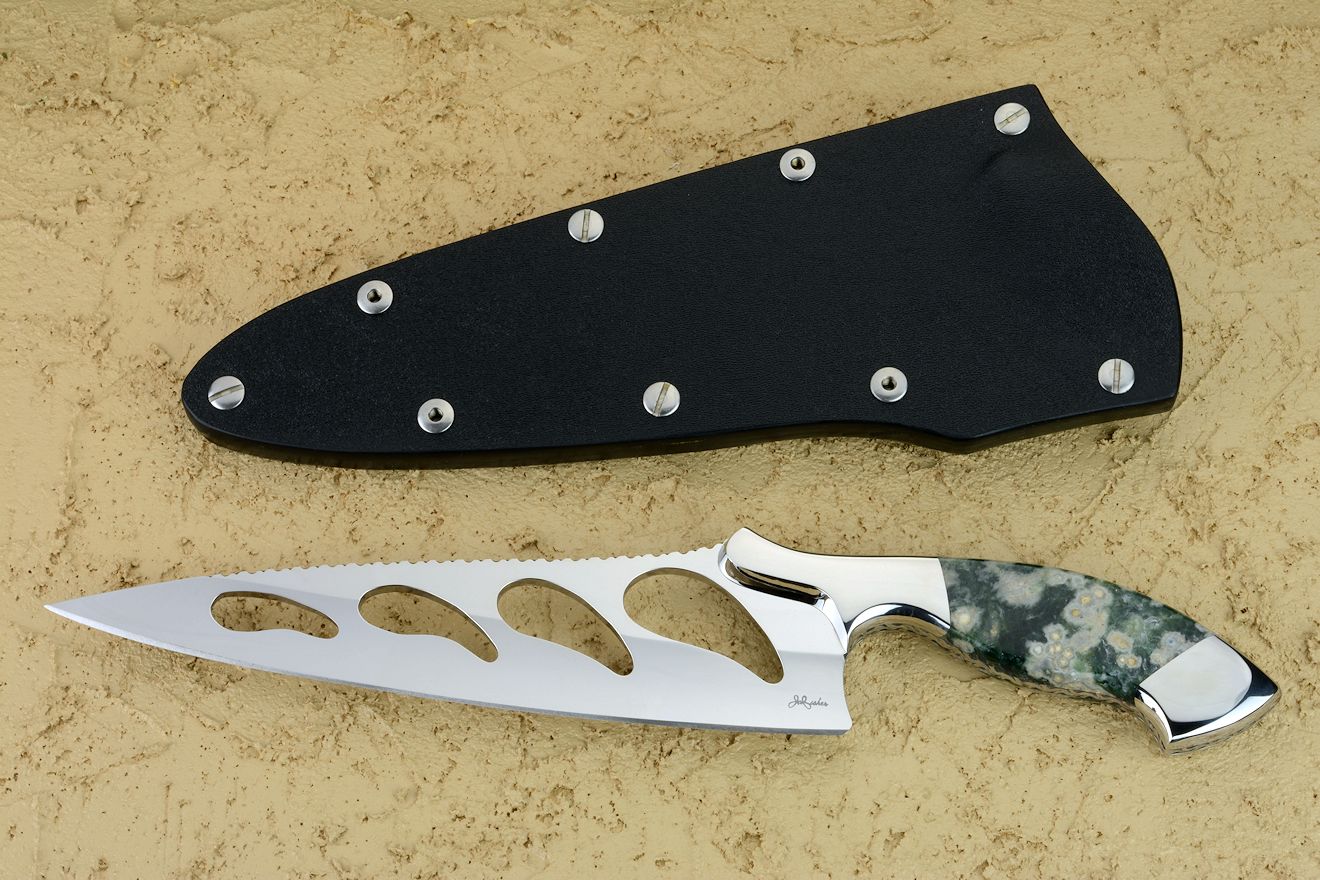 "Sirona" Fine Chef's Knife
Size (Knife): Length overall: 13.4" (34.0 cm), Blade Length (at cutting edge): 8.8" (22.4 cm), Thickness: .176" (4.5 mm)
Weight: Knife: 1 lb. (454 grams) Sheath: 10.5 oz. (298 grams)
Blade: 440C High Chromium Martensitic Stainless Tool Steel, Hardened and Tempered to Rockwell C61, mirror polished
Fittings/Bolsters: 304 Austenitic Stainless Steel, mirror polished
Handle: Polished Green Orbicular Agate Gemstone
Sheath: Kydex, 304 Stainless Steel Fasteners
Knife: The Sirona is named for a Celtic Goddess, a healing deity. This Sirona is a derivation of an old classic Sabatier chef's knife, but with some beautiful and unique distinctions. I designed this Sirona as a a singular piece that would accomplish most of the culinary cutting tasks with elegance and style. The Sirona has a striking yet reasonable blade, substantially made of 440C high chromium martensitic tool steel, for extremely high corrosion resistance, high wear resistance, and high toughness. The blade is deeply hollow ground and artistically milled for weight reduction and for easy freeing of cut foodstuffs from the blade. The entire blade body and milled artwork are polished inside and out for easy cleaning. I made this blade ultra-hard, 61 on the Rockwell C scale. The reason for this is ultimate edge holding ability. This Sirona has substantial milling and with this feature, needed to have plenty of hardness for minimal sharpening. That way, it will take many decades before the blade ever approaches the milling through sharpenings. Frankly, I wanted a tremendously long lasting, hard blade. I also made the spine thick enough to support the milled blade, and prevent all flexing. The high hardness has the added advantage of improved corrosion resistance over a softer blade, as 440C's corrosion resistance is higher the harder the blade is. The grinds are extremely well matched, side to side, and the curvature of the edge will offer great rocking motion on the board. The knife has a razor-keen single bevel cutting edge. The spine is generous, and the fully tapered tang has full vine hand filework throughout for great handmade distinction. The knife is bolstered in zero-care 304 high nickel, high chromium austenitic stainless steel for the greatest toughness and corrosion resistance of any stainless steel. So tough is this steel, it is used for stainless nuts, bolts, and fasteners. So corrosion resistant is it that the finest stainless cookware is made of 304. The front bolster is sculpted with a pleasing geometry that allows a comfortable pinch grip or thumb rest along the spine, and it is contoured and polished throughout for comfort and easy cleaning. The rear bolster is angled and with a great drop for the heel of the palm and a good quillon, which makes the knife a pleasure to hold. The bolsters are dovetailed and bed a pair of beautiful polished Green Orbicular Agate gemstone handle scales, in which white agate orbs float in a body of green transparent and translucent agate. This is a very hard gemstone, with a glassy polished surface and it's durable and smoothly rounded for a wonderful feel. The balance point of the knife is exactly at the forefinger placement, and the knife feels strong and ready in the hand. The hard edge and point are unstoppable on the board; this is a serious, large and durable knife made for cutting.
Sheath: I made a durable, convenient slip sheath to protect the blade and other utensils and the hand, made in double thickness black kydex, with full kydex welts, secured with all 304 stainless steel Chicago screws for zero care. The sheath protects all the blade in storage yet leaves the handle easily accessible for quick use.
A fine chef's knife with a super-hard and highly corrosion resistant blade, ready for culinary creation.
Thanks, P. S.!
---
Hi Jay,
Your knife safely arrived about 2:00 PM today, It found a new home in my Kitchen, YEA. Thank you, I fell so blessed to have one of your works of art.
--P. S.
---
---