Tharsis Intense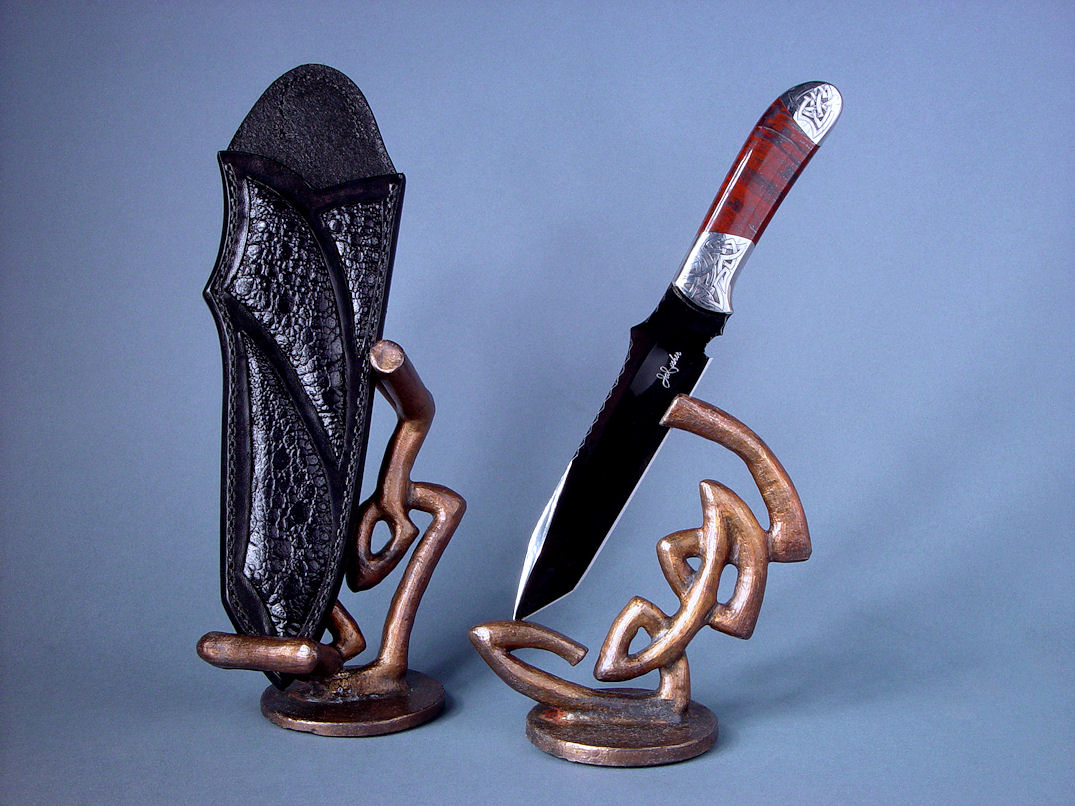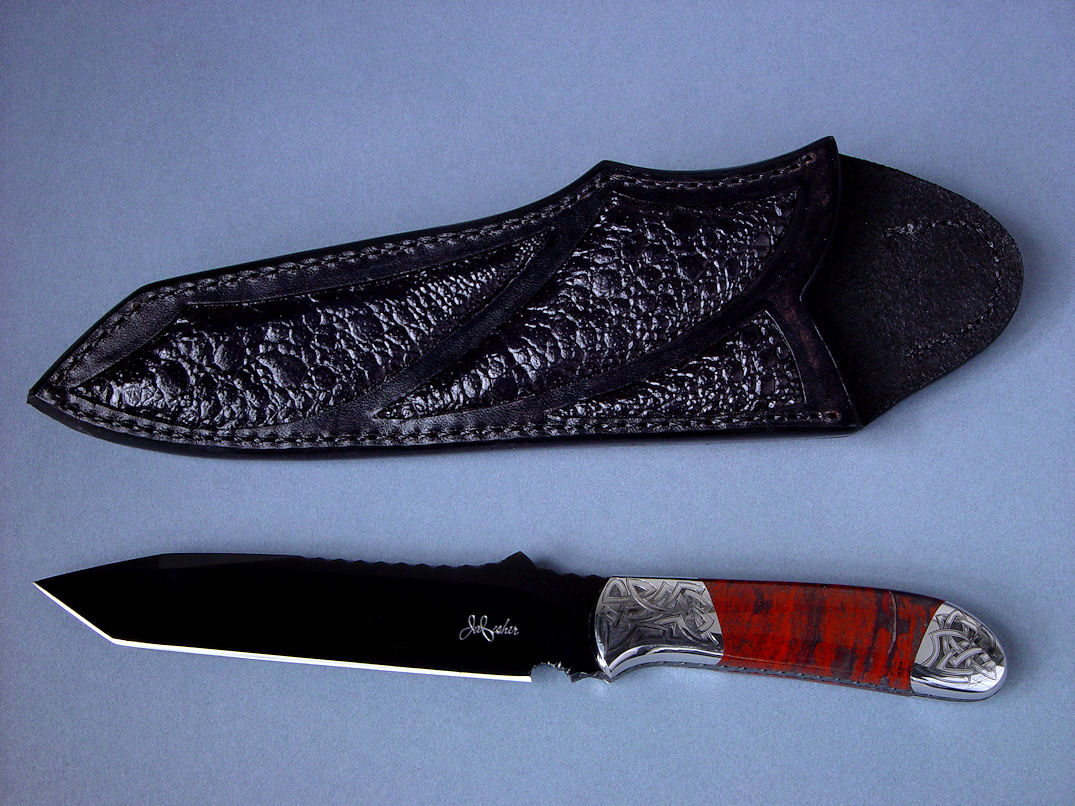 "Tharsis Intense" Fine Handmade Custom Knife
Type: Fixed blade art knife and sheath, sculptural stand
Size on Stands:

Knife: 10.375" (26.4 cm) tall, 6.5" (16.5 cm) wide, 3" (7.6 cm) deep

Sheath: 10.75" (27.3 cm) tall, 4.25" (10.8 cm) wide, 5" (12.7 cm) deep

Weight with Stands:

Knife: 2 lbs. 5 oz. (595 grams)
Sheath: 2 lbs. 4 oz. (567 grams)

Size:

Knife: Length Overall: 10.125" (25.7 cm), Blade Length: 5.75" (14.6 cm), Thickness: .168" (4.3 mm)

Weight:

Knife: 9.5 oz. (269 grams)
Sheath: 6.4 oz. (181 grams)

Blade: O1 tungsten-vanadium tool steel, hot-blued, mirror polished, hardened and tempered to 58HRC
Bolsters: Hand-engraved, mirror polished 304 high nickel, high chromium austenitic stainless steel
Handle: Fossilized stromatolite algae gemstone (jasper/hematite)
Sheath: Hand-carved leather shoulder inlaid with frog skin
Stands: Hand-cast silicon bronze, with antique patina, neoprene pad feet
Knife: The Tharsis is named for a vast and desolate plateau in the western hemisphere of the planet Mars. This is an intense version of the knife form, with full embellishment and sculptural artistic presentation, custom made for a special client. I started with the straightforward lines of the Tharsis pattern and form, a wide-angled tanto point blade, carefully hollow ground with deep and accurate grinds, sweeping terminations, and a short swage at the spine leading to the devastatingly sharp tip. The steel is not just common O1 (oil-hardening tool steel); this is a special O1 tool steel, made for high wear resistance with the addition of tungsten and vanadium. These alloys make the steel difficult to mirror polish, but the result was worth it. I hot-blued the blade for deep, penetrating corrosion inhibiting of the polished surfaces while presenting a glassy, jet-black blade. The hollow grind yields 5.5" of razor keen cutting edge, terminating in the sculpted and fileworked choil. The blade has full and complex filework, in a "lighting bolt" pattern, which extends around the fully tapered tang. The handle of the Tharsis is rounded and comfortable, which contrasts with the angular blade lines effectively. The handle is bolstered with 304 high nickel, high chromium austenitic stainless steel, an extremely difficult material to engrave, but with some of the most durable, striking, and long-lasting engraving possible, and zero chance of corrosion. The engraving style I chose for the piece is a study in sharp turns and curves reminiscent of a Celtic knot, but with a more abrupt angular quality. The engraving is deeply relieved in hatch, and blackened for contrast. The handle of this knife is special indeed, composed of quartz, jasper, and hematite, and is the fossilized remains of blue-green algae that lived billions of years ago on our planet. The algae is Precambrian, some of the oldest fossilized remains of life on our planet. The reason for the red color and hematite (iron oxide) is that in those early times, the earth's oceans contained much more iron than today, and iron in accretionary sedimentation that replaces organics to create fossil minerals produces red coloring. The patterns and colors of this gemstone are striking, with clouds, swirls, and bands of red ember color with shiny gray hematite interspersed. The fossilized Stromatolite is hard, tough, and durable jasper with a bright polish and will literally outlast every other part of this work of art. The knife center of balance is right at the forefinger placement and the knife feels solid in the hand with the thumb placed on the rise.
Sheath: The Tharsis Intense required a commensurate sheath, and I made this one in hand-carved 9-10 oz. thick leather shoulder. The leather is carved to accept six substantial inlays of frog skin, which reminds me of the interesting surface of Mars. The carvings and inlay shapes match the engraving angles and voids, and the heavy leather is dyed black and sealed for longevity. The sheath is stitched with black nylon and the welts are dressed, smoothed, and polished for a finished feel. The sheath is deep and protective while revealing a hint of the Tharsis inside.
Stands: One of the most striking things about this knife are the individual complimentary stands. I hand-carved these forms in wax (see photos below) and hand-cast them in bronze, in a very old and noble process of lost wax casting. Only bronze can add this type of display, class, and integrity to the piece, and it's heavy and tough, and each piece is solid, cast in one object. I worked the surface of the bronze forms to appear aged and weathered, with a mellow patina of golden browns, blacks and bits of red and warm tones to compliment the gemstone handle of the knife without overwhelming the knife and sheath. The patina and surface changes depending on the light, angle, and direction, with translucency as only bronze patinas can display. And, of course, the shape of the forms reflect the hand-engraving of the bolsters in design and scope, the result of the same mind and hands in sole authorship. The knife is delicately balanced at point and edge, and the sheath rests in a triangular socket and fork to display as much as possible of each piece. The bronzes are waxed in the traditional finish, and set with neoprene pads for protection of any surface they rest upon.
This is a beautiful custom set, lifting the Tharsis design to new heights in style, finish, and artistic form. Please look over the large photo set below to enjoy all the aspects of this artwork and functional tool.
Thanks, A. G.!
---
Hi, Jay.
I received the knife safe and sound. It's perfect! The best way I can explain my happiness with it is to simply say that I would be honored if all my custom knives come from only your studio.
Cheers,
A.
---
Hi Jay,
I hope you and yours are doing well. :)
It has been a few years since I received Tharsis Intense. I just wanted to reach out to let you know that the knife continues to inspire me. To own such a treasure is a real privilege. Thank you!
Cheers,
A.
---
---