Treatymaker LT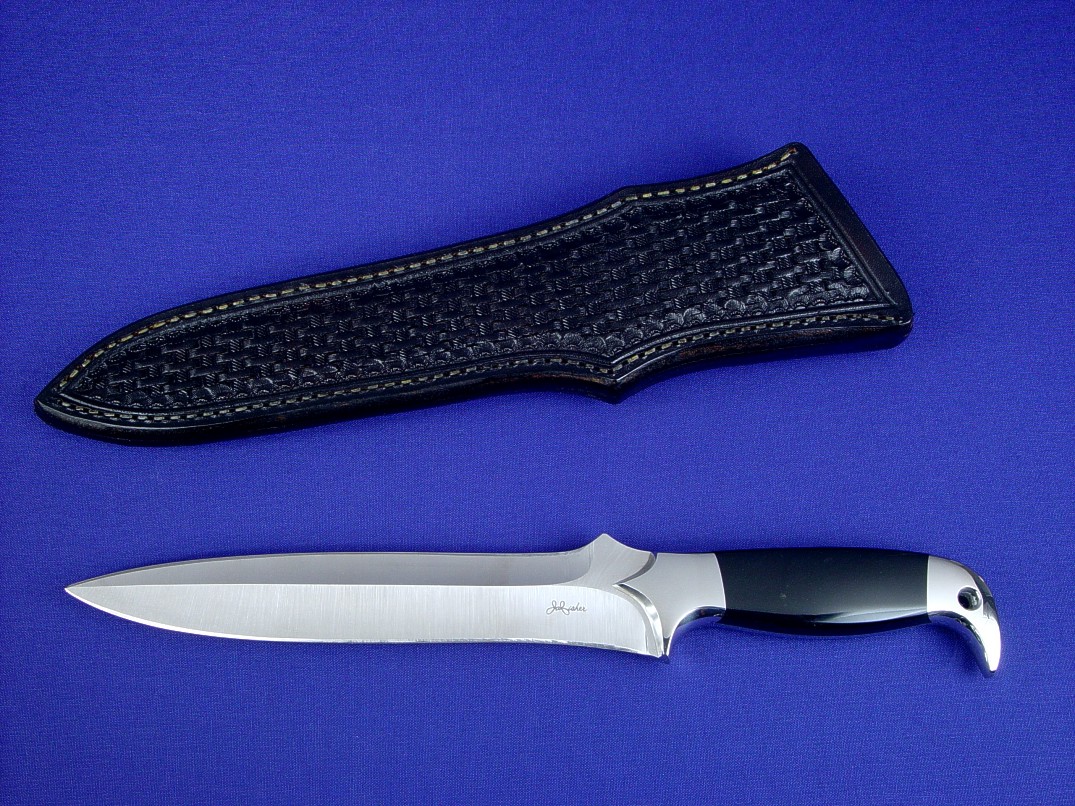 Treatymaker LT (Light) Custom Knife
Size: Length overall: 11.25" (28.6 cm), Blade Length: 7.0" (17.8 cm), Thickness: .195" (5 mm)
Weight: Blade: 10.2 oz. (289 grams) Sheath: 5.6 oz.(159 grams)
Blade: CPMS60V Martensitic High Vanadium Stainless Tool Steel, Hardened and Tempered to Rockwell C58, satin finished
Fittings/Bolsters: 304 Austenitic Stainless Steel, mirror polished
Handle: Polished Black Australian Jade Gemstone
Sheath: Hand-Stamped Basketweave 9-10 oz. Leather Shoulder
Knife: The Treatymaker LT is a light version of my original Treatymaker double edged combat and tactical knife. This Treatymaker LT is a special custom project for a great client who is a martial artist. This knife is sleek, thin, very tough and very sharp all over. The blade is made of CPMS60V, some of the last of this special stock as its manufacture has been discontinued by Crucible Particle Metallurgy Tool Steels. This steel is also known as 440V, and is as corrosion resistant as 440C, but with six percent vanadium in the alloy, it forms an abundance of vanadium carbide particles in the matrix. These very hard particles in the cutting edge mean superior wear resistance, translating to one of the highest edge retention blades made. I tempered this knife to 58HRC for good toughness to balance the high wear resistance. Since this steel can not be mirror polished, it has a very clean and even satin finish. The blade geometry is important in this knife; it is double edged, ground with a differential grind, specifically, an 8" diameter hollow grind at the main grind, and a 3" diameter hollow grind at the spine. This preserves plenty of spine thickness and strength down the blade length, and limits lateral flexion. The edges are razor keen with double relief and edge grinds. The point of this knife is downright scary. I bolstered the knife with 304 high nickel, high chromium austenitic stainless steel bolsters; the front bolster is sculpted to match the grind terminations, and the rear bolster has a 1/4" through-tang lanyard hole for extra security if needed. The bolsters are zero care stainless, the same stainless steel used to make stainless bolts, nuts, screws, and industrial fasteners, so it is very tough. Most makers will not use this stainless because it is so tough, making it difficult to machine. I mirror polished the bolsters throughout and they are dovetailed and bed a pair of rich Black Australian Jade gemstone handle scales. This is a very tough, hard, and durable jade, and will simply outlast the knife and the owner! The jade is smoothly polished like black glass, and will maintain that finish indefinitely. All of the handle surfaces are smooth, contoured, rounded, radiused, and finished for a very comfortable feel. The knife feels light and fast in the hand, with the balance point right at the forefinger location, and the knife feels good in either the forward or reverse grip style with the thumb capping the rear bolster. This is a vicious, tenacious, and super wear-resistant knife.
Sheath: My client requested a straightforward sheath, so I built this one in heavy 9-10 oz. leather shoulder, with thick and strong welts to protect him from the edges. The front, back, even the belt loop have basketweave hand tooling, in a crisp, clean pattern, and the sheath is hand-stitched with polyester sinew, the toughest binder on the market. The sheath is dyed black, lacquered, and sealed.
This is a serious martial arts weapon and tool, finely built and finished.
Thanks, A.F.!
Jay,
I didn't think I would be as excited about this knife as I was Charax, BUT... I was wrong!
The lines, weight, balance of this knife are exceptional! I've been using it since I got it on Friday, didn't expect to see it until Monday. Both the balance and feel of this knife are just incredible. Stabbed my practice dummy a few times and this knife really excels! Stabbing, slashing and even "snakebite" defenses are effortless. Usually, I like a longer handle because of the size of my hands. However, the curves on the handle on this knife make for an unbelievably comfortable feel in my hand regardless of the grip technique.
In summary, I am VERY impressed. It's quality and attention to detail such as this that has made me a return customer! I look forward to seeing the "Raptor".
Thanks again, Jay!
--A.
P.S. By the way, the basket weave sheath is exceptional in quality. You are a true artisan!
---
---