Tribal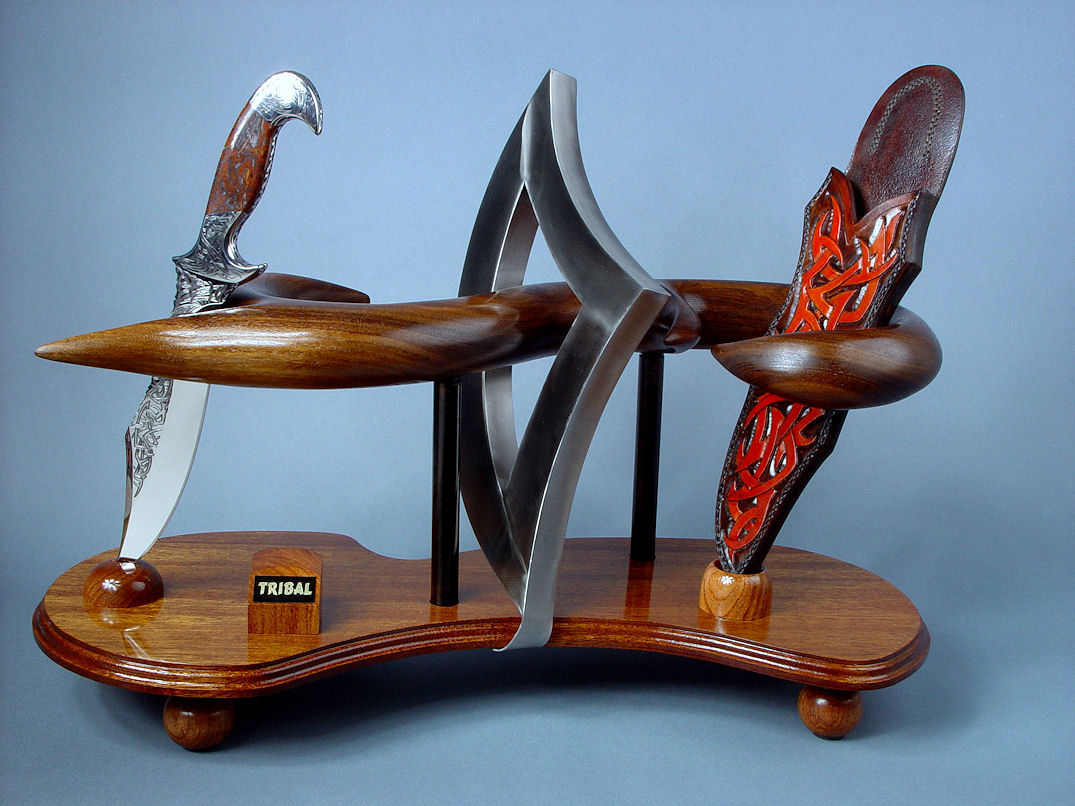 The word tribal comes from word tribe, which originates in the Old French tribu, which evolved from the Latin word tribus, literally meaning one of the three. A tribal group has come to mean a clan, family, or social group. In modern times, the tribal style of art is derived from forms of ancient tribal art, and consists of random patterns of lines and curves put together to illustrate a distinctive and bold abstract form of art.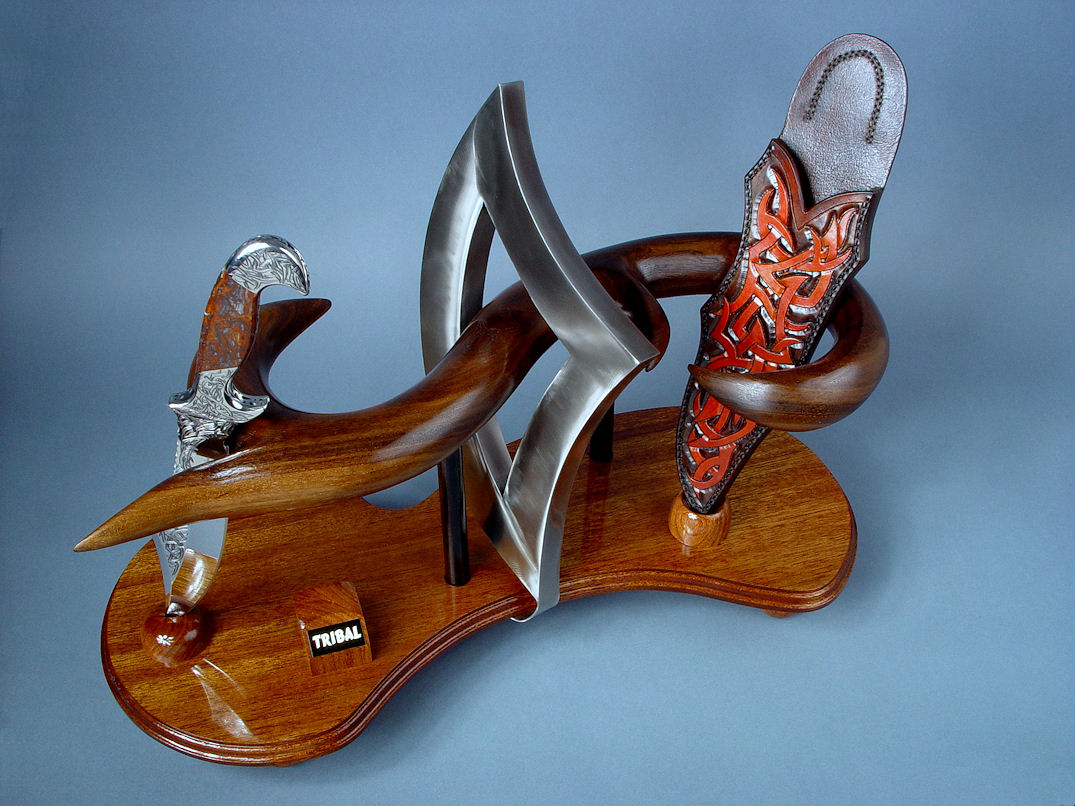 ---
This is a very special knife for a special client. He asked that I create a bold piece, using my Helhor knife pattern, a very powerful knife profile and shape. The Helhor pattern was derived from a hybrid design of my Helicon blade pattern and my Horrocks handle pattern, thus the name Hel-Hor. The knife is of a unique style, with a deeply curved blade shape, a strong clipped swage, and a narrow but thick ricasso. The handle is deeply curved and contoured to the hand with a substantial bolstered thumb rise.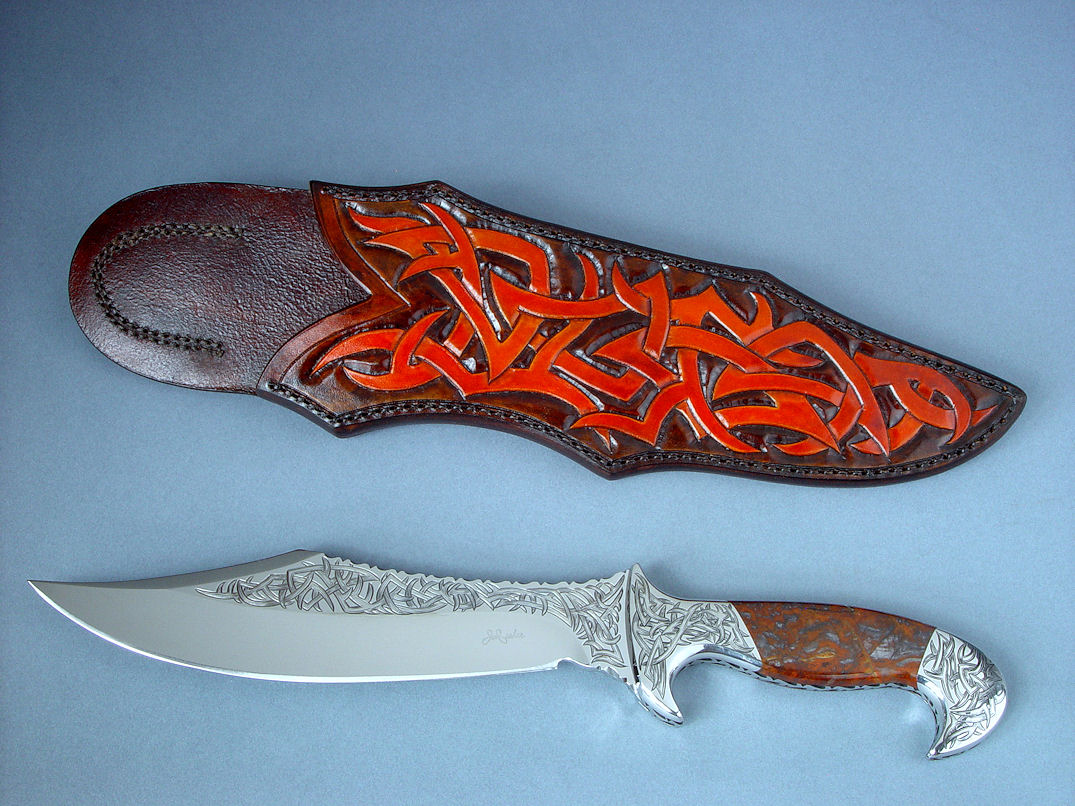 ---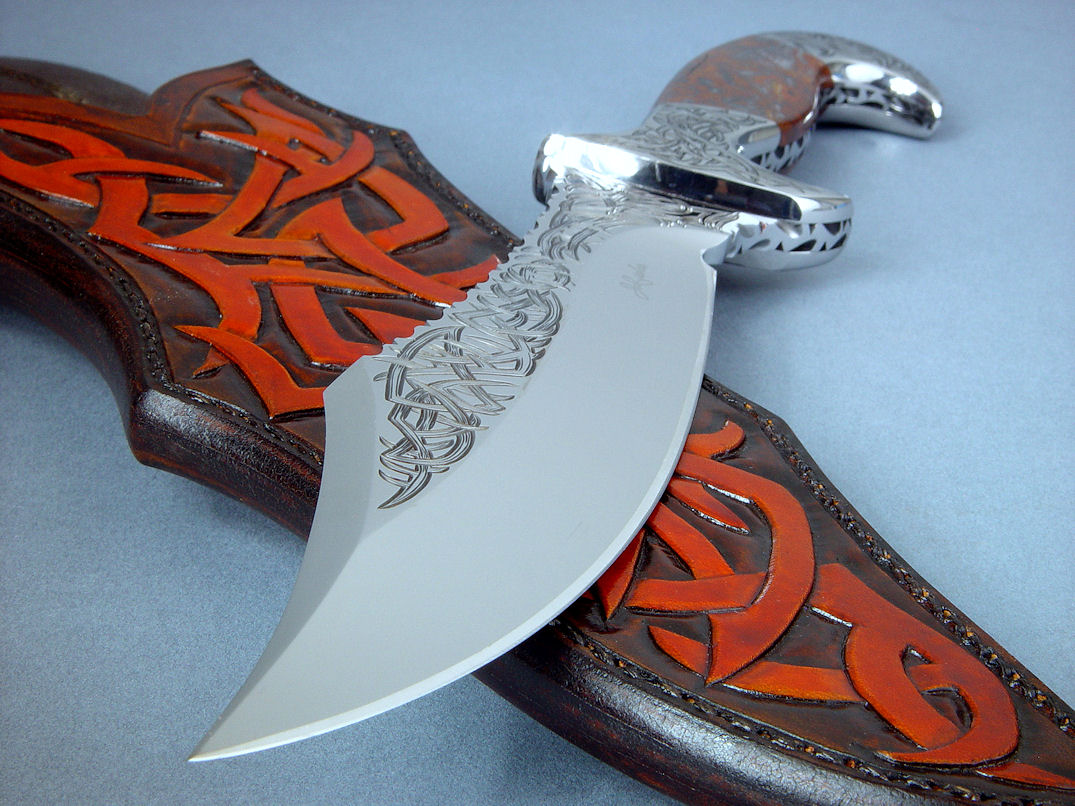 Building on the idea of the tribal (three) style, I designed an intricate and bold set of lines, curves, interlocking shapes and forms that allowed me to incorporate and blend the pieces together for this sculptural work of art. The curves of the knife blade and handle are distinctive and characteristic, so I used the distinctive shape of this curve to create the interlocking horns, strikes, and triangles of the design. The artwork was challenging to hand-engrave on the blade flats, taking many hours of hand-engraving with solid carbide gravers to cut the tough and hard high chromium stainless tool steel. This is stainless steel that's used in the most demanding of applications like corrosion resistant ball bearings and high pressure valve seats. It's easy to see why 440c is the most asked for stainless tool steel for these projects; it is tough, hard, and wear resistant, and requires very little care to maintain its appearance for generations. The interlocking and woven tribal pattern decorates the blade flat, which is surrounded by a very deep and accurate hollow grind and taper ground swage finished to a high mirror polish.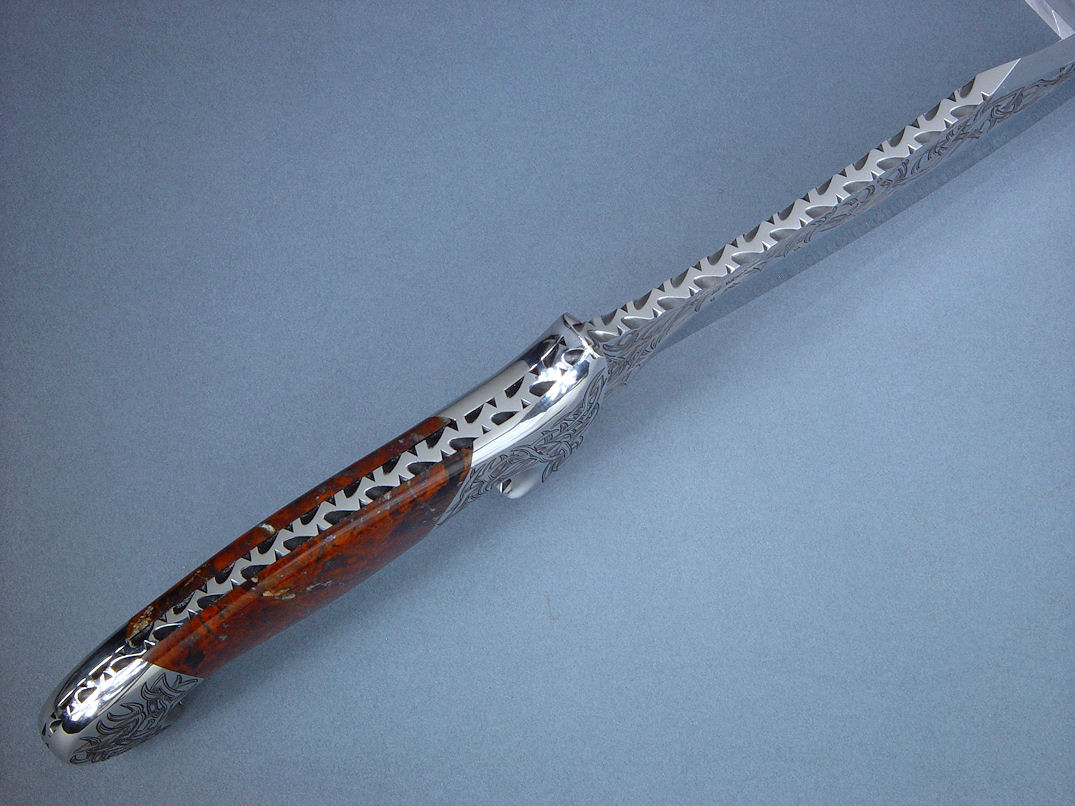 ---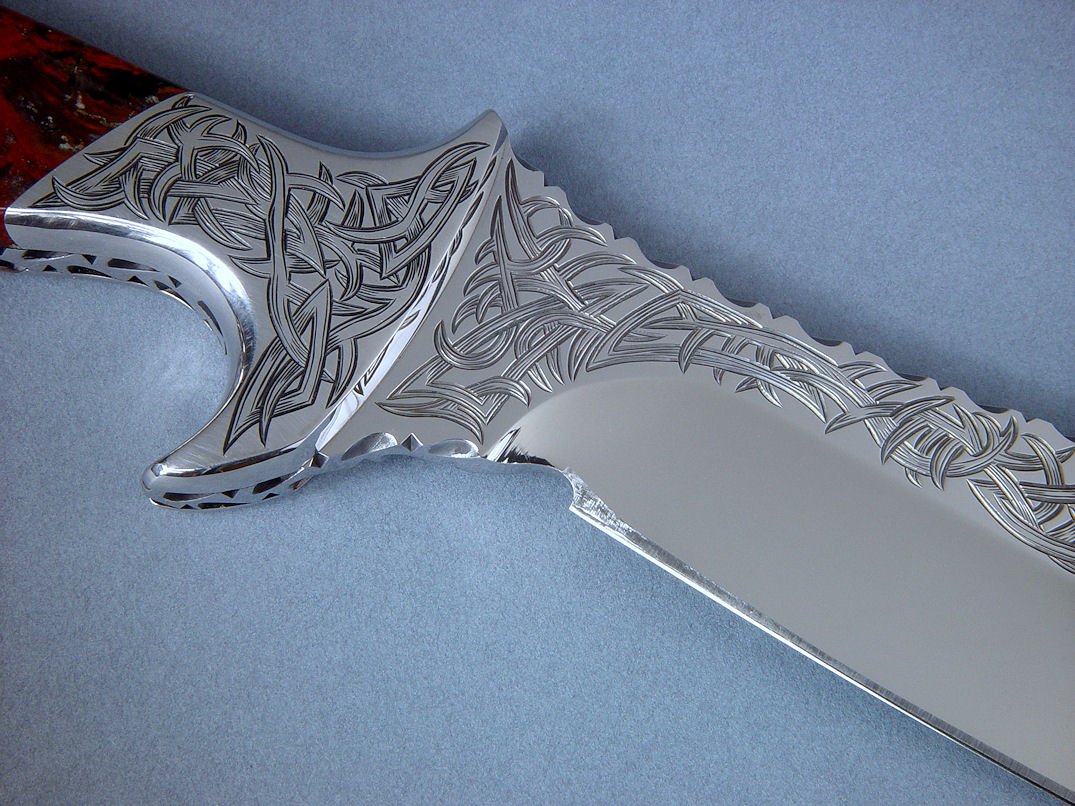 The engraved pattern on the blade was interpreted and reflected in the tang of the knife blade in a deeply cut and complete filework. The pattern has the curved shapes and sharp points of the artistic theme, and the tang is fully tapered for weight balance while yielding a substantial thickness at the butt of the handle for strength. The tapered tang supports meaty bolsters of 304 stainless steel, permanently secured with zero clearance stainless steel peened pins, made invisible by mechanical forging.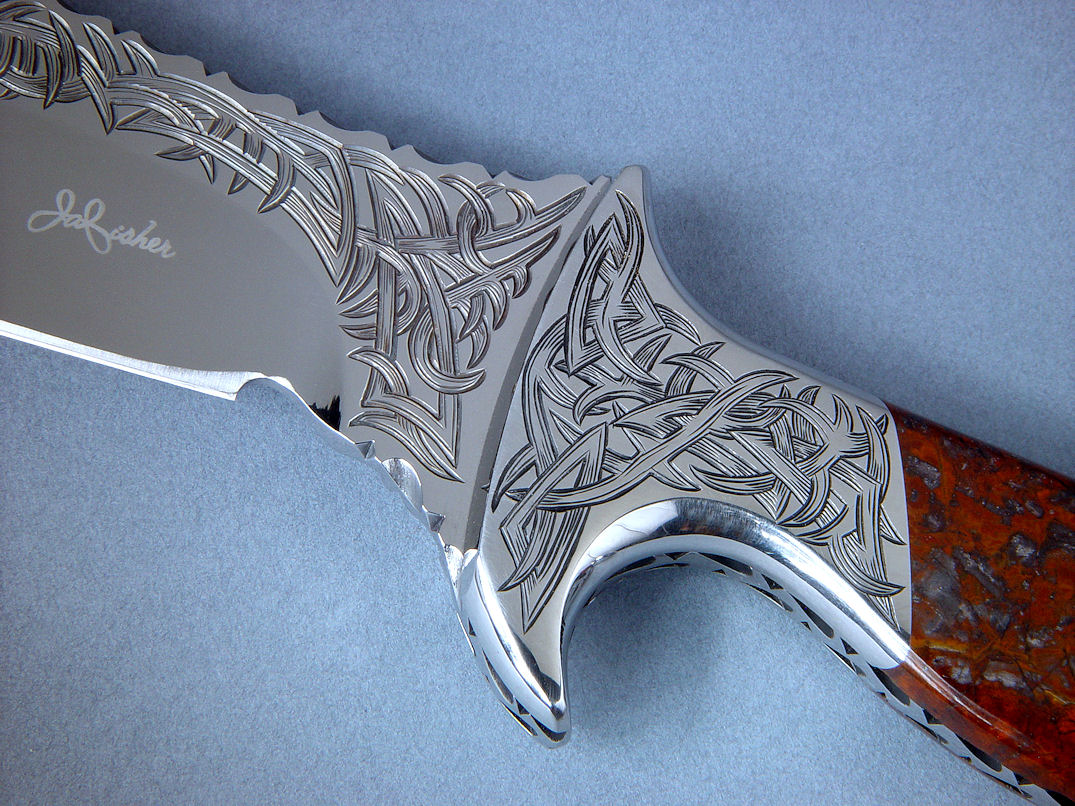 ---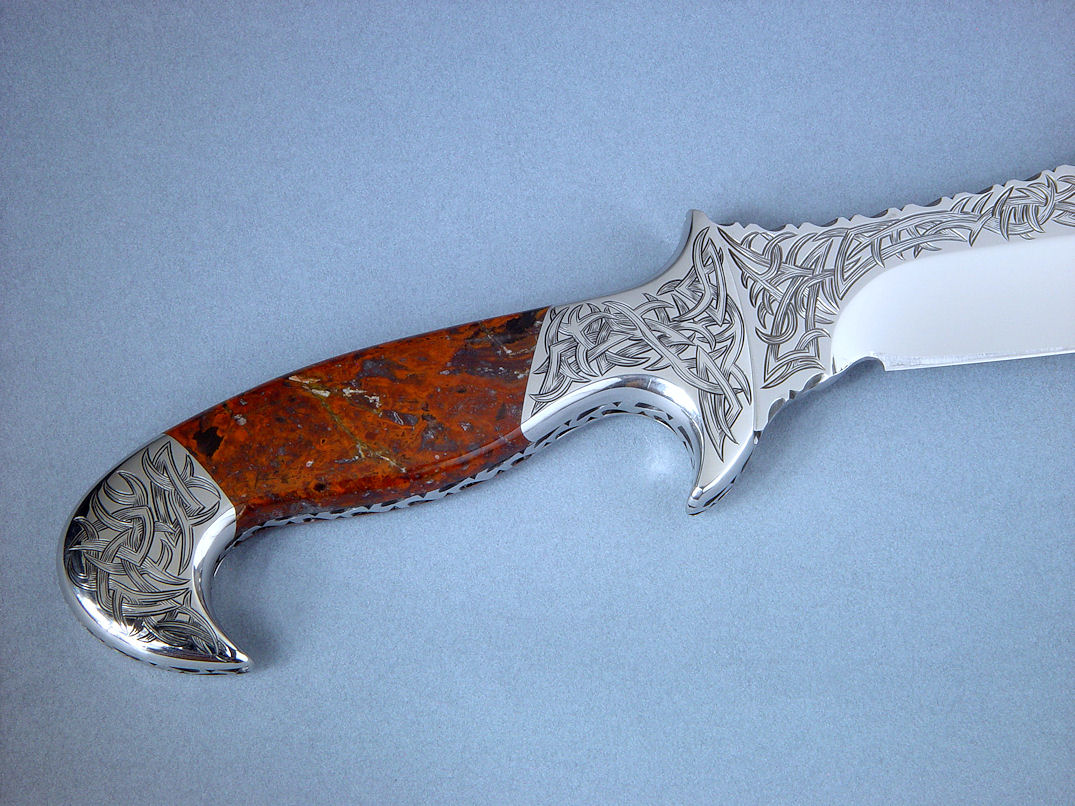 To compliment the blade, the bolsters are made of matching high chromium stainless steel. I chose 304 austenitic high nickel, high chromium stainless steel for its durability, finish, and longevity. This is one of the most corrosion-resistant stainless steels made, it's typically used in high-strength bolts, nuts, and fasteners, and is about 18-20 percent chromium and 8-10 percent nickel. This steel is very tough, and most knife makers and artists will not engrave this demanding material, but I cherish the opportunity. That's because I know that it will outlast all of us, and still look great after generations of exposure and use. The bolsters are secured with multiple zero-clearance pins through the tang, completely contoured, shaped, rounded, and formed for comfort, and mirror polished for beauty.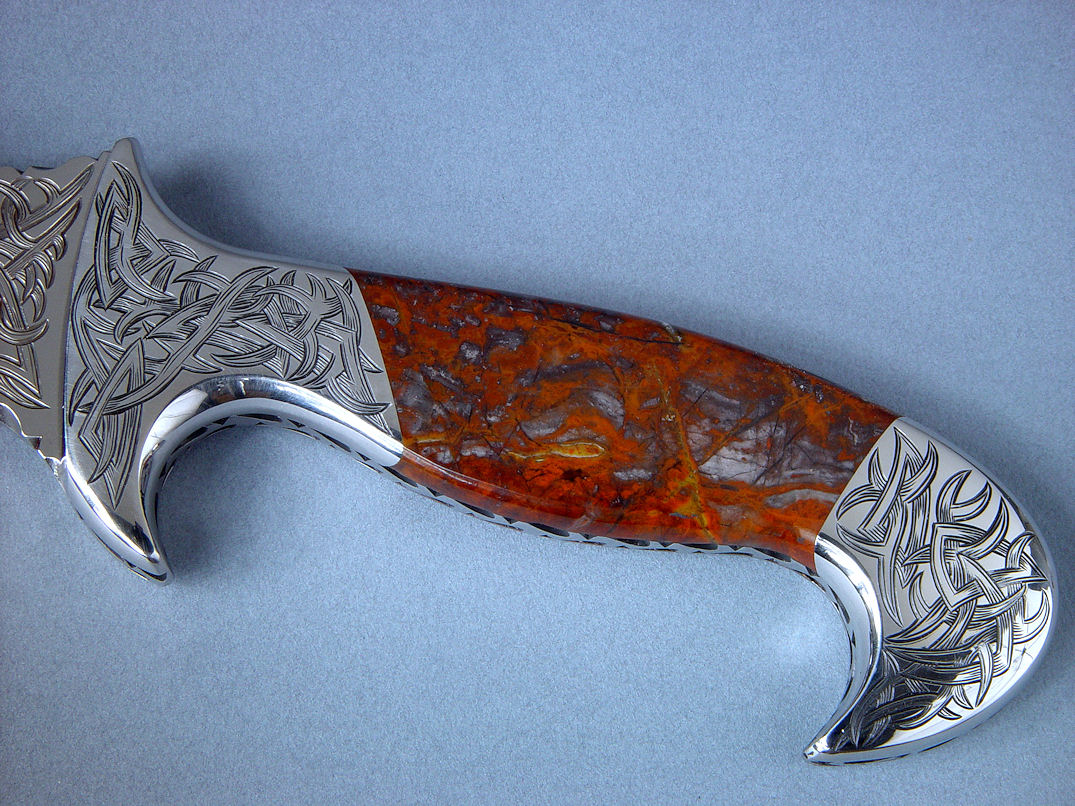 ---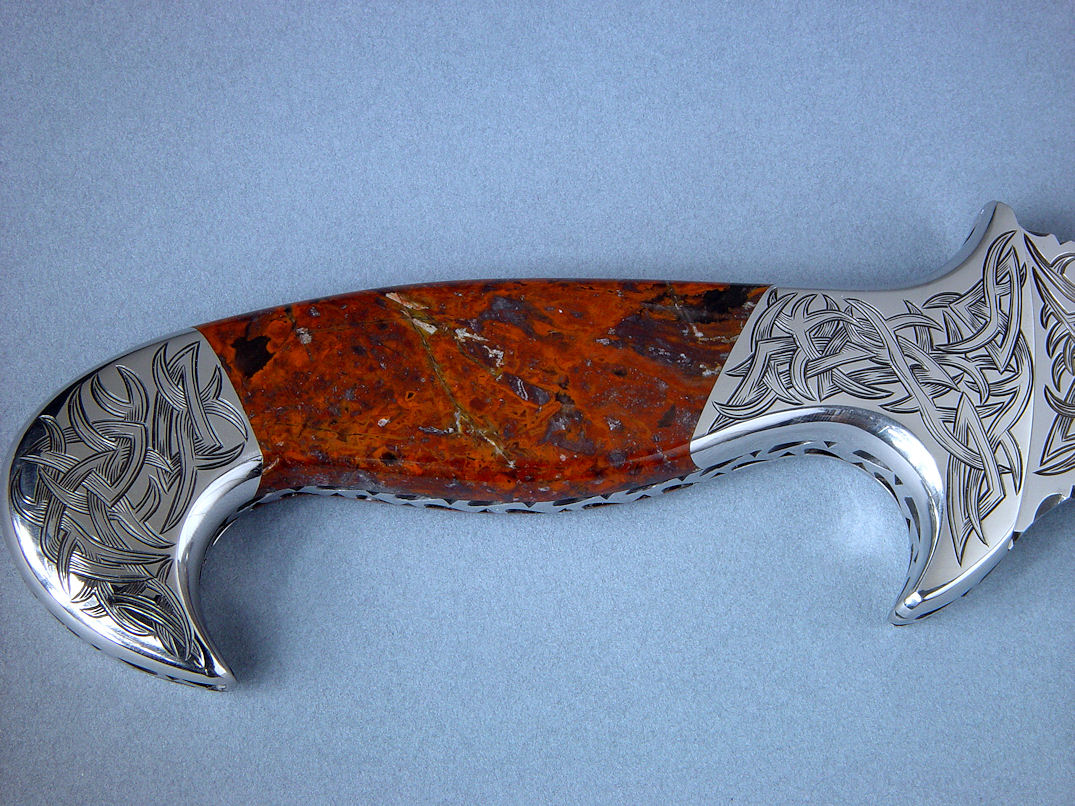 The handle of the knife had to be bold, striking, and with some of the curved patterns and interlocking nature seen on the majority of the design. This Pilbara Picasso Jasper gemstone had the striking colors that compliment the entire piece. Masculine and rich, the oranges, browns, purple-grays and hints of black color form a canvas reminiscent of a sunset, campfire, or hearth that warms the piece with hue. This is an extremely hard and tough microcrystalline quartz, a true jasper, formed millions of years ago through metamorphic process deep beneath the earth's crust in what is now Australia, in the desolate and remote western region. I ground, shaped, contoured, and finely polished this gemstone to a glassy smooth finish, and it is bedded and locked to the handle with the dovetailed bolsters. This is a gemstone that will, literally, outlast the knife metals (and all of us!). It's smooth and wonderful to the touch, the shape of the handle locking into the hand with deep quillons and comfortable curves.
---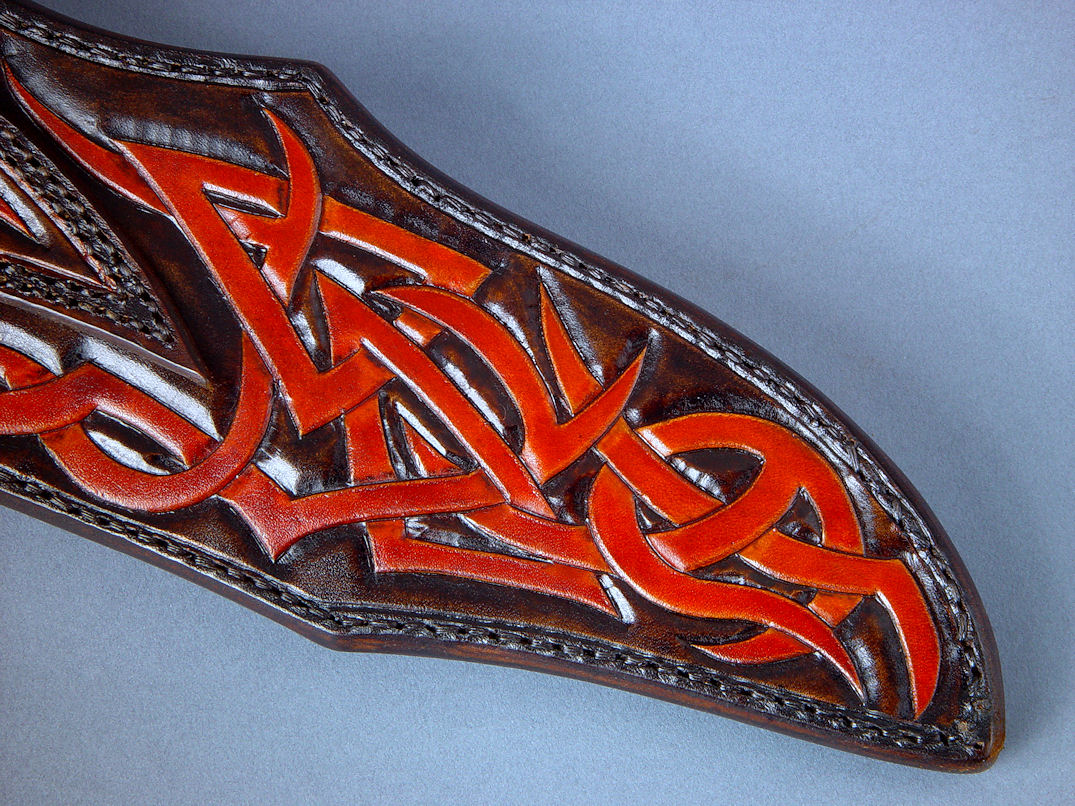 The sheath for this Tribal Helhor had to be special as well, and I made certain that the idealistic pattern of bold curves, lines, and interlocking shapes was well-represented there in striking form. I started with 9-10 oz. thick leather shoulder, and hand-carved and hand-tooled the pattern on both the front and back of the sheath as well as the belt loop. I hand-stitched the sheath with black nylon for strength, and the belt loop was stitched in double rows for extreme durability. Then I went to work on the dying. This hand-dying process is very laborious and slow, with multiple layers of contrast and complimentary dye colors built and added to penetrate the leather with brushes the size of a toothpick. The background was likewise hand-dyed, and I aimed for a bold color that would echo the colors of the gemstone, warm reds with hints of orange and yellowish tones against a rich brown base. After many successive dye layers, that leather was dressed and sealed with glossy finish.
---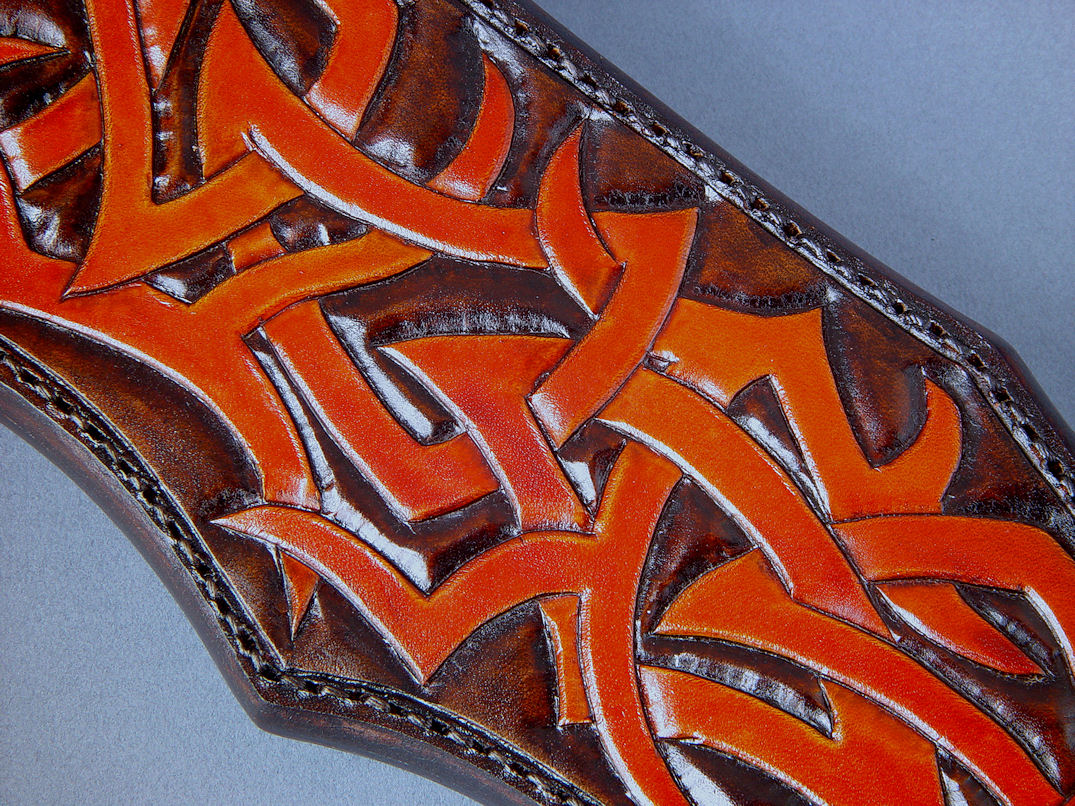 The stand for this beautiful knife had to compliment, embrace, and substantiate the form, idea, and function of the entire artwork. The idea of the three persisted, and I created a curved and living form built around the central triangle idea. I started with a triangle of 304 austenitic high-nickel, high chromium stainless steel, patterned and welded it into a solid form. This was a difficult task, requiring specialized high-purity weld process done under substantial magnification with specialized and advanced equipment. Since welds in this material are only sixty thousandths of an inch wide (and sixty thousandths of an inch deep), the process took considerable planning and careful control. Once my form was created, I took it through seven steps of finishing to a fine satin swirl. This three-sided stainless steel form became the center of the stand, and just as in the smaller design, was pierced by the curved and pointed shape of a natural structure.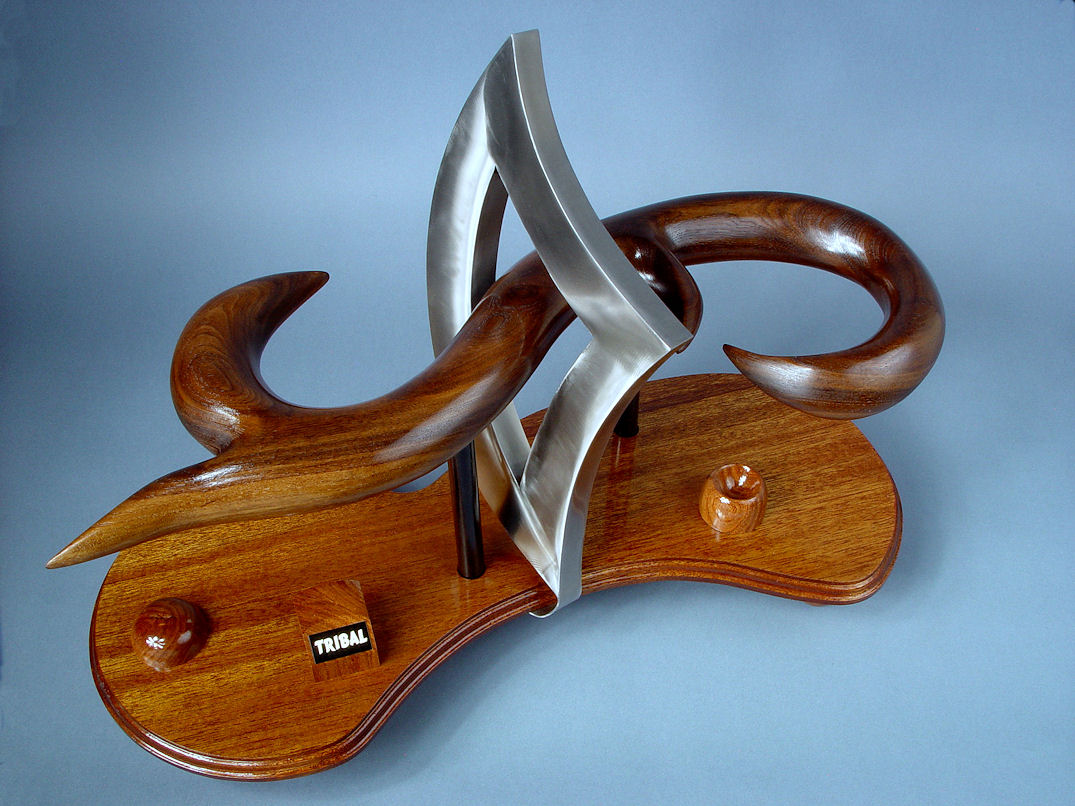 ---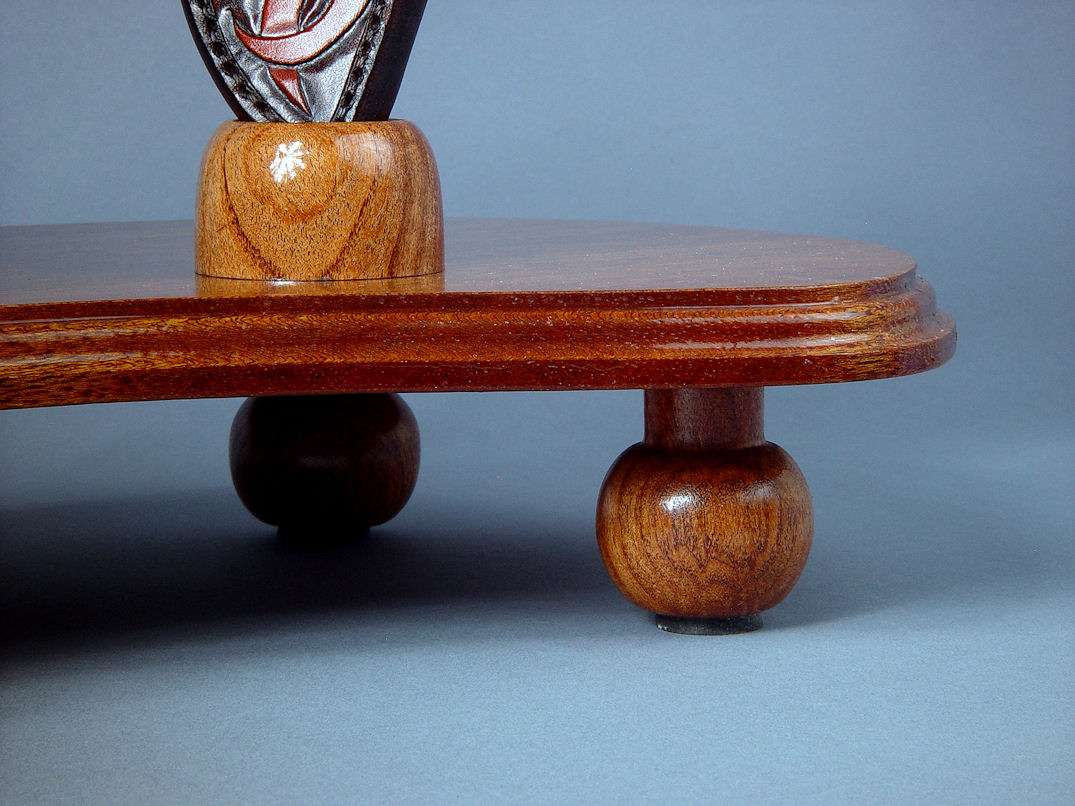 I hand-carved the structure that pierces the triangle from a solid piece of American Black Walnut, one of our most beautiful and prized American domestic hardwoods, known for its rich and uniform grain and color. I carved the piece with hand files and finished it with paper to a smooth, velvet finish. The curves are strong and bold, and mounted with ebonized ash hardwood posts. The walnut curve and fork embrace the sheath and knife, respectively. The components of the stand are mounted to a base of solid Lauan hardwood with all stainless steel screws. I hand-turned and shaped the individual feet that support the base in Mesquite. The knife tip rest, sheath tip rest, name stand, and hand-turned feet of the artwork are all made of Mesquite hardwood, chosen for the complimentary grain, color, and durability. The nameplate is engraved black-lacquered brass, and the feet are inlaid with neoprene for scratch protection for any surface the artwork rests upon. All woods are polished, sealed with proprietary oils and varnished with ultraviolet-resistant polyurethanes.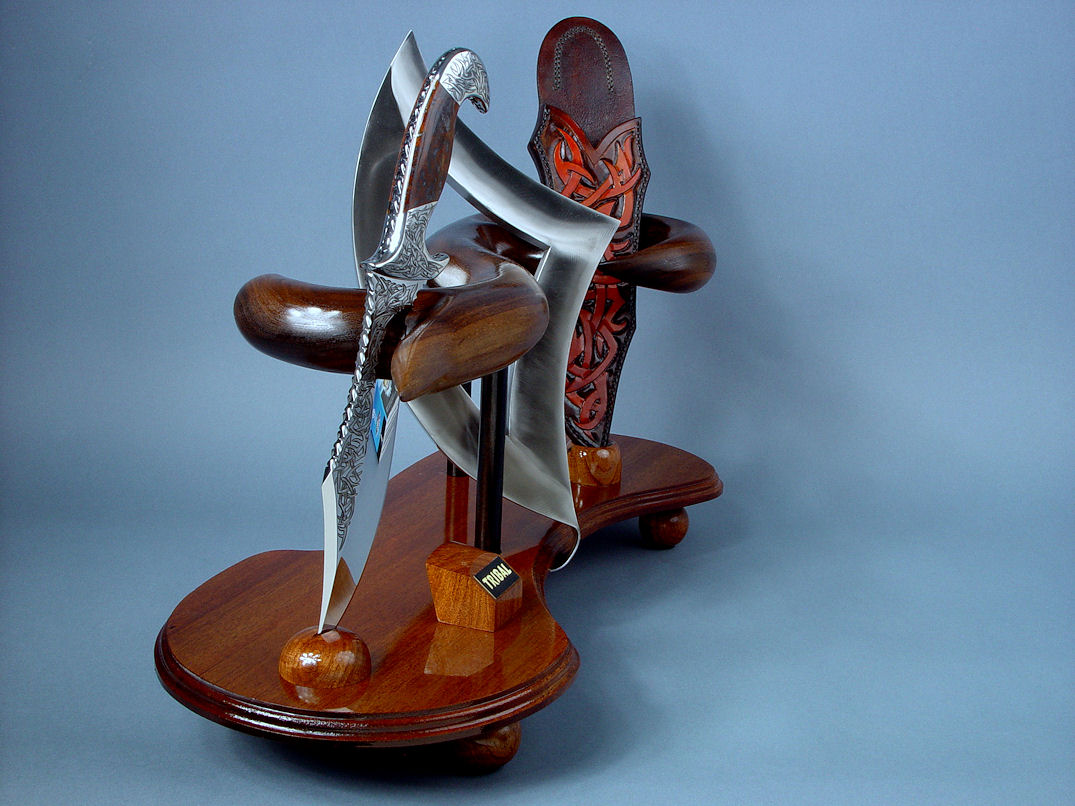 ---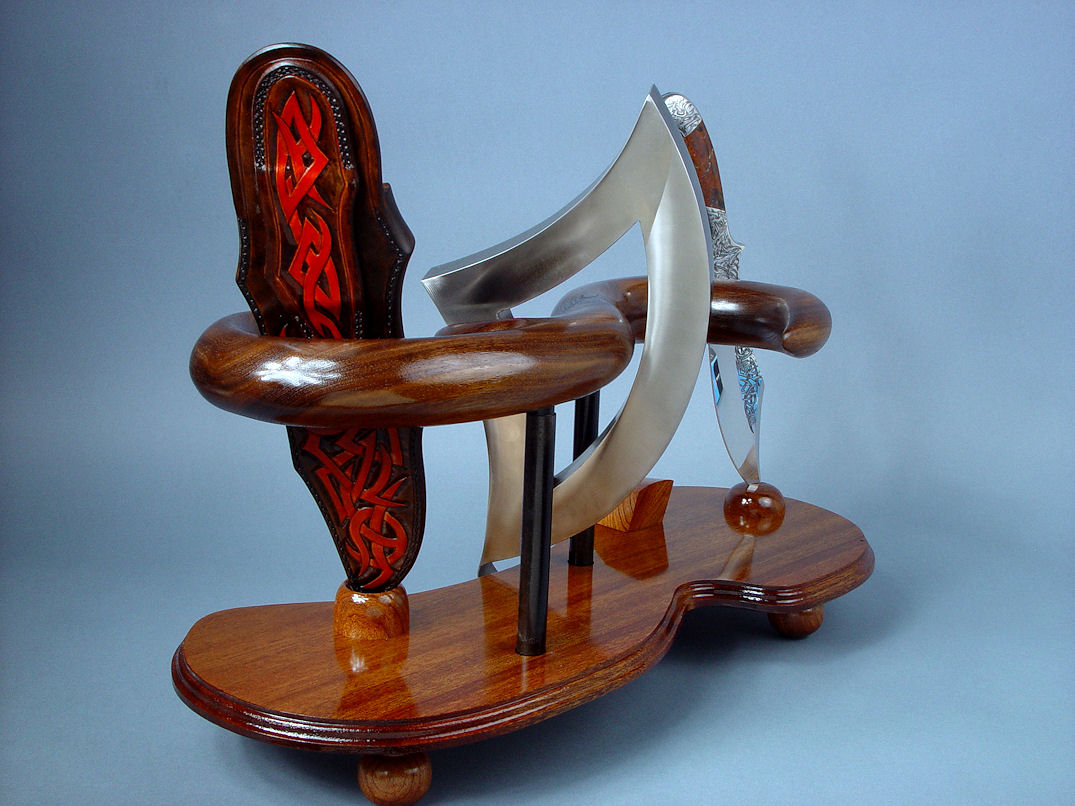 It was my desire to create a work of sculptural art that compliments and displays the triad-tribal theme, the curves and lines of the knife, and the bold forms of my artwork in original and unique fashion, using premium materials and artistic expression of the contemporary Tribal art genre. My greatest thanks goes to my client and patron, who made all this possible!
Please look over the specifications and additional photographs below.
---
"Tribal" Art Knife
(Helhor Pattern)
---
Size

Overall Sculpture: 24.0" (61.0 cm) length x 9.75" (24.8 cm) wide x 17.0" (43.2 cm) height
Knife: Length Overall: 14.0" (35.6 cm), Blade Length: 8.5" (21.6 cm), Thickness: .233" (5.9 mm)

Weight

Sculpture with Knife: 9.0 lbs., 4.08 kg.)
Knife: 1 lb., 4.0 oz. (567 grams), Sheath: 9.0 oz. (255 grams)

Blade: 440C high chromium martensitic stainless tool steel, hardened and tempered to 59HRC
Blade Finish: hand-engraved, mirror polished throughout
Bolsters, Fittings: hand-engraved 304 austenitic high chromium, high nickel stainless steel
Handle: Polished Pilbara Picasso Jasper Gemstone
Holder/Sculpture: Welded and finished 304 austenitic stainless steel, American black walnut, mesquite, lauan, ash hardwoods, neoprene feet, stainless steel hardware, engraved black lacquered brass
My vision is that my patron who owns this piece and the people who view it enjoy the fusion of form, geometry, cadence and arrangement that I try to present in tribal art forms of contemporary and ancient design.
Thanks, R. S.!
Hi Jay.
I just received the Tribal Helhor and unpackaged it. I'm at a loss of words. I absolutely love it with all my heart. The knife is gorgeous, it feels so good in my hands. I love the tribal engraving and the Pilbara Picasso Jasper compliments the wood tones of the stand and sheath. The sheath and stand are a work of art alone, but all three put the entire piece together as a whole.
It's better then I could have ever imagined. I love it, love it, love it.
I'm going to cherish it for the rest of my life.
Sincerely, R. S.
---
---