Vega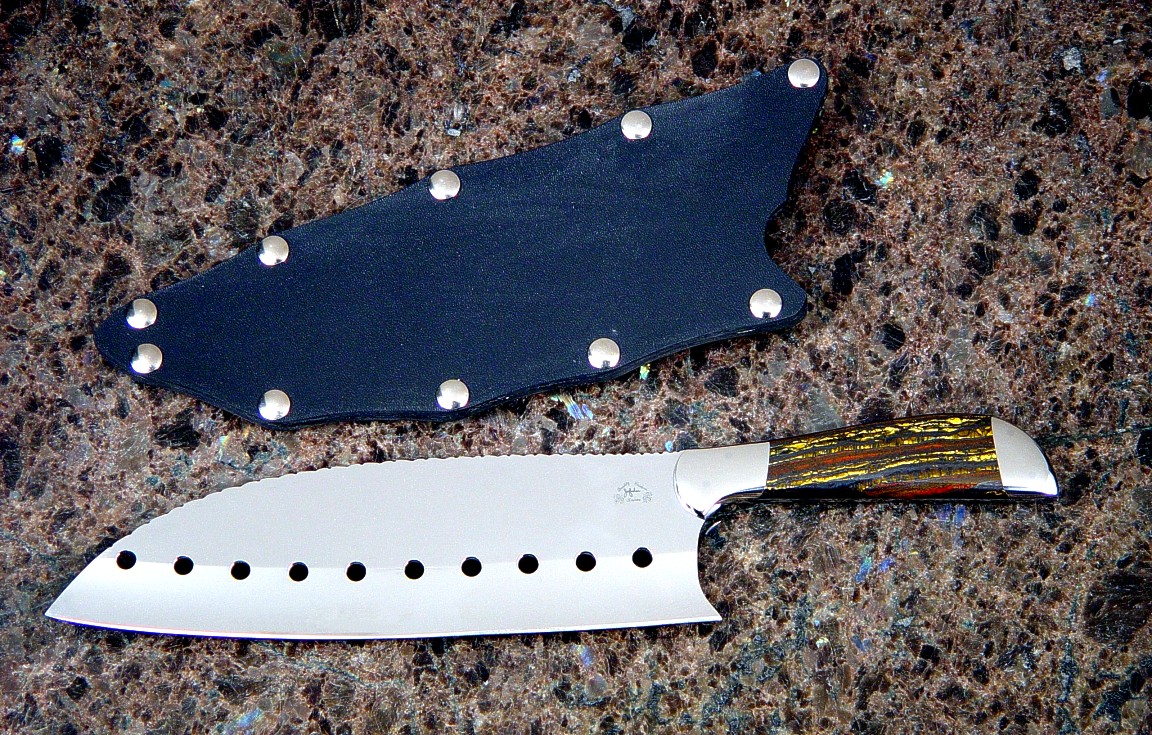 "Vega" Professional Master Chef's Knife
Size: Length overall: 13.25" (33.6 cm), Blade Length: 8.75" (22.2 cm), Thickness: .125" (.32 cm)
Blade: 440C High Chromium Stainless Tool Steel, Hardened and Tempered to Rockwell C59, mirror polished
Fittings/Bolsters: 304 Stainless Steel, mirror polished
Handle: Australian Tiger Iron Gemstone
Sheath: Double thickness kydex, nickel plated steel Chicago screws and carry clip
Knife: The Vega is a professionally designed master Chef's knife, for professional use. A lot of thought and detail went into this knife design, and it is a dependable work of creative culinary art. The first thing you notice is the blade size and shape. This is not your parent's knife, this is a new, full, stout design, with a full, hefty blade. The blade is a feat of grinding, very deeply hollow ground in a relatively thin piece of stock (1/8") for reasonable weight. The blade is wide enough to scoop the products of your labor from the board to the pan. The hollow grind is wonderfully thin, incredibly thin, quite the challenge for a knife maker, and something you'll never see in a factory or production knife. The thin grind allows for a razor keen edge, an edge that is easy to maintain, and has enough grind to last through several generations of use. I terminated the grind line with milled holes to break the vacuum of vegetables that often seem to hang onto a blade. The top of the spine has delicate graduated filework to improve grip purchase and add a distinctive flair. The handle shape is thin and graceful, for a comfortable grip without being too heavy, and the angle keeps your fingers off the cutting board. The bolsters are zero care highly polished 304 high nickel high chromium austenitic stainless steel, and will never corrode. The dovetailed bolsters embrace two gorgeous mounted pieces of polished Australian Tiger Iron gemstone, a metamorphic blend of Tiger Eye Quartz, Hematite, and Red Jasper. The stone responds with chatoyancy (the cat's eye effect) for beautiful light play, and the high lustrous polish is wonderful to hold.
Sheath: A professional Chef's tool like this should have a commensurate and safe nesting place, so I constructed the double layer thick kydex pocket sheath that protects the blade fully, and has no aluminum or metal welts to contact the fine edge, and has a neat and simple storage clip of nickel plated steel for carry. It's put together with stout nickel plated steel Chicago screws for great strength and corrosion resistance.
This is an excellent, fine, professional quality Chef's knife that can't wait to be the center of culinary creations!
Thanks, D. E.!
Jay,
Now that I have had the chance to use the Vega chef's knife for several weeks, I wanted to write to you and let you know how fantastic it is. First, the knife itself is a thing of beauty. The hollow grind is a work of art. The gemstone handle is stunning, the filework adds to the whole package and the finish is flawless. It is almost too pretty to use, but use it I have. The knife is large but it is so well balanced that my wrist does not fatigue even with large cooking tasks. The edge is so sharp that it glides through everything I have used it on. I look forward now even to what were formerly mundane chopping tasks. Dicing onions can become the highlight of my day! I have many knives that I do not use ("collector's pieces"), but it is so much more rewarding to develop a working relationship with a fine blade.; I can't tell you how pleased I am. I am looking forward to getting my Cyele. You are a master craftsman.
Thanks,
D. E.
---
---