"Vindicator" Custom Counterterrorism Knife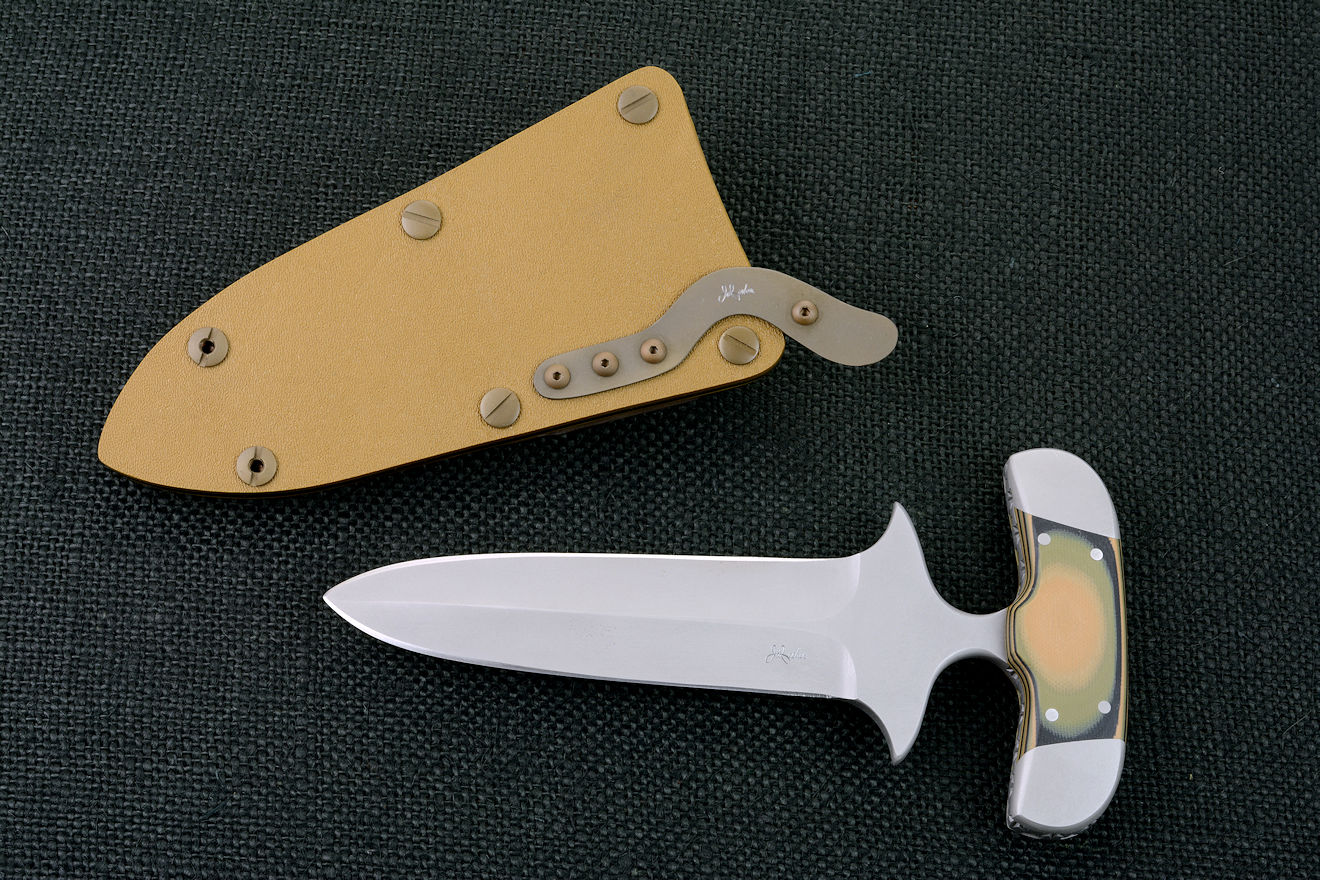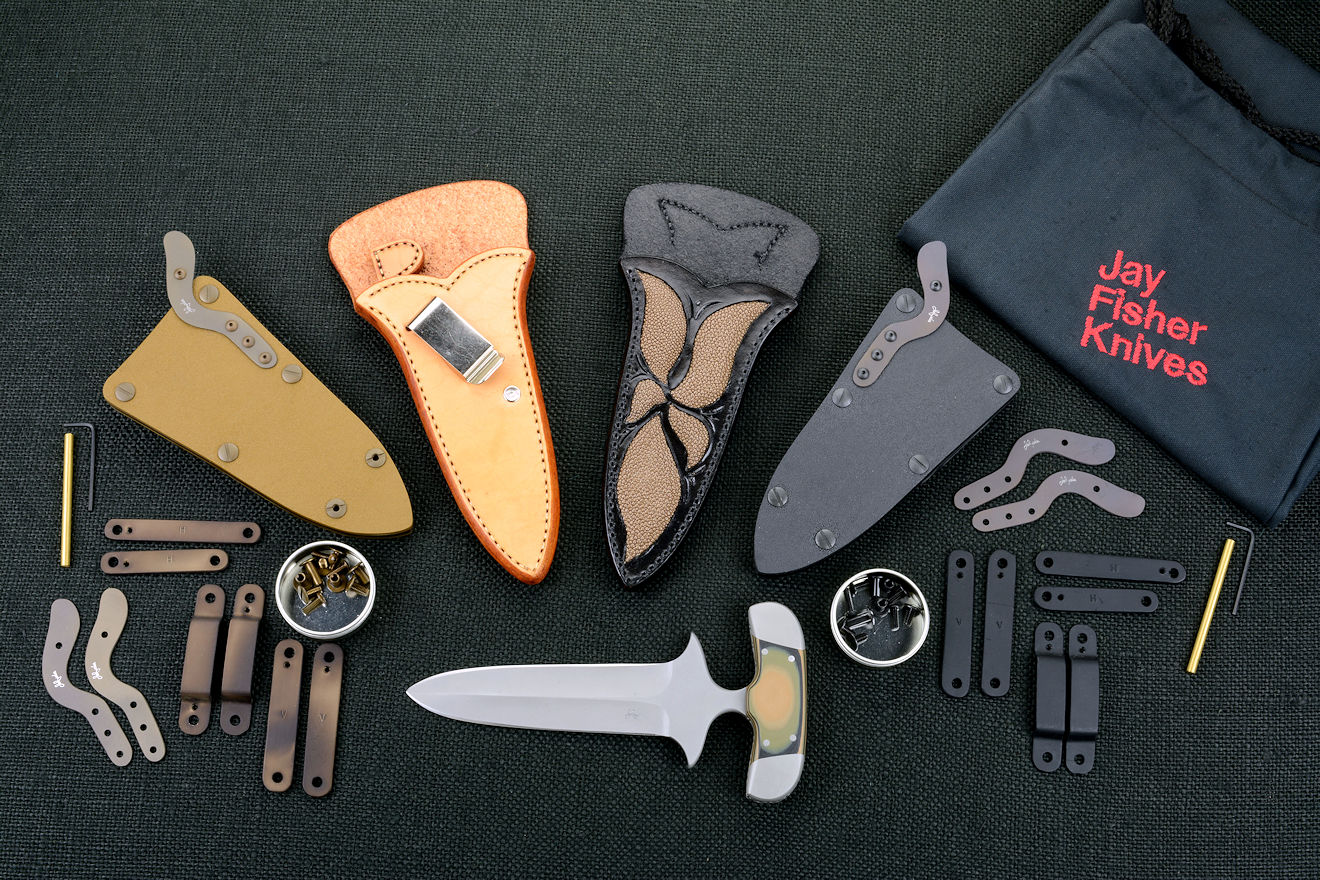 "Vindicator" Custom Tactical Combat Counterterrorism Push/Punch Dagger
Size: Length overall: 8.0" (20.3 cm), Blade Length (to quillons): 5.5" (14.0 cm), Thickness: .248" (6.3 mm)
Weight: Knife: 12.5 oz. (354 grams) Sheath (Coyote Kydex): 8.5 oz. (241 grams), Sheath (Black Kydex): 8.5 oz. (241 grams) Leather, Inside Waistband: 5.7 oz. (162 grams), Leather, Dress, Exotic Inlay: 5.7 oz. (162 grams)
Blade: ATS-34 High Molybdenum-Chromium Stainless Tool Steel, Hardened and Tempered to Rockwell C59, Media Blasted
Fittings/Bolsters: 304 Austenitic Stainless Steel, Media Blasted
Handle: Camo (Black, Coyote, Olive Drab) G10 Fiberglass/Epoxy Laminate Composite
Sheath 1: Coyote Kydex, Anodized Brown 5052H32 Aluminum Alloy, 6AL4V Anodized Titanium Alloy, Brown Oxide Stainless Steel
Sheath 2: Black Kydex, Anodized Black 5052H32 Aluminum Alloy, 6AL4V Anodized Titanium Alloy, Blackened Stainless Steel
Sheath 3: Inside Waistband, 9-10 oz. thick Leather Shoulder, Nickel Plated Spring Steel Clip, polyester sinew, (inside belt or waistband angled wear, right)
Sheath 4: Dress/Fine, 9-10 oz. thick Leather Shoulder, Hand-carved and inlaid with tan rayskin, stitched with black polyester, sealed
Knife: The "Vindicator" is a modification of my original "Grim Reaper" push/punch dagger design, created with the input of a US Army Intelligence Officer for his defense and protection serving in the Middle East. The push/punch dagger is a simple yet extremely robust knife, and when held in the fist is an unstoppable weapon. The Vindicator is designed with an extra long blade with 5 inches of razor-keen cutting edges for piercing through the multiple layers of clothing and gear the enemy wears. I made the blade in ATS-34 high molybdenum, high chromium martensitic stainless tool steel, the same super-tough and wear resistant steel most of my counterterrorism knife blades are made of, simply because this is an extremely strong and durable stainless tool steel. I hollow ground the double edges with a 3" contact wheel, something few, if any, other makers do, simply because it's very difficult to achieve. What this tight grind geometry produces is a blade that is extremely thin at the cutting edge, yet very thick and substantial down the central spine, critical for support of a double-edged knife blade. This symmetry produces a blade that is all razor edges, with a well-supported point, and a very strong spine for complete application of force without worry about movement, lateral flexion, or fracture. The blade has no choils to become trapped or snagged in any clothing or gear, and the cutting edges simply taper to a stop in the grind for smoothness in thrusting motion. The blade has substantial quillons that are 2.75" (7.0 cm) at the widest that serve four purposes: one is to stop penetration of the blade at its limit, the second is to protect the fingers from any metal, edges, or projections, and the third is to provide a smooth, rounded, contoured surface for the fingers for maximum grip security, and the fourth is to engage in the sheath retention methods, whether hybrid tension-lock or leather. The blade is supported by a thick and heavy central neck-ricasso to provide transfer of force from the hand to the blade edges and point, and the handle tang is full thickness in the palm for a solid, complete support. The tang is internally milled for weight reduction so the knife is balanced, and the blade has my striking and bold "sunrise" filework throughout the thick tang to aid in grip potential and offer handmade distinction. The handle is bolstered with zero-care 304 high nickel, high chromium austenitic stainless steel bolsters, secured with zero-clearance peened 304 stainless pins for absolute security. The bolsters are rounded and dressed on all external surfaces for comfort, and they are dovetailed to bed the handle scales permanently and securely. The scales are camo G10 fiberglass/epoxy composite laminate, a premier manmade material that offers extreme durability a smooth and comfortable feel, and absolute rigidity for many generations. It's also completely colorfast, so the colors are here to stay. The scales are secured with four 304 stainless steel through-tang pins, and nicely ground and finished for matching color and pattern display. The balance point of the knife is exactly at the narrow neck of the ricasso, and the knife feels extremely solid and molded to the hand when gripped in the fist. This knife was designed for the wearer to be able to immediately put it in his hand, in closed-fist form, without elaborate grip technique, and to defend his life with simple punching and and thrusting motion natural to human movement. No matter where the enemy is attacking, the blade will yield an extremely aggressive point and razor sharp cutting edge with enough power behind it to drive through heavy clothing, around gear and equipment with tremendous force.
In close quarters battle, if defense is absolutely necessary, and a firearm or large knife is not available or useful, this is the very tool that is needed to save a life from an attacker.
Sheaths: With all my tactical combat counterterrorism knives, the sheath is just as important as the knife, for without it, the knife is not convenient, not comfortable, not accessible, and not useful. So my client requested several sheath options, depending on the wear environment, gear, accessibility, visual queues, and individual mission needs. The sheaths needed to secure the knife well, yet allow it to be easily accessed by the professional in a heartbeat if necessary.

The Tension-Lock Sheath (2-Coyote Brown and Black): This is my own design, and it's been a great one for tactical counterterrorism use where my more secure locking sheath would be too large, or access and unsheathing too slow. The tension locking sheath holds the knife securely with no rattle, play, or movement via a spring retention method that will, simply, last as long as the knife. The sheath is constructed of double-thickness kydex, that is, twice as thick as most kydex sheaths made by anyone else in the world, and twice as thick as all firearm holsters. The sheath is build on a frame of 5052H32 high strength corrosion resistant aluminum alloy, and I've meticulously anodized all of the surfaces, even through holes, of each welt component for extremely high durability, ultimate corrosion resistance, strength enhancement, and muted appearance. If you're not familiar with anodization, it's a chemo-electric process that creates a near-ceramic hard surface on the aluminum alloy, a surface that increases wear resistance tremendously, and a surface that can accept permanent dyes that are sealed in place. For my black kydex sheaths, the anodized aluminum color is black for low reflectivity and matching appearance. The Coyote brown sheath gets my medium brown color. The process is works so well that I'm anodizing all of the other aluminum components of the sheaths: the mounts, the belt loops, the flat straps, the clamps, belt plates and all aluminum parts. The surface is hard to scratch, extremely corrosion resistant, non-glare, flat in reflectivity, and highly durable. The 6AL4V titanium spring is also anodized a deep blue-black or dark straw brown for muted appearance and a hardened surface, and all fasteners are highly corrosion resistant stainless steel that is chemical surface treated for a dark gray-black muted appearance or oxide treated for a medium straw color while retaining all of the extremely high corrosion resistance only available in stainless steel. The tension lock sheath comes with two pairs of belt loops (footman's loops) that are die-formed and anodized aluminum alloy. One pair is high profile for .250" x 1.5" belt sizes and the other pair is low profile for thinner .190" x 1.5" sized belts. I also include heavy vertical straps and horizontal straps in anodized aluminum that allow the sheath to be rigidly clamped to belt, webbing, PALS (Pouch Attachment Ladder System), straps, body armor gear, and anywhere there is a need. All of the mounting assemblies are reversible, as is the spring retention for the tension-lock sheath, so the versatility of this sheath is unsurpassed. It's also completely and absolutely waterproof, for zero worry about exposure. The knife can be unsheathed by finger pressure against the spring tab, or by a hard pull in an emergency. Included are two extra titanium springs, so my client can choose the tension he desires, light, medium, or heavy, depending on the gear he mounts it to, the angle and orientation, and his personal preference for a pull-to-release tension. What a versatile package!
Leather sheath (IWB): My client requested an Inside Waist Band sheath specifically designed for inside waistband wear, yet with reasonable retention and security. This is necessary to keep a low visibility profile in tactical situations and in the public sphere, typically behind the back and under a jacket or shirt. With most knives, this is not something I encourage, but these are counterterrorism professionals, and like our military, need specialized equipment for their and our defense. The sheath is made of 9-10 oz. leather shoulder, very thick and stout, yet it is not hardened like most of my sheaths so that the leather is as comfortable as possible. The leather is not dyed and is left its natural color, because dyes can bleed into clothing with moisture and sweat, but the leather is sealed with acrylic sealer for moisture resistance and longevity. I stitched the sheath with polyester sinew, the toughest, most mold and rot-resistant fiber on the market, and all of the surfaces are rounded, smoothed and finished. The IWB leather sheath is designed to be worn inside the waistband or inside the belt line, and the nickel plated steel belt clip secures the affair to the belt or band at a convenient angle to allow quick and easy access to the handle. The knife is retained in the sheath with a unique leather d-shaped stud, stitched permanently in place, that requires the sheath to be pressed and flexed out of position before the knife can be removed. This prevents the knife from falling out, even during active moments, yet the knife is easily unsheathed by a user familiar to its operation. Since blade and edge safety are my main concern, the sheath is built with heavy, thick welts protect the owner from the point and cutting edges.
Leather sheath (Dress/Fine): My client requested a fine leather sheath, one that would work with the design for display and classy wear, and I built this one in heavy leather shoulder with 9 inlays of tan rayskin. I dyed the leather black and with the tan rayskin, it matches the colors in the handle quite well. This is a sturdy, beautiful sheath that I hand-stitched with black polyester, and even the belt loop has multiple inlays of the rayskin. It's sealed with acrylic sealer for longevity and is a work of independent art suiting the Vindicator quite well.
This is a professional tactical defensive knife, and it's my hope that (as with all my combat knives) it never needs to be used. But if it is necessary, this knife is built as durably and intelligently as possible, with useful and necessary wear and carry options, for the counterterrorism professional who may trust it in the most dangerous environment.
Learn much more about my Counterterrorism Knives at this link.
Thanks, J. A.!
---
Hey Jay:
I just opened my package and am completely blown away!!! Your craftsmanship and symmetry are incredible. Your sheath work is fantastic. I absolutely love the inlaid ray skin and the IWB variant for the Vindicator. Your tactical sheathes are perfect. The balance on each blade is so beautiful. Easy to translate grips and move back and forth to the sheaths.
I enjoy showing off your detailed filework. Sets each knife off for sure and shows how absolutely a perfectionist you are.
I am truly honored to own your blades. I will use them and protect them to ensure they remain ready for my next generation!
Thank you so much for your work.
Best,
J
---
---