Vitruvius-Vega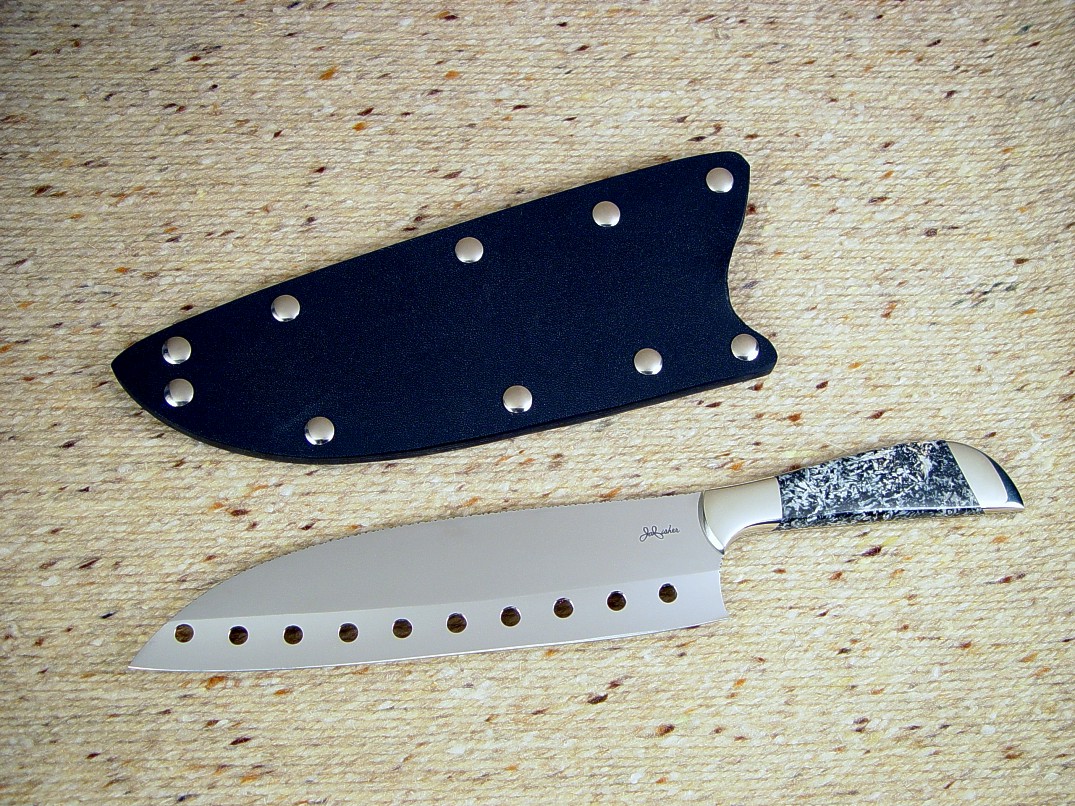 "Vitruvius-Vega" Hybrid Custom Master Chef's Knife
Size: Length overall: 13.0" (33.0 cm), Blade Length: 8.3" (21.1 cm), Thickness: .105" (2.6 mm)
Weight: Knife: 11.8 oz. Sheath: 7.3 oz.
Blade: 440C High Chromium Martensitic Stainless Tool Steel, Hardened and Tempered to Rockwell C58, hollow ground and mirror polished
Fittings/Bolsters: Nickel Silver, mirror polished
Handle: Polished Egyptian Monzonite Gemstone
Sheath: Kydex, Nickel Plated Steel
Knife: A great chef's knife, thin, light and razor sharp. The style is a hybrid of my Vitruvius blade and Vega handle patterns. The blade is very thin and with the hollow grind executed with a 10" contact wheel, the edge is incredibly sharp. The steel is 440C, for the highest corrosion resistance and great longevity, and I've mirror polished it so it will be very easy to keep clean. The holes in the grind help with releasing vegetables that might cling to the blade. The blade is fully fileworked with a very light, airy pattern. The bolsters are mirror finished corrosion-resistant nickel silver, dovetailed to hold a pair of gemstone handle scales. The gemstone I used for this knife is very special; it's the stone that the ancient Egyptians used to carve into some their most enduring monuments, statues, and figurines. To this day, no one really knows how they did their stone carvings; they kept no records. So there is an air of mystery about the stones used. This Monzonite handle has large feldspar grains and crystalline structures like starbursts, with white, gray and black tones. It's a hard, tough, and well polished gemstone comfortable to hold.
Sheath: The sheath for this knife is double thickness kydex, a slip sheath to protect the knife and edge (and the owner) while in the drawer or in transport. It's assembled with kydex welts to protect the edge, and secured with nickel plated steel Chicago screws. It's a clean sheath that should last as long as the knife.
A great knife destined to see decades of use on the board!
Thanks, D. B.!
Jay,
My knife arrived last week and I've been trying to come up with a way to describe it. At some point it starts to sound cliché when you hear "You've outdone yourself," but the truth is that it is difficult to actually put into words the kind of presence one of your knives has when you actually hold one. The Vitruvius-Vega is a beautiful work of art and at first I had the same reaction that anyone who has seen it had which is the standard "You aren't going to actually cut anything with that are you?" I admit that it was difficult at first, but this knife was created for a purpose and I intend to use it that way. After using it to prepare a meal the other night I found the knife, although big, to be comfortable, balanced and incredibly delicate for such a large blade. The combination of beauty and functionality makes using this knife more of an "experience" than a chore. Of course as soon as I was done I washed, dried and polished the knife before putting it away in a way that my other kitchen knives have never seen. So yes, it's cliché, but Jay you've outdone yourself. It was worth the wait and rest assured that this knife will fulfill the purpose for which it was designed and created.
I look forward to our next project.
Thanks, D. B
---
---