Wasat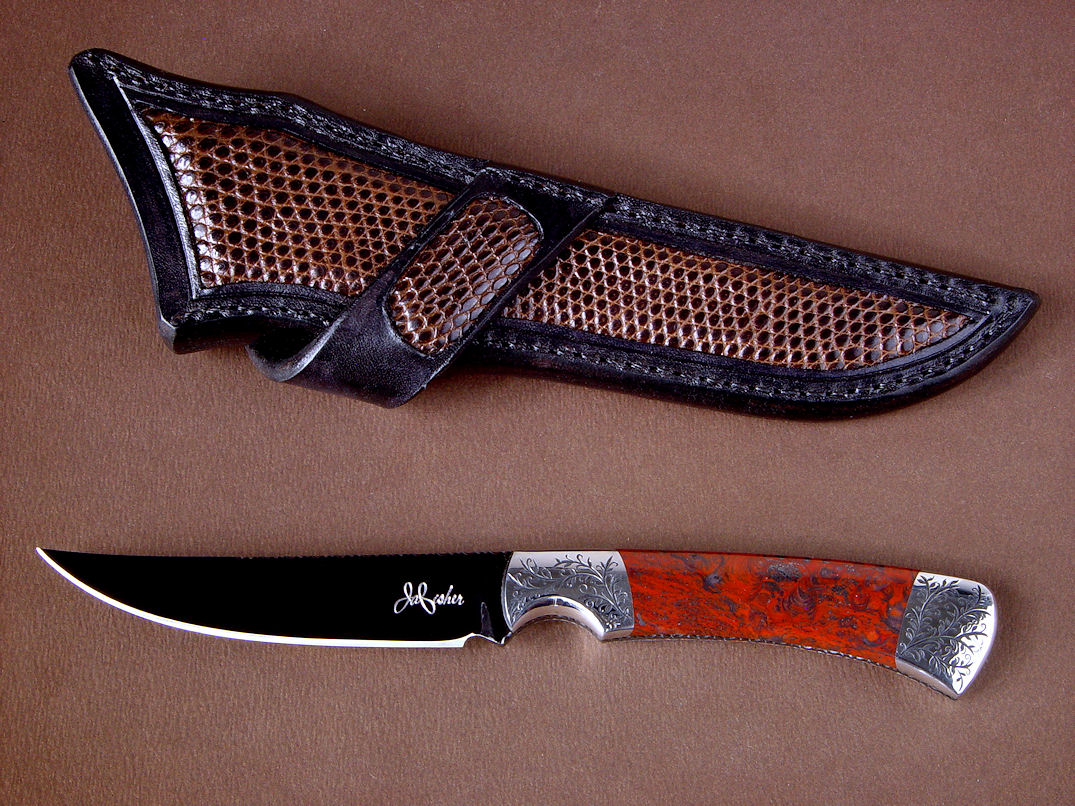 "Wasat" Custom Knife
Size: Knife: Length overall: 8.375" (21.3 cm), Blade Length:4.1" (10.4 cm), Thickness: .171" (4.4 mm)
Weight: Knife: 5.5 oz. (156 grams) Sheath: 4.3 oz. (122 grams)
Blade: O-1 high carbon tungsten-vanadium alloy tool steel, hardened and tempered to 58HRC, mirror polished, hot-blued
Bolsters, Fittings: 304 Austenitic Stainless Steel, mirror polished, hand-engraved
Handle: Fossilized Stromatolite Algae Gemstone (Jasper/Hematite/Quartz)
Sheath: Hand-carved leather inlaid with Tegu Lizard Skin
Knife: The word Wasat means "middle ground" and this Wasat is named for a star with the same name. However, its proper name is Delta Geminorum which is just too long for this medium sized knife! This is a great mid-sized knife made for a great client. The Wasat pattern has a light trailing point blade, which means a very fine and super sharp tip with a razor keen single bevel cutting edge. The steel on this knife is O1 high carbon tungsten-vanadium alloy tool steel, an improved O1 oil hardening tool steel with added tungsten and vanadium for increased wear resistance. The blade is meticulously mirror polished, and I hot-blued the entire knife for the highest corrosion inhibition possible with a stunning black, glassy appearance. The blade has full and accurate fine "S" filework around the tapered tang from the grind termination to the choil. The knife is bolstered with zero-care 304 high nickel, high chromium austenitic stainless steel for the longest lasting beautiful engraving possible. I engraved a light vine and small leaf pattern as my client requested, with high detail and microscopic tendrils. The bolsters are dovetailed and bed a pair of striking Fossil Stromatolite Gemstone handle scales, polished to a glassy finish. This is red jasper and gray metallic hematite with just a hint of quartz, the fossilized remains of the blue-green algae that ruled the earth for thousands of millions of years in the Precambrian (yes, billions). The oceans had a lot of iron then, and the atmosphere had much less oxygen, so the iron was tied up in the oceans and thus in the mineralogy, and ultimately was deposited in this fossil. That is the reason for the red and the hematite (which is iron oxide). This is one of the very oldest fossils on earth, and it is extremely solid, tough, and hard. I'm certain it will outlast the entire rest of the knife as well! My client chose it for its striking beauty, like billowing clouds and embers and smoke, with intricate patterns and flows, a surface that becomes more intriguing the closer it's examined. The gemstone and handle feel great in the hand, and the light-bladed knife balances just behind the front bolster for great point control.
Sheath: The sheath requested is one of my classic crossdraw models, made to wear on the left side. It's made of 9-10 oz. thick leather shoulder, inlaid with full panels of Tegu Lizard skin with small inlays in the belt loop. It's dyed black, hand-stitched with tough black nylon thread, and sealed and polished.
A handsome and classy mid-sized knife with accurate character from the tip to the engraving.
Thanks, M. R.!
I got the knife today. Thank you soooo much! It's perfect. Can't wait to show it around.
Thanks again.
--M.
---
---