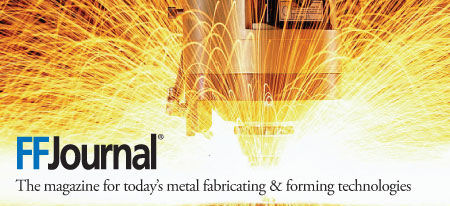 It's always nice to get recognized in a professional trade journal. On April 30, 2012, my work was featured in the FF Journal, the online magazine for today's metal fabricating and forming technologies. Here is the link to their home page at www.ffjournal.net. Here is the link to the article, based on an interview by Julie Sammarco.
The article features a splash shot of Aeolus (above) on their home page slider, and my knives Aegir, Imamu, Pacifica, and Desert Wind. Here are the knives with links to their descriptive pages:
---
The Full Interview Transcript
I don't know how long the article will be available on the FFJournal site, and I appreciate the professional exposure, as a large part of professional knife making is metal forming and fabrication. Though the article was shortened to fit the FFJournal format, below is the complete interview transcript, without any cuts, deletions, or condensing.
Julie Sammarco: What is the name of your company and how long have you been in business?
Jay: My company is the Jay Fisher Company located at Enchanted Spirits Studio, 1405 N. Edwards, Clovis, New Mexico, 88101. My business is conducted almost entirely through my website at www.jayfisher.com. I specialize in handmade custom and creative knives, made my first knife in 1979, and have been in business as a full time professional knifemaker since 1988.
Julie: What kinds of products do you make that are fabricated with metal?
Jay: Custom knife blades, one-of-a-kind, all related fittings, components, and parts as well as stands, sheaths, cases, and artistic display stands including cast metal components. All work is done in-house.
Julie: What kind of metal do you work with?
Jay: I work with extremely high alloy modern tool steels: high chromium, high molybdenum, high tungsten, high carbon, high vanadium alloys including particle metal technology tool steels. In the tool steels for the knife blades, I use 440C, ATS-34, CPM154CM, D2, BG42, O1, CPMS30V, CPMS90V, and CPMS35VN. For components, fittings, guards, bolsters, and frames I use 304 stainless steel, 302 stainless steel, and 316 stainless steel as well as 6AL4V titanium. For sheath frames and accessories, I use 5052H32 corrosion resistant high strength aluminum alloy. Artistic accent parts are copper, brass, nickel silver, silver, and gold. For display stands, I sculpt and cast in various bronzes and silver.
Julie: What kinds of techniques do you use to make your products? Why use those techniques?
Jay: Knife blades, components, and accessories all have critical geometries; each knife project is considered on its individual merits and application, material, and finish. For instance, a tactical combat knife must be of substantial cross sectional thickness and high wear resistance to support heavy use at the cutting edge with the proper geometry for a penetrating point. A chef's knife must be extremely thin at the cutting edge, with greater toughness, a lighter weight, and a higher finish and corrosion resistance for cleanliness.
For the knife blades, tool room machining and offhand stock removal (grinding) are used for initial shaping. The high alloy steels I use cannot be hand-forged in an open atmosphere environment, and the blades must be maintained in an oxygen reduced or inert atmosphere during heat treat processing, which is all done in-house for tight control and reliable results that are then verified by calibrated testing instruments. Much hand work goes into each knife blade, often including intricate filework, sculpting, carving, and hand-engraving. After heat treating and tempering, the majority of blades are finished through many steps by offhand grinding for a clear and clean mirror finish. The tactical models may get a bead blasted or satin finish for glare and reflection reduction. No automated machinery can be used or the crisp geometry and lines will be washed-over. Careful attention to finishing temperatures must be maintained to preserve the proper temper of the blade steel.
For the bolsters, guards, and fittings, the same processes are used to yield the desired finish. Since there are an extremely wide variety of patterns (over 400), shapes, and sizes, none of the knives are mass-produced, and each component is made and finished by hand. In the sculpted metal stands, displays, and components, metal formation is by machining, carving, and lost wax casting process, and since each piece is individual, no molds are taken. Welding occurs in Oxy-Acetylene, SMAW, and GTAW (TIG) processes. Other metal processes in the studio are diffusion welding and forging of similar base metals, electroforming and electroplating in copper, nickel, silver, and gold, anodization, and high resolution lithographic and hand-burnished ground-relief etching.
Extensive knowledge and process application of abrasives technology is required. There are, simply, no shortcuts to an excellent finish on a high alloy tool steels and other metals, and I'm thankful that industry now produces the finest abrasives and finishing technology ever made.
In this art and trade, a very high value is placed on sole authorship, with everything custom made for a client's individual needs. Since the knife must first be a high performance tool, reliable history and knowledge of the specific use must be understood. For instance, in my studio, we produce some of the finest real combat and tactical knives for active duty military in the world. We listen to our clients individually, and create exactly what they need. Since all work is done in the studio, we can verify reliability in these critical applications. For the art and collectors knives, I am not limited by machine process, only by vision or idea. This is why we use these techniques.
Julie: What made you want to start your business/artwork?
Jay: As a child, I was fascinated by the art of making: creating from ideas and raw materials. At 19, I learned about the secret of steel: in essence, annealing, heat treating, hardening, and tempering. I was at first fascinated with the process, and realized that in knifemaking, a critical balance between hardness and toughness had to be met with wear resistance and corrosion resistance also in balance. Add to that the durability and longevity of the materials, the tactile interface with the human hand, and the beauty, elegance, and history of man's oldest and first tool, and I was hooked. After decades of learning and improving my skill, there is always more to learn and master. Add to that the modern advances in materials and machine technology, computer, photographic and website development, and this is one of the most challenging and respected arts and tradecrafts there is.
Julie: How long does it take to design and create a knife?
Jay: This is one of the most often asked questions of any knife maker. I can make a basic knife in about 16 hours, not counting the heat treating process times. However, this is not a type of knife I make, since nearly all of my sole authorship knives are unique and may be very complex. Since there are over 100 knife projects going on in the studio at any given moment, many overlap, share process steps, or have to wait for the correct time for a particular step in the process. This takes quite a bit of scheduling and the amount of orders keeps me 4-5 years in backorders. Some knives take weeks to complete, others months. On one particularly large project, it took a year and a half to complete and deliver it.
Julie: What kinds of skills should one have before attempting to make one?
Jay: Most makers start out now with hobby kits, to see if this is what they like to do. There were no kits when I started, so I can't say if that is a viable measure of interest. The most critical skill needed is attention to safety, as knife projects quickly become pointed metal objects worked on rotating machinery offhand, which can become dangerous projectiles. Protection from hot abrasive dust and particles is important to the eyes and lungs. Patience is the next greatest requirement; most people are shocked to discover just how much time it takes to finish a worthwhile knife project. Machine tool knowledge and practice becomes essential, and metal finishing techniques are critical. Understanding of not only metals, but woods, leathers, gemstone, horn, bone, ivory, and manmade materials also enables a cohesive junction of the entire knife. Knowledge of how to mechanically and adhesively marry these dissimilar materials is important to quality and longevity, as, unlike other hand tools, fine handmade knives are often expected to perform, last, and appreciate in value for generations.
Julie: If possible, please walk me through the making of a knife. (This one can be brief).
Jay: While there is no typical knife project in the handmade custom knife studio, a general list of steps is:
Patterning and Design Work
Profiling Blade
Milling and Surface Grinding
Tapering Tangs
Master Grinds
Edge Grinds
Filework and Blade Engraving
Heat Treat
Tempering and Testing
Control Grinds
Finish Grinds
Polish(Blade Finished)
Bolster/Guard Profiling/Shaping
Bolster/Guard Face Finishing
Bolster/Guard Attachment
Handle Patterning and Design
Handle Blocking and Profiling
Handle Attachment
Handle Finishing (Knife Finished)
Sheath, Stand, or Case Patterning
Sheath/Stand/Case Profiling
Sheath/Stand/Case Construction
Engraving Bolsters, Fittings
Maker's Mark, Personalization, Sharpening
Photograph, Engrave Description Plaque and Archival Information, Ship
Julie: Please provide any other additional or interesting information about your business.
Jay: The most fascinating part of this art and trade are the people who use, carry, or collect fine knives. We make real combat knives for the finest elite military forces in the world, including our allies, and I always consider that a very high honor. I have a piece in the Tower of London, and have created a 400 pound bronze and stainless tool steel sword sculpture that honors physicians who excel in pediatric oncology. I make more gemstone handled knives than any other knife maker in the world, and probably have the most extensive web site and presence with over 12,000 photographs and over 400 pages of our work. I carry a regular pattern inventory of over 400 distinct patterns, and work directly with clients committed to creating the best knives made. These interactions have allowed many others to benefit from those relationships and input, as improvements are continually evolving and advancing. I'm excited to know that this very ancient art and trade can continue to excel due to the many developments of refined steels and other materials, as well as metal finishing and machining technologies currently available. We really do make better knives than at any time in history!