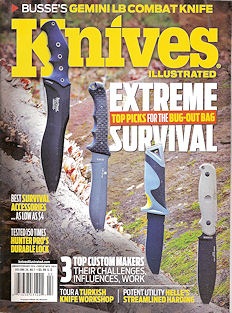 It's great to be featured in a successful magazine, and Knives Illustrated has been around a while. My first time featured in KI was way back in the Fall of 1992, when I was interviewed and offered extensive background on my gemstone handled knives. Here it is, 22 years later, and Knives Illustrated has featured my works again. Interestingly, they even have a "Did you know? box in the article mentioning that I have made more gemstone handled knives than any other knifemaker in the world.
The article was written by Ben Nagy, who asked some thoughtful questions about my career and art, and focused on my history in the knifemaking world. The magazine featured two "lead-up" pages to entice the reader to the article on pages 9 and 47, featuring large photos of my "Domovoi" and my SEAL TEAM "Horus" knives.
---
The article was titled on the cover, "Three Top Custom Makers: Their Challenges, Influences, Work." On the Table of Contents, the article featuring me on page 76 was titled, "An Old Craft, a New Era." The article was written by Ben Nagy, and I think he wanted to illustrate the transition between the show circuit and the modern internet influences and application in the modern world of custom handmade knives. He interviewed me extensively, and honed the text (and my rather longwinded answers) down to fit their format. On the article page, he featured my "Tribal" Helhor knife, and on the following page a photo of me, with a photo of my "Anzu" tactical combat knife after that.
---
The Full Interview Transcript
Please do get a copy of the magazine if you are a fan or client; you need this in your collection. You can find it in any magazine outlet on the internet; even when in back issues, just ask for Jan/Feb 2014 issue (Volume 28, Number 1). You can read the edited interview there, but I thought it would be neat to read the complete transcript of the interview. This can give you a deeper understanding of the direction of the interviewer, and perhaps uncover some information about me that there simply wasn't room for in the magazine.
Ben: My name is Ben Nagy, and I'm a writer with Knives Illustrated. I believe my editor, Bethany Miller, previously contacted you about a week ago, regarding us doing an article about you and your knives. I have a few questions that are things I am personally interested about including in our article of you, but ultimately, this article IS about YOU, so if you have any things that are important to you that you want to make sure get heard, or if you feel that you don't want to answer any given question, that's fine, just let me know.
Jay: Hi, Ben. Thanks for the opportunity to answer your questions. There are a few points I'd like to put forward for your consideration and to give you an idea about me:
The most important thing in my life is my family, for without their love and support, I would not be able to do what I do, and wouldn't want to!
For the last 25 years, I have been a full time professional knifemaker; it is my sole profession and income.
I make more gemstone-handled knives than any other knifemaker in the world.
I have probably the largest website of any individual knifemaker in the world.
I make hundreds of styles and patterns, from my clients and patrons ideas and my own.
Every part of the process is accomplished in-house, in my studio.
In my sole authorship works, every single part of the creation is done by my hands alone.
In the last 18 months, my studio has been interviewed by five different reality show production companies.
The most interesting thing about knifemaking is the people who I make knives for. Their lives, occupations, experiences, and personalities are wide-ranging and fascinating, deserving of any reality show!
Ben: It's obvious you have some beautiful knives, and truly view knife-making as an art. Do you craft knives based more on what you think your customers would want, or do you tend to make what you would like in a knife?
Jay: I try to balance my work from both perspectives. For each custom order, I try to make one of my own design, finish, embellishment, and materials. This 1:1 ratio of custom knives to creative works allows me to satisfy my patrons, and also grow as an artist, while continuing to offer new knives to the public.
Ben: You integrate blades, handles and sheaths very well. You even have a direct quote on your site, which states that "The sheath is a part of the knife." Which part do you feel is most important? (Or, do you start designing a single piece first and then "fill in" the others, or do you have a "holistic" approach to knife design?)
Jay: From the beginning, I've believed that knives were systems, complete units that consist of all parts of the knife package. Sheaths, stands, accessories, and even the illustration, provenance and record of the knife are part of the creation of the piece and the interaction with the client. I believe that all parts should be of commensurate quality, materials, and finish, because the knife is an interactive tool, not just an ornament.
Ben: How do you get inspiration for your designs?
Jay: For my individual creative works, there are more resources available to the knife artist than ever before. I look to history, designs, and patterns from other countries, and even knives from the fantasy perspective present in contemporary digital media. The specific foundation of the inspiration is much harder to define. I've been doing this so long that I realize there is some innate sense of perspective and balance that seems right for each type of theme. For my custom knives, my clients let me know what they want, what they would like, and ultimately what they will purchase. I help them refine the particulars so they are satisfied with the results, and every knife, every person is different!
Ben: You have a testimonial on your site from Tom Clancy. Have you done many other knife designs for famous people? How did you come into contact with Mr. Clancy (and others)?
Jay: While I'm not at liberty to publicly recognize most of my clients, I owe my success in knifemaking and artistry to all of them; they are ultimately who I create for. It's interesting to note that a professional knifemaker has many bosses, not just one, and every knife made and sold is an independent job interview, test, review, and completion. Not many vocations could stand such uncertainty and scrutiny! My clients reflect a wide range of people, from professionals to artists, from tradesmen to scientists. Many of my works go to some of the top military, law enforcement, and counterterrorism professionals in the world. The one thing in common they all have is they love knives!
Ben: You have a large website, with a virtual encyclopedia of knife making information on it, and tons of your designs on it. How do you think coming into the digital world with your site helped you as a knife maker? How much of your sales come through your website?
Jay: Years ago, I made my living through going to shows. All of my time was spend getting ready for a show, traveling to a show, or recovering from a show. Sales were uncertain; you never knew what a potential client attending a show would want, perhaps a knife that you didn't have. I had a decent system: carrying a wide variety of different types, sizes, and prices for broad appeal.
All of that changed with the advent of the internet in the mid-1990s. I built an uncomplicated site, and have added to it ever since. People would ask questions, I'd answer them and expand and detail them on the site. The site traffic grew tremendously, simply because people are looking for answers about knives. Rather than offer a mere catalog website, I am determined to bring professionalism to our tradecraft and art, and the website is one of my contributions to that service.
I derive all of my sales through the website and referrals the web site creates. I had to drop my 19 year membership to the Knifemakers Guild back in 2005 because I couldn't attend shows, as the website keeps me in continuous backorders. I believe that today, a substantial website is critical to most artists and craftsmen; it is the medium of our age, our method of communication and information exchange. A website is a curriculum vitae, a modern record of professional achievements that anyone can examine, any time, for free. Though it requires diligence and dedication to maintain, it has allowed me much more time to create in the studio, more time to develop and grow. This type of business has never been available before in history; every day, thousands of new eyes are reading, studying, and examining my knives and my professional information. There is no show that could ever offer this kind of exposure, day after day, year after year.
Ben: How do you try to integrate the modern into what is a very old profession? Obviously using newer, better steel is a great part of that, but what else do you do from a design standpoint?
Jay: This is a very exciting time to be alive, and to be a knifemaker. Never before has our profession had access to the materials, tools, and information that is available today. Abrasives and cutting tools have improved tremendously even since I made my first knife in 1979, and machine and hand-tool availability and specialty has vastly improved. Above all, information access is in a tremendous state of growth. This allows knifemakers to work in multiple realms of craft, like precision woodworking, lapidary, sculpting, casting and the embellishment arts. Development of related devices and accessories is critical to our field, for no knife is complete without them.
Ben: What are some challenges you faced early on when starting your own business for knife making (in 1988)? How did you make that transition into doing knife design work full time? When did you know you should make that leap?
Jay: One of the striking challenges was being taken seriously. Knifemaking just wasn't a common trade for a professional, it was mainly considered a hobby, and often still is. Like all makers, I worked hard to improve my knives. Geometry, finish, processing of all parts of the knife, sheath, stand, and case were in constant state of improvement; they still are!
Back then, there were only a couple of books about knifemaking and not many avenues to sell knives. Catalogs were sent by mail; this type of advertising was expensive with spotty results. Knife magazines and publications could help, but they were limited in scope and exposure. So, lots of shows: knife shows, knife and gun shows, art and craft shows, juried shows, and destination shows were the norm.
I made the transition to full time when my commitments to a show schedule overwhelmed my industrial job. There clearly was not enough time for both. I knew that the time was right when I saw I would be losing knife sales by staying in industry.
Ben: How have your knives changed from when you started until now? (Quality, style, etc)
Jay: Even after three decades, my quality is continually in improvement; it's a journey that is finished when the maker dies or quits. Like most makers, I laugh at my early works; at one time I thought all of my knives had to be made to stand on their butt with the blade pointing up! Also, in many of my early works, display at Art and Craft shows meant my knives had to have a softer, more gentle appearance. This was a big mistake; I was trying to appeal to an audience rather than make what I felt was right. I learned that making what I believe, being true to myself was being true to the tradecraft.
Knives are not just blades and handles, they are systems for use or collection, and there is always a need for comprehensive systems in working models, combat pieces, or art works. There is a pressing need for all parts of these systems, and even modern makers can be somewhat neglectful of the entire system. As I grew, I tried to bring all parts of the knife experience together from blade to sheath, from edge to sculptural display.
Ben: Your website also talks a bit about your fiction work. Do you feel your creativity has bled over from knife making to writing or vice versa? (For example, your knife book, or the fiction thriller listed "The Knife Maker")
Jay: I've written longer than I've made knives; I wrote as a kid. It's all part of the creation interest and drive; when you write you can create the entire world, all the people in it, and all their thoughts, activities, and results. At least that's true in fiction. But I'm also writing a book on the modern knifemaker. For example, the chapter on exporting handmade knives is a dozen pages long, with a large vocabulary and acronym list. Most people are shocked when they read what it takes to legally export a knife worth over $2500.00; it literally takes permission from our government, through Homeland Security, the Department of Commerce, under the White House! I try to present things our trade needs to know, based on my own experiences. It carries over well into other modern web-based artistic professions as well.
Ben: Are there any other hobbies you enjoy?
Jay: We have a great family, and I enjoy time with them as well as a few friends. We discuss conceptual physics, music, mathematics, archaeology, philosophy, and art. My wife is a dedicated genealogist and a Daughter of the American Revolution; our families date back to the late 1600s in America. At our home, we make wine yearly, garden a bit, and enjoy family outings. I'm thankful I can share some of what I have learned with family members who have also taken up the knifemaking arts. I'm intensely proud of all of my family, and absolutely thrilled that my efforts have created a legacy of three generations of knifemakers.
Ben: Thank you very much once again, Mr. Fisher. If you would like any clarification on these questions, or, as stated earlier, would like to suggest or remove any, just let me know! I'll choose a few of these responses that I feel are the most compelling.