Mercator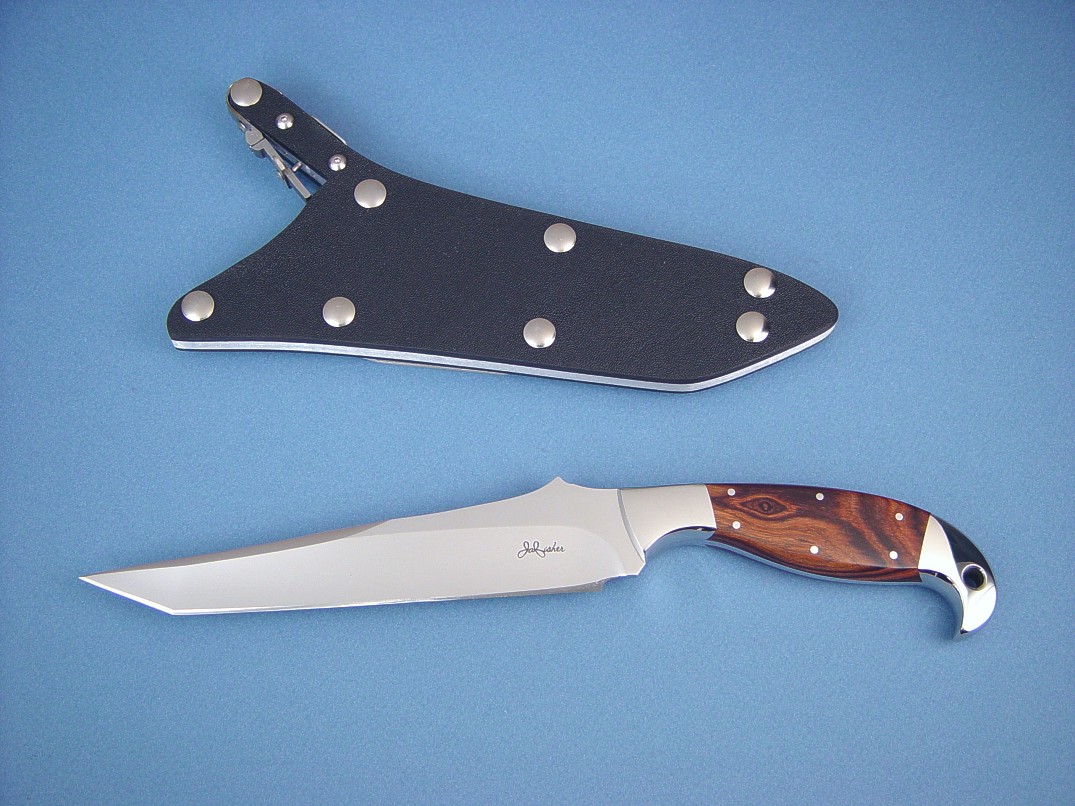 "Mercator"
Size: Length overall: 11.25" (28.6 cm), Blade Length: 6.75" (17.1 cm), Thickness: .193" (4.9 mm)
Weight: Knife: 9.8 oz. (278 grams) Sheath: 9.2 oz. (261 grams)
Blade: ATS-34 High Molybdenum Martensitic Stainless Tool Steel, Hardened and Tempered to Rockwell C59
Bolsters, Fittings: 304 Austenitic Stainless Steel
Handle: Kingwood Exotic Hardwood
Sheath: Locking Kydex, Aluminum, Stainless Steel, Nickel Plated Steel
Knife: A great custom knife, this Mercator is elegant and keen. The blade is tough, high chrome-moly ATS-34 martensitic stainless tool steel for increased toughness in thin cross sectional areas and high wear resistance. The hollow ground blade is beautiful and mirror polished, with serious super sharp single bevel cutting edges and a very aggressive point. The blade spine has a half length top swage for reduced point cross sectional profile, and a significant thumb rise for pressure and control. The blade has a fully tapered tang for weight control, and is clean and smooth with no filework the bolsters are multi-pinned 304 high chromium, high nickel austenitic stainless steel for zero care and extremely high corrosion resistance, and are dovetailed to bed a pair of book-matched Kingwood exotic hardwood handle scales. I chose and oriented the handle scales for the placement of an eye in the wood creating an interesting look from both sides of the knife. Kingwood is a highly prized, historically significant rosewood, with very strong and durable properties and a waxy, lustrous finish that is long lived and beautiful.
Sheath: The sheath for this knife is one of my positively locking military tactical combat models, made of double thickness kydex, 5052H32 corrosion resistant high strength aluminum, 304, 302, and 316 stainless steel locking mechanism and components, bound with nickel plated steel Chicago screws and 18-8 stainless machine screws. The belt loops are reversible for a variety of wear positions.
Another super knife for a great client!
Thanks, H. L.!
Jay,
I received the knives you crafted a day ago. Both are exceptional in fit, finish, balance, and design. I couldn't be more pleased with the work. Thanks very much for creating such beautiful examples of the knifemaker's art for me.
I'm very much looking forward to the future projects as I'm sure they will turn out even more memorable than those you already create for me. Thanks again for your superb work and craftsmanship!
--H.
---
---