PJLT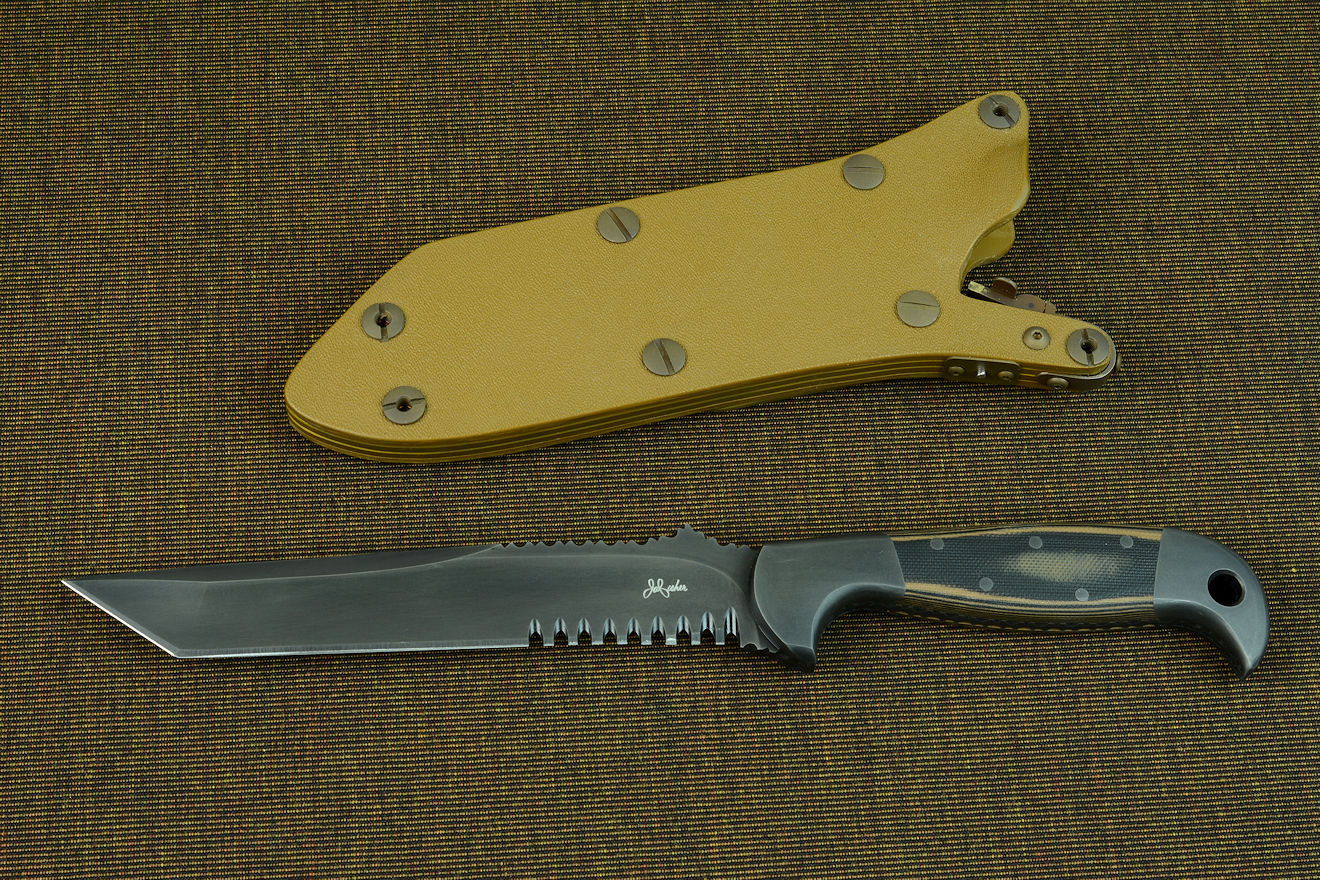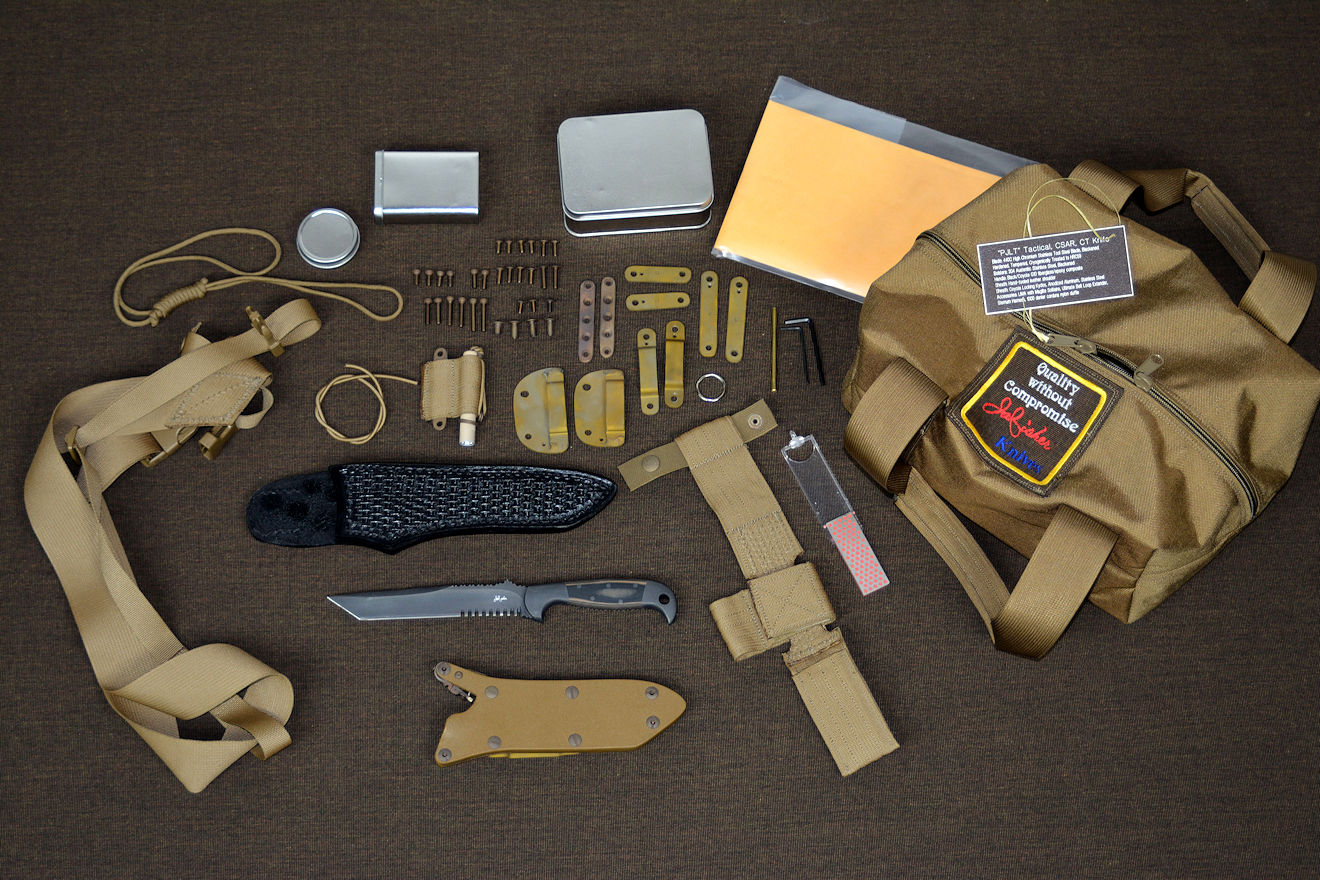 Size: Length overall: 11.25" (28.6 cm), Blade Length: 6.25" (15.9 cm), Thickness: .207" (5.3 mm)
Weight: Knife: 10.7 oz. (303 grams), Sheath (Leather): 5.9 oz. (167 grams), Sheath (Locking Kydex): 8.6 oz. (244 grams)
Blade: 440C High Chromium Martensitic Stainless Tool Steel, Cryogenically Treated, Hardened and Tempered to 59HRC, blackened, Ghost Slate
Bolsters, Fittings: 304 Austenitic Stainless Steel, blackened, Ghost Slate
Handle: Coyote/Black G10 fiberglass/epoxy composite laminate
Sheath: Hand-tooled black basketweave leather shoulder
Sheath: Locking Kydex, anodized aluminum, oxide stainless steel, all coyote tan
Knife: The PJLT is my Pararescue Jumper LighT, from an original design of the full-sized "PJ" created with direct input of United States Pararescue Combat Search and Rescue professionals. I took the PJ design and reduced the size to make a more lightweight, faster tool and it has been my most popular knife design for the last 20 years. The reason is because it has a usable, simple tanto blade with a good length of straight edge, and good tanto point, which is very strong, and a section of hard-working serrations. The knife is comfortable, hardly noticed on the body, and versatile and reasonable for a wide variety of applications. For this particular model, I incorporated my shadow line of darkening, giving the entire knife and handle a subdued, "Ghost Slate" finish that tones down what would be a bright, reflective, or even flat gray blade. This is a process that I've created for my counterterrorism knives, and this PJLT would certainly qualify for counterterrorism use. I made this blade in 440C high chromium stainless steel, my most frequently asked-for knife steel simply because it's a great steel, and highly corrosion-resistant while being very wear-resistant and tough. This steel is so corrosion-resistant that it's my number one request for knives that will be used in marine (salt water) environments and exposures. A simple rinse in clear water after use and even the salty Mediterranean will not affect the blade. The blade has two inches of my Hammerhead serrations, tough, aggressive serrations that tear through plastics, fibers, textiles, and even light metals. The knife is bolstered with zero-care 304 stainless steel bolsters, in Ghost Slate, with substantial quillons to lock the handle into the hand. The front bolster is rounded and domed for easy cleaning that won't trap debris, and the rear bolster has a 5/16" chamfered lanyard hole to secure the knife for elevated positions or use over water. The bolsters are rounded, contoured, and smoothed, and they are dovetailed to lock the G10 fiberglass/epoxy composite laminated handle to the tang. Additionally, five 1/8" stainless steel pins mechanically secure the scales to the tang. The tang is tapered for balance, and the tang is fully fileworked with a simple, punchy pattern for improved grip security and handmade detail. The knife feels light and quick in the hand, and the balance point is at the forefinger position in forward grip style.
Sheath (Leather): for traditional wear or for quiet wear where a rigid sheath may make noise, I've included a sheath made in 9-10 oz. thick leather shoulder, in black basketweave pattern, typical for law enforcement or civilian wear. It's a high-backed sheath to protect the wearer and the knife, with heavy polyester black stitching. It's sealed with acrylic coating against exposure and the elements.
Sheath (Locking): In this ensemble, I included a locking sheath, all in coyote tan, completely matching throughout, for modern desert camouflage wear and use. This sheath is a professional assembly, frankly, the best tactical sheath and accessory package made in the world. It's also an example of my commitment to making the finest combat tactical, and rescue knives and sheaths on the planet. It starts with double thickness (.125") kydex (methyl acrylate and polyvinylchloride), hot-formed over an aluminum welt frame of 5052 high strength corrosion resistant aluminum alloy in H32 hardness. The body and welts are secured with bead blasted and slotted 304 stainless steel Chicago screws for the ultimate in durability with no care and no glare. The sheath is one of my long-proven positively locking waterproof models, with all stainless steel locking mechanism and components for the ultimate in reliability and trustworthiness. Even the machine screws are stainless steel. The sheath can be worn in any position, even upside down when worn with the die-formed high alloy aluminum belt loops (included). The belt loops can be located in multiple positions along the welt frame and are reversible for a variety of wear options. This spacing also allows the array of my sheath accessories to mate with and locate in multiple positions along the welts, and allows the knife to be mounted to virtually any gear in any position! All of the stainless components have a coyote tan oxide finish, and all of the aluminum is anodized in one mil thick, near-ceramic hard coating permanently dyed with coyote tan to match the rest of the gear.

Accessories: This is an example of my commitment to the entire knife experience, from design to working service, with some of the finest professional knife users in the world. Since the bolt pattern of the sheath matches my 2.5" bolt pattern for my accessories, most of my accessories can be used on this sheath, including any new ones I develop. This knife comes with a good, lightweight assortment of attachment, wear, and useful accessories. I even hand-make the heavy 1000 denier duffle bags to hold the entire kit. Included:

Die-formed anodized aluminum belt loops (footman's loops), in coyote tan, accommodating belts 1.5" wide and up to .190" thick
Die-formed anodized aluminum belt loops (footman's loops), in coyote tan, accommodating belts 1.5" wide and up to .250" thick
Vertical flat clamping straps, in coyote tan, in anodized aluminum, allowing rigid clamping of sheath on webbing or straps up to 2" wide along the welts of the sheath, working well with existing strap systems including PALS (Pouch Attachment Ladder System) on MOLLE gear, and can allow wearing of the locking sheaths in any position.
Horizontal flat clamping straps, in coyote tan, in anodized aluminum, allowing rigid clamping of sheath on webbing or straps up to 2.25" wide across the welts and width of the sheath including PALS (Pouch Attachment Ladder System) on MOLLE gear, and can allow wearing of the locking sheaths in any position.
Horizontal belt loop plates, in coyote, allowing traditional placement along belt line but in a horizontal position (typically used in the lower middle of back wear)
Ultimate Belt Loop Extender in coyote tan, for lowering the knife handle position to the belt line and preventing movement of the knife handle while locked in the sheath, additionally mounting the diamond pad sharpener and the Maglite Solitaire.
Sternum Harnesses in coyote tan, for wearing the locking knife sheath inverted and handle down, directly at the sternum. This is a multi-point rig with quick release buckles that is light and comfortable
LIMA and Solitaire (Lamp Independent Mounting Assembly with Maglite® Solitaire LED emergency back up light), a small but powerful LED lamp, water resistant, mounted in an independent web assembly secured with stainless steel strap to multiple positions on the knife sheath, in coyote tan
Lanyard: Adjustable 550 cord in coyote tan
Sharpener: Diamond pad sharpener mounting in belt loop extender for blade touch-up
All necessary stainless steel hardware, fittings, fasteners, and tools for mounting, moving, and adjusting, all exposed screws and fittings are oxide in coyote tan for flat non-reflectivity
Replacement shock cord for LIMA
Containers: Tin-steel storage containers, holding aluminum loops, straps, and clamps, LIMA, and tools, screw lid can for screws and hardware
Heavy stitched embroidered canvas drawstring bag for leather sheath, allowing breathability and protection for leather sheath inside the kit's duffle
Heavy Coyote Tan Duffle made in 1000 denier ballistic Cordura® polyurethane coated, water resistant nylon bag, double-row stitched throughout, with nylon handle-straps, and waterproof #8 zipper with metal pulls. Includes embroidered "Quality Without Compromise" patch
Archival and Instructions: Detailed Bio, Care Sheet, materials sheet with instructional video links, instructions for sharpener, Maglite® Solitaire, Archival engraved co-extruded acrylic information plate

VIDEO! Check out this great video detailing the entire rig and explaining all of the components and accessories, mounting, wear, and use at this link.
A tough and proven performer, my most popular knife with a useful and lightweight accessory package.
Thanks, E. D.!
---
Got the knife and took a quick look before heading out of town. . .
Looks fantastic and I think my son will like it. 
Many thanks,
E. D. 
---
Jay,
My son graduated as a Pararescueman last weekend, and I gave him the knife. He is thrilled. 
Thanks again.
E. D.
---
---